ATTRACTIONS FOR CHILDREN
Below is a list of attractions for children in and near Indianapolis. I hope to expand this list to other cities and states sometime in the future.
At A Location Near You
Libraries
Libraries are such a great source of fun learning opportunities. Books, Books, Books – What better place to start the learning process than by reading? You can find books at all reading levels and subjects. Don't forget that the library is also a great resource for fun activities for your children and most of them are free. Check out the website of the library near you.
FISHERS, INDIANA

Conner Prairie Interactive History Park                                                                                      website
13400 Allisonville Road
Fishers, IN 46038
(317) 776-6000
Conner Prairie is one of my favorite local spots for hands-on history. History has never been more fun than in this cozy historical town. Be sure to check their website for the latest fun activity they have going on right now.
INDIANAPOLIS, INDIANA

Artsgarden
website
110 West Washington Street
Indianapolis, IN 46204-3431
(317) 624-2563
Were you aware that the Artsgarden, located above the intersection of Washington and Illinois streets in downtown Indianapolis, hosts a multitude of free concerts and activities each year? It connects to Circle Centre Mall, the Conrad Hotel, and the Embassy Suites complex.
It is a wonderful place to take children and have the chance to expose them to many different styles of music. You can come and go as you want or need to. You don't have to worry about spending large amounts of money to take your child to a concert to only end up sitting in the lobby because they won't sit still. Be sure to check out my list of events that I feel might be of interest to children. Also take a look at the Artsgarden's full schedule. You might find something that interests you or your child that I didn't list.
The Children's Museum of Indianapolis                                                                                   website 
3000 North Meridian Street
Indianapolis, IN 46208
(317) 334-4000
If you want to take several hours or all day, there are plenty of fun, educational activities going on at The Children's Museum. Exhibits are always changing so check to see if there is all ready an exhibit that will help reinforce something you are teaching your child. Maybe there is a new exhibit coming that you can incorporate a new concept you were planning on teaching soon.
In case you didn't know, the museum is free for families 4 p.m.–8 p.m. on the first Thursday of each month. Youth under the age of 18 must be accompanied by an adult. There are other free days during the year so be sure to check out their website or this blog for the latest information.
The Indianapolis Zoo
website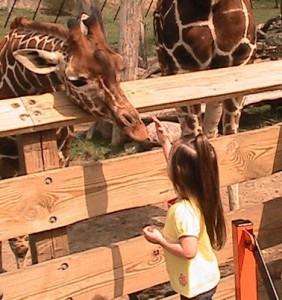 1200 W Washington St
Indianapolis, IN 46222
(317) 630-2001
There are so many great learning opportunities at the zoo. Of course, there is the obvious; learning about different animals. But you can also discuss geography, climates, etc. There are great educational resources on their website including webcams that allow you to look in on some of the animals during the day.
IndyIsland Aquatic Center
website
8575 E Raymond St
Indianapolis, IN 46239
(317) 862-6876
Swimming is so much fun and it's good exercise too but there are several learning activities you can do while at the pool too. One idea would be to take plastic measuring spoons and cups along and let your child measure water. You can also introduce you child to the mathematical concepts of empty/full, before/after, shallow/deep, and heavy/light.