Be My Neighbor Day
WIPB sponsored Be My Neighbor Day, in Muncie, Indiana. My daughter and I decided to travel the hour, from Indianapolis to Muncie, so Keagan could see one of his favorite PBS characters, Daniel Tiger.
When we left Indianapolis it was a beautiful sunny day. As we entered Muncie, this was what the sky looked like.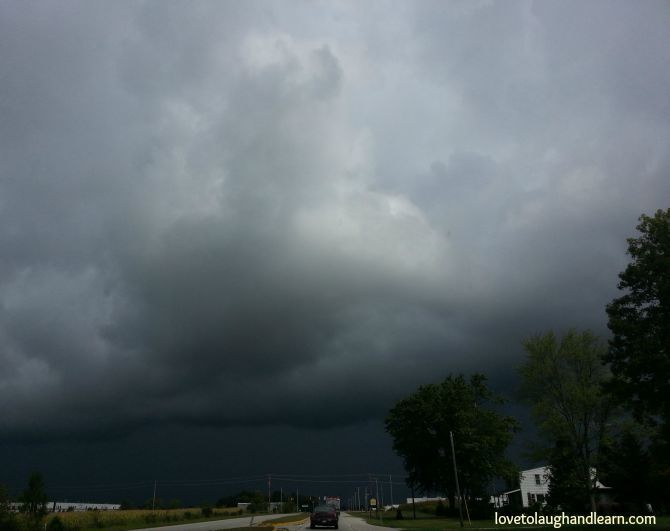 As you can guess, it soon started raining. We sat in the car for a while, hoping the storm would pass. According to the radar, it looked like it wouldn't last long.
As it got closer to 1:00, it was still raining but not too hard so we thought we would walk down to the event. Although the weather wasn't very welcoming, the event was.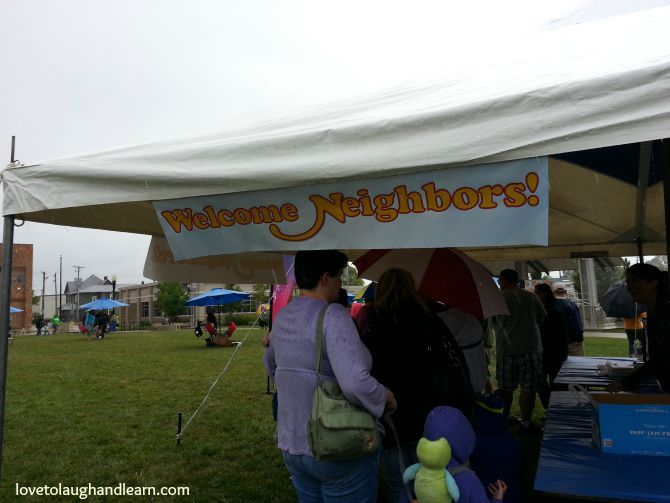 We entered the tent and received a bag to carry Keagan's goodies in. It all ready had some stickers and other fun things in it. We walked through the rain to check out the stage. They were still doing some sound checks because it wasn't quite time to start (and it was still raining).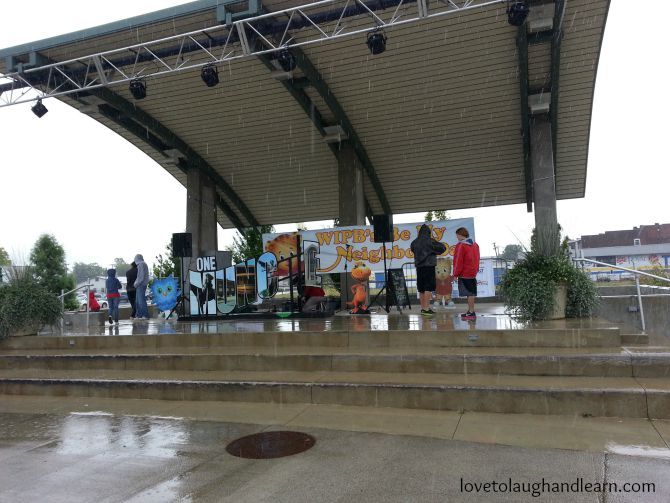 The next thing we did was walk over to the Trolley. Keagan was very excited to see the Trolley. It was full so we didn't climb inside but we got a couple pictures outside (did I mention it was raining?).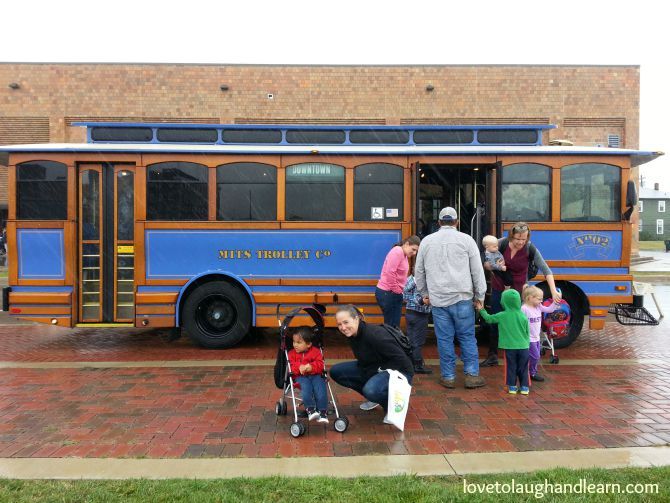 At this point it started to rain a little harder and an announcement was made that the opening would be delayed. My daughter asked Keagan if he wanted to go to the car or stay and see Daniel Tiger. Keagan immediately said, "Car!" Understand that Keagan just turned 2 years old and he usually repeats the last thing said to him, so the fact that he said car instead of Daniel Tiger, meant he was ready to go.
We walked back to the car, in the rain, and the car wouldn't start. This day was getting to be more fun than we could handle. After we had the car jumped and a short discussion, we decided to go get some lunch and then see what the weather was doing. As we drove away from the event, we could see blue sky and white fluffy clouds headed our way. By the time we finished lunch, the rain had stopped and the sky was beautiful. So we headed back to WIPB's Be My Neighbor Day.
We pulled the trusty "neighborhood" map out of our bag of goodies and headed for the fun. There was an interesting activity to accomplish at each booth. Once finished with the activity, one of the "neighbors" at that booth would check or initial that you had been there to visit. After visiting all the booths you could go back to the welcome station and receive a certificate stating that you were a good neighbor.
Keagan participated in several of the activities but since he is only 2, and it was way past naptime, he ran out of patience, so we didn't get around to all the booths. Here are some of the fun things we did.
The Humane Society had some adorable kittens and a puppy for a little hands-on experience.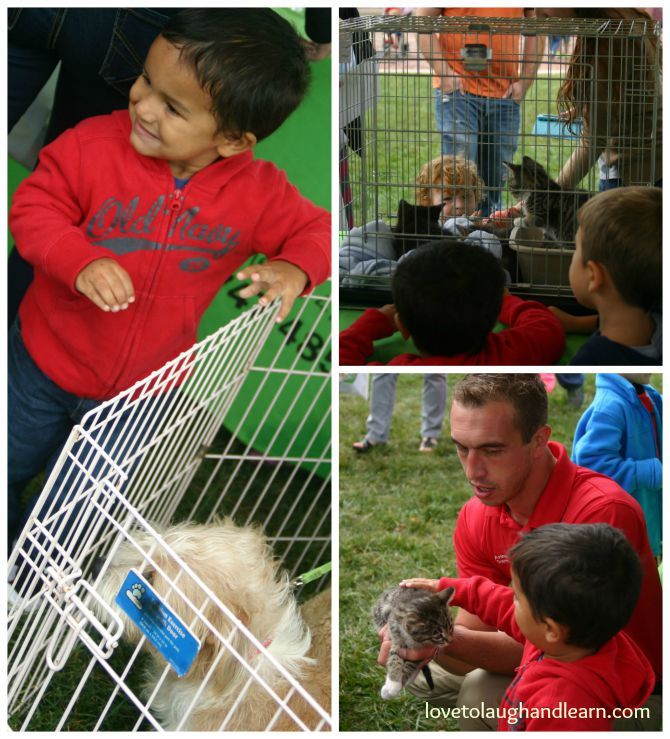 Keagan was able to draw at several of the booths. He wrote on a chalkboard, made a card and was able to draw a picture. He can't draw much yet but he sure does like to use crayons and chalk.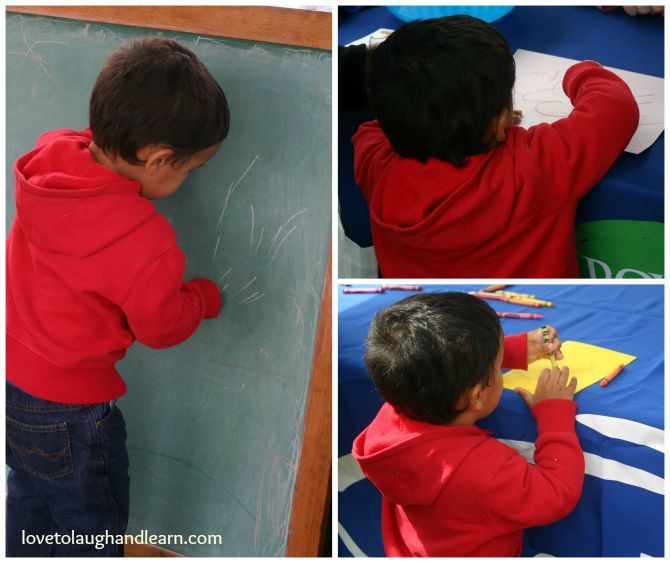 One really cute activity was helping to decorate Daniel Tiger's sweater. The children pressed their finger or thumb onto an inkpad and then pressed their finger to his sweater. It resulted in the cutest pattern.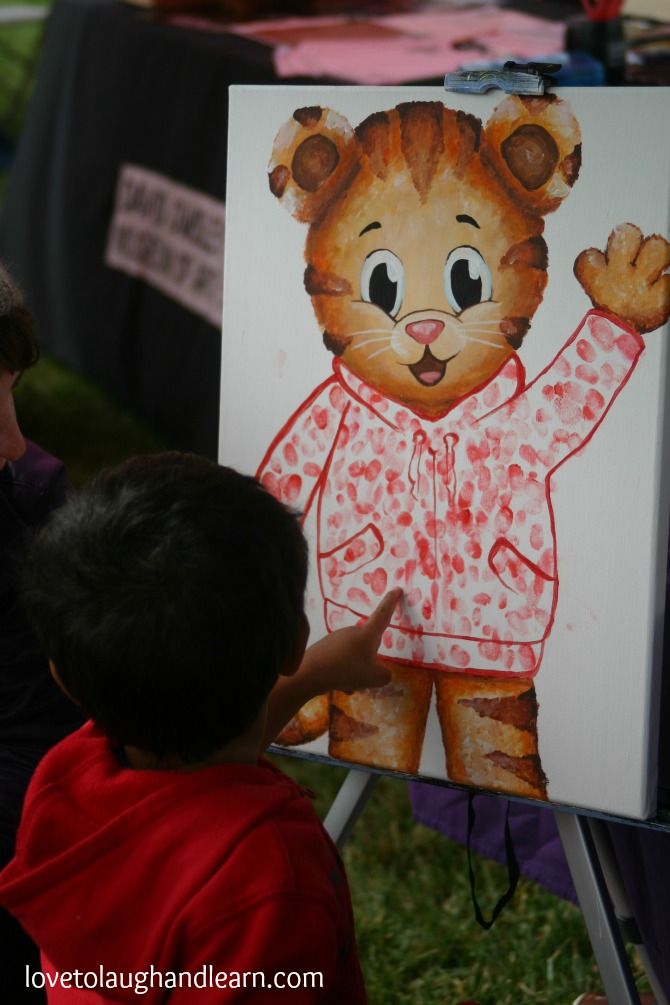 Keagan loves music so when he got to the Good Morning Starshine booth, he planted himself there for a while. He enjoyed using the shakers, listening to the guitar and singing. Although this picture is a little blurry, you can tell he is having fun singing along. Can you guess what song he is participating in? I will give you a hint: "with a moo, moo, here…"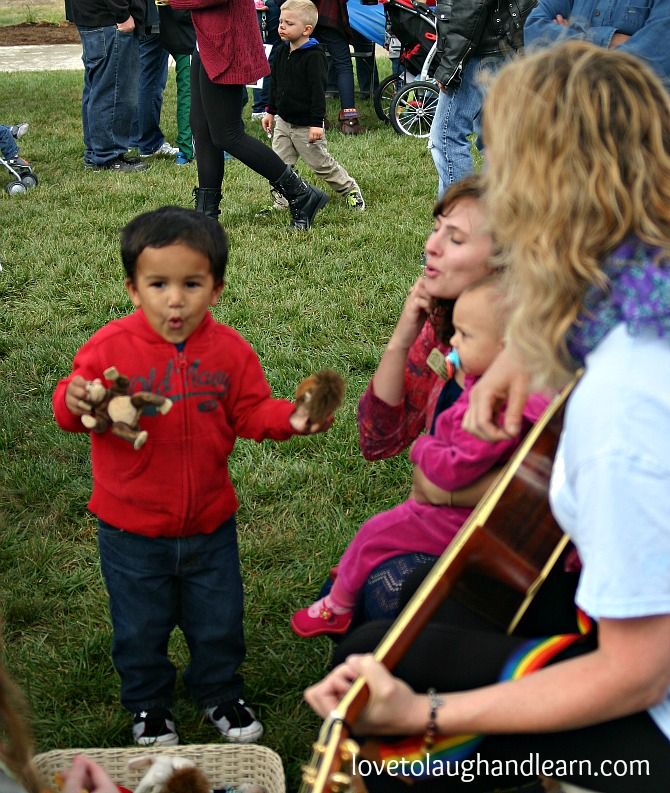 Keagan had the opportunity to dig in the dirt and plant some sunflower seeds. What little boy doesn't love digging in the dirt?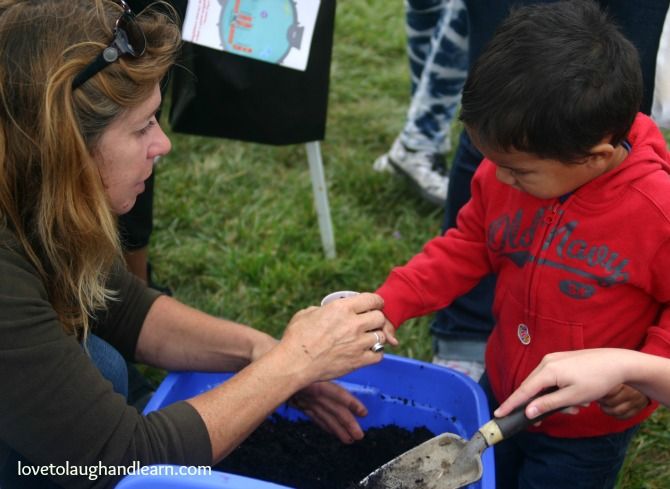 Daniel Tiger was the only actual character at this event but Keagan was just as excited with the cut-out displays of his favorite characters.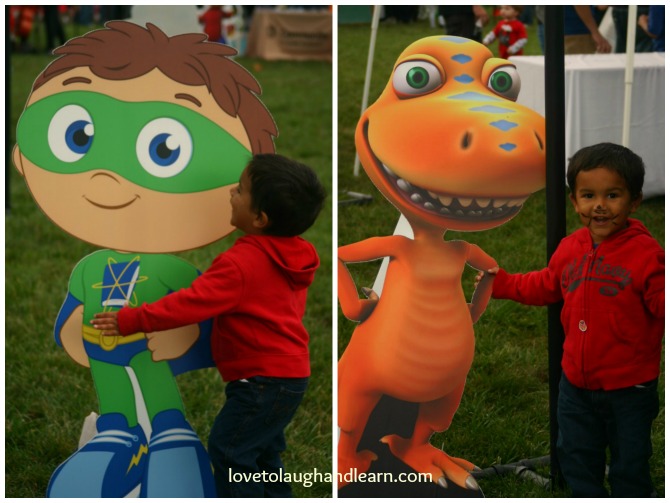 There was free face painting. Although the woman doing the face painting was very nervous about it, she did a great job. She said she was a chef and didn't know anything about face painting. This was Keagan's first time to get his face painted so we weren't sure what he would think or how he would react. They ended up being a great match for each other. She painted some simple whiskers and a nose on Keagan and he sat really still for her. He was just thrilled that he looked like Daniel Tiger.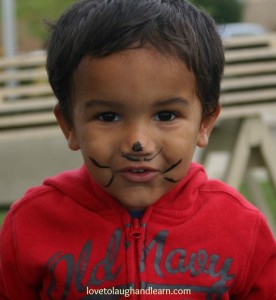 At this point, Keagan was just getting too tired and grumpy. It was almost time for the event to be over so we headed over to the stage for the farewell. Well, that took care of his grumpiness. As I said before, he loves music so he really enjoyed this part of the day. Ruditoonz was performing on stage. Keagan had a blast singing, dancing and jumping along with the other children.
Last but not least, Keagan had the opportunity to get up close and personal with Daniel Tiger. He was so excited.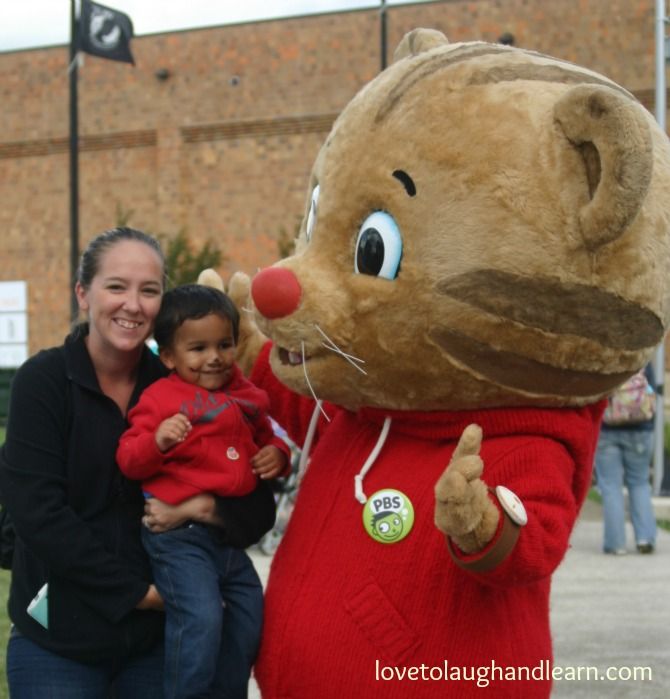 As the event came to an end, Daniel Tiger had to leave. Keagan waved good-bye and we headed back to the car.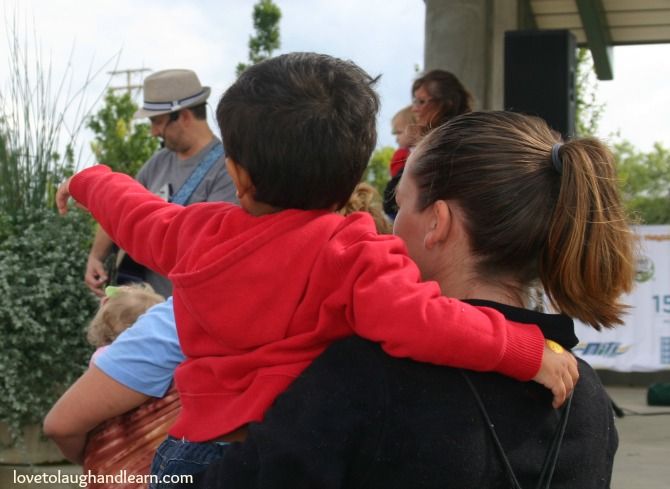 Although the day started out kind of rough, it definitely got better. The event was geared for the little ones to have fun and from what we experienced, it was a success. If we have another opportunity to attend a Be Your Neighbor event, I'm sure we will.
Ugga Mugga