Thanksgiving Learning Activities
"Give thanks to the Lord for He is good.
His loves endures forever."
Psalm 118:1
Thanksgiving learning activities include a little history. There are several fun learning activities listed below to do while you are gathered together to celebrate this special holiday. I would really enjoy hearing about the fun you had creating pilgrims hats or reading any of the recommended books, so please leave a comment below. If you have pictures to share please post them on the Love to Laugh and Learn Facebook page.
Content:
Crafts
Hand and Foot Turkey Craft
Native American Indian Headband
Native American Indian Vest
Pilgrim Hat for Boys
Pilgrim Hat for Girls
Music
Reading
Toys
Toys
I love using "special" toys to get across a lesson. I had toys that were only gotten out occasionally for a specific lesson or time of year. These toys were not just left in the toy box or in the classroom. I kept them put up in special containers and only got them out at certain times and then they were put back up again. Following is a list of things that I used, in the classroom or at home, for the children to use to learn about the first Thanksgiving.
Horse Costume
– I probably wouldn't have called it a costume but that is what it is called on Amazon.com. It is a plush style horse. The child steps through the center and pulls straps, like suspenders, up over their shoulders. They used the horses when pretending to be Native American Indians. A stick horse would work well too.
Playmobil Native American Indians
– Playmobil is made up of a lot of tiny parts, which is another reason why I kept them in a special container and only got them out for specific lessons. The children loved the Playmobil pieces and they promote fine motor skills.
Teepee Tent
– A teepee tent adds a lot of fun to the children's make-believe play. I purchased a big black plastic "cauldron" after Halloween to go with the teepee.
Dress-up Clothes Box – Both boys and girls love playing with dress up clothes. After Halloween is a great time to get items for your dress-up box. You can purchase costumes at very low prices. Be sure to pick up some Pilgrim and Native American Indian costumes to use at Thanksgiving time. There are some great dress-up items that you and your child can make together to add to the dress-up box. I will cover some of those in the craft section.
Crafts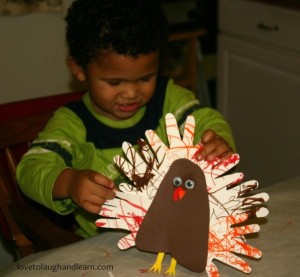 Materials Needed:
Construction Paper; brown, red, orange and yellow
Pencil
Scissors
Glue stick
Wiggly eyes (optional)
This is a fun craft that I got from enchantedlearning.com. This would be a good craft to first do with your child when they are two or three years old. You can then make a new "hand and foot turkey" each year and see how much your child has grown. They will make cute decorations for each Thanksgiving. Be sure to put your child's name and the date on the back of the turkey. I would take it and have it laminated to help preserve it.
Native American Indian Vest
Materials Needed:
Large brown paper grocery bag
Scissors
Crayons or markers
These vests are very simple and a lot of fun. Cut the bag up the middle of one of the wide sides. Cut a neck hole out of the bottom of the bag and arm holes out of the narrow sides of the bag. Now set your child loose with some crayons or markers to decorate their vest. For older children, show them some Native American symbols. They might enjoy drawing them on their vest.
Native American Indian Headband
Materials Needed:
Brown poster board or cardstock
Construction paper; brown, orange, yellow, red
Feathers (optional)
Scissors
Glue stick
Tape or stapler
I use poster board or cardstock for the headband but I have also heard of people using a paper bag. You will want to cut a 2 inch wide strip that is long enough to wrap around the child's head. Make sure to cut it an inch or two longer than the width of the child's head so that you can overlap the ends and staple or tape them together. (Hint: If you staple the ends together, staple from the inside out; so that the folded part of the staple is on the outside. This will keep the staple from getting caught in the child's hair.) Cut feather shapes out of some colored construction paper or purchase feathers at the craft store and attach them to the band.
Pilgrim Hat For Girls
Materials Needed:
12" x 18" white construction paper
White Ribbon or yarn
Scissors
Stapler and/or glue stick
This hat is enjoyed by little girls of all ages but there isn't a whole lot for a real young child to do in helping make the hat. Once your child is old enough to use scissors and a stapler they will be able to contribute a little more in the making of this project. If you are doing this craft for a younger child I would add a step and let them use a glue stick and apply some glue to the flaps that will overlap on the back of the hat. I would still staple the flaps to give them extra holding power. As I stated earlier, staple from the inside out; so that the folded part of the staple is on the outside. This will keep the staple from getting caught in the child's hair.
About.com has great instructions for the girl's pilgrim hat along with a pattern so I'm going to give you their link to access the directions: Pilgrim Hat for Girls
Pilgrim Hat for Boys
Materials Needed:
black poster board or cardstock
Construction paper: black, white and yellow or gold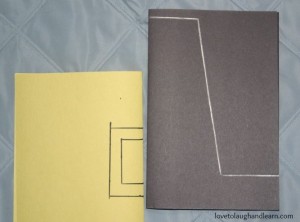 1) Cut a 2" wide headband, out of black poster board or cardstock, that is slightly larger than your child's head.
2) Fold a 12″x 9″ piece of black construction paper in half. Draw half of a hat on the folded edge of the paper. I used a ruler to help me make straight lines. Make the brim 2″ wide.
3) Cut a 2" wide strip from a piece of white construction paper. Glue it just above the brim of the hat.
4) Cut 2 ½" x 2 ½" square from a yellow piece of construction paper. Cut a 2" by 2" square out of the center of the square. I again cut the square on a fold to make it easier to cut the center out.
5) Glue of staple the finished hat to the headband.
6) Tape or staple the headband to fit around your child's head. Cut off any excess poster board.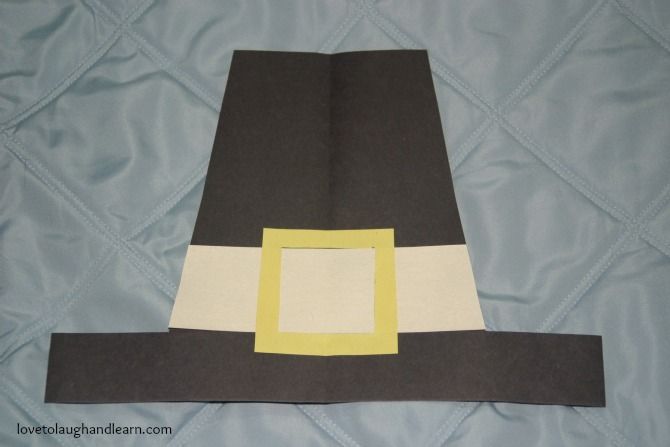 Music
10 Little Indians
One little, two little, three little Indians
Four little, five little, six little Indians
Seven little, eight little, nine little Indians
Ten little Indian boys.
Ten little, nine little, eight little Indians
Seven little, six little, five little Indians
Four little, three little, two little Indians
One little Indian boy.
Gobble, Gobble
(Sung to "If you're Happy & You Know It")
"Gobble, gobble, gobble, gobble", says the bird.
"Gobble, gobble, gobble, gobble", says the bird.
Mr. Turkey gobble-gobbles
And his head goes wobble-wobble
"Gobble, gobble, gobble, gobble", says the bird.
Give Thanks to the Lord – Hide 'em in Your Heart, Vol. 2 by Steve Green
Story Time
If You Were At The First Thanksgiving
by Anne Kamma
Reading Level: Ages 7 and up
This is one of my favorite Thanksgiving books for teaching the history of the holiday. This book contains a whole lot of interesting information about the first Thanksgiving. It is well written. Although it is recommended for ages 7 and up, I read sections of it to my pre-kindergarten classes. It is written in a question/answer format which helps break up all the information into small "bite sized" pieces. This format makes it easy to cover a couple questions at a time or several if your child is really interested.
The Night Before Thanksgiving
by Natasha Wing
Reading Level: Ages 4 and up
As the title might suggest, this book is written in the same style as Twas the Night Before Christmas. It is written in as amusing fashion of a family's Thanksgiving Day from a child's point of view. Lots of smile will ensue when sharing this book with your child.
'Twas the Night Before Thanksgiving
by Dav Pilkey
Reading Level: (officially) Ages 3 and up (but my recommendation would be 5 and up)
This is a quirky little story about a classroom of children that take a field trip to a turkey farm, the night before Thanksgiving. All is well until someone finds an axe and asks what it's for. As you can imagine there were many tears over the realization of what was going to happen to their feathery friends. When the teacher and Farmer Mack Nuggett return from getting some water, to hopefully calm the children, they find "the children were calmer (and mysteriously fatter)". You will need to read the story to find out what transpires but I will tell you that it is a happy ending. I wouldn't recommend this for really young children, but once they start getting old enough to understand where their food comes from, it would be appropriate. Although this sounds like a dark tale, it is very light hearted. It is written in rhyme and the same style as "'Twas the Night Before Christmas" It is one of my favorite fun Thanksgiving books. Each year I read it to my pre-kindergarten classes. I never had any bad reactions from the children (or the parents) just smiles and giggles.
Related Posts:
Thanksgiving Fun with Turkeys
A is for Apple: You Can Learn More Than Your ABC's from Apples
Pumpkins are Orange; and Other Learning Concepts