Let's Play with Toy Guns
I believe toy guns are getting a bad rap. I must say I hadn't given it a lot of thought before but now I have a grandson and a couple of great-nephews, so an interest in guns is something we are going to have to deal with.
I raised two girls so guns were never a big subject around our house. We played with water guns and bubble blowing guns but that was about it. But when I was a little girl, I had a cap gun. I wore it in my holster as I strutted around in my cowgirl boots and hat. I loved playing with my cap gun when I was really young. As I got older, I was allowed to use our BB gun. I have always been fascinated with guns but I am definitely not a violent person. The first time I shot a bird, I cried. (We were trying to keep sparrows out of the purple martins' birdhouse.) It only stunned him, so he eventually flew away but I didn't shoot at any more birds.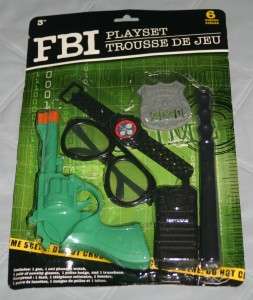 The idea of toy guns around the house hit me the other day because I was adding pieces to our dress-up clothes. I had purchased a soldier outfit and a police officer outfit. I was looking for a badge at the Dollar Tree when I ran across a package with a toy gun, a badge and a pretend walkie talkie. I hesitated because I have heard all the controversy about playing with guns and the possibility of instilling violence in our children, but are we missing a teaching opportunity?
My son-in-law serves in the army. Carrying a gun is part of his job. I have deep respect for all of the individuals serving in our armed forces. They carry guns to protect us and people in other countries. I believe that teaching our children how the military men and women are protecting us is a wonderful lesson. Yes, it is sad that there are wars but it is wonderful that there are people willing to put their lives on the line for others.
Then there are the police officers. They also carry guns as part of their jobs and put their lives on the line for others. Teaching respect for our police officers and learning about how they serve us are just a couple of lessons that can be incorporated into your child's play with toy guns.
There are people that use guns to hunt for food. Wild game is healthy for you and is fairly cheap, in comparison to store bought meat. Many people around the world depend on hunting for their food. They don't have or can't afford to run to the grocery store to pick up something.
Lessons that can be slipped in while the children are playing with their toy guns:
 Respect for our military and police.
 Serving and protecting others.
 Honoring our veterans.
 Our Constitution and the 2nd Amendment.
 How to properly handle a gun.
 Where our food comes from.
 The benefits of forgiveness and the consequences of revenge.
If we are worried about how our children will grow up and handle guns, shouldn't we be talking with them about it, while they are young? Rather than avoiding or not allowing the opportunity for role playing and discussion, we should be giving them the opportunity to play and explore.
As children turn into young teens, many start playing violent video games or start sharing their interest of guns with their peers. Is this who and what you want to influence your child about the use of guns?
Some parents are worried that allowing their children to play with toy guns will create violent adults. According to an article on WebMD, titled Toy Guns: Do They Lead to Real-Life Violence?, "studies show no link between playing with toy weapons in childhood and aggression in adulthood".
So let the kids play with their toy guns and let's use the opportunity to instruct and raise more gun responsible teens and adults.