Love to Learn about the Nativity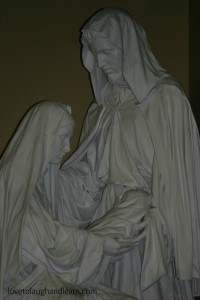 Nativity Scene: A representation of the birth of Jesus, God's Son. It usually includes Mary, Joseph, a manger with Baby Jesus, some Shepherds and animals. Sometimes you will see 3 Kings or Wisemen included in the Nativity scene even though they were not there the night of the birth.
It is a good practice to think often of the great gift God sent to us; His only son, Jesus. Not just at Christmas but all through the year. But with Christmas Eve here, what better story to share with your family than the story of the night Jesus was born. It doesn't matter whether you read the story straight from the Bible or a simple version that will be easier for your child to understand, just be sure to remind your family what Christmas is really about.
There are many great Bible translations out there but I enjoy the Christmas story from the King James Version. That is the version of the story that I grew up with and it's the one quoted in the Charlie Brown Christmas movie.
Christmas Story
Craft
Finger Plays
Songs
Story Time
Related Posts
"And it came to pass in those days, that there went out a decree from Caesar Augustus that all the world should be taxed.
(And this taxing was first made when Cyrenius was governor of Syria.)
And all went to be taxed, every one into his own city.
And Joseph also went up from Galilee, out of the city of Nazareth, into Judaea, unto the city of David, which is called Bethlehem; (because he was of the house and lineage of David:)
To be taxed with Mary his espoused wife, being great with child.
And so it was, that, while they were there, the days were accomplished that she should be delivered.
And she brought forth her firstborn son, and wrapped him in swaddling clothes, and laid him in a manger; because there was no room for them in the inn.
And there were in the same country shepherds abiding in the field, keeping watch over their flock by night.
And, lo, the angel of the Lord came upon them, and the glory of the Lord shone round about them: and they were sore afraid.
And the angel said unto them, Fear not: for, behold, I bring you good tidings of great joy, which shall be to all people.
For unto you is born this day in the city of David a Saviour, which is Christ the Lord.
And this shall be a sign unto you; Ye shall find the babe wrapped in swaddling clothes, lying in a manger.
And suddenly there was with the angel a multitude of the heavenly host praising God, and saying,
'Glory to God in the highest, and on earth peace, good will toward men.'
And it came to pass, as the angels were gone away from them into heaven, the shepherds said one to another, Let us now go even unto Bethlehem, and see this thing which is come to pass, which the Lord hath made known unto us.
And they came with haste, and found Mary, and Joseph, and the babe lying in a manger.
And when they had seen it, they made known abroad the saying which was told them concerning this child.
And all they that heard it wondered at those things which were told them by the shepherds.
But Mary kept all these things, and pondered them in her heart.
And the shepherds returned, glorifying and praising God for all the things that they had heard and seen, as it was told unto them."
– Luke 2: 1-20 KJV (If you would like to find another translation check out http://www.biblegateway.com)
I first saw this craft on pinterest.com. After a little research, I found out that the craft was first posted on thebigmamablog.com You will find a couple different photographs of the craft created by different people.
Materials Needed:
2 medium flower pots
1 small flower pot
acrylic paint
2 medium wooden balls (for Mary and Joseph's heads)
1 small wooden ball (for Jesus's head)
fabric for their head coverings
white fabric to swaddle (wrap) Baby Jesus in
doll hair (or you can just color it in with a Sharpie)
roll of grapevine to create headpiece and staff
moss
silver pipe cleaner or aluminum foil (for the halo)
hot glue gun or Aleene's tacky glue
Sharpie, fine point
hay (optional for manger)
Instructions:
1. Paint the smallest flower pot brown, to represent the manger.
2. Paint the two larger pots whatever color you want Mary and Joseph's clothes to be.
3. Use the fine point Sharpie to draw facial features on Mary, Joseph and Baby Jesus.
4. Glue heads onto biggest pots.
5. Cut fabric and glue coverings to the heads.
6. Wrap white fabric to look like a baby wrapped in blanket.
7. Glue into smallest pot. Add Baby Jesus head.
8. Make a halo out of a silver pipe cleaner or twist a piece of aluminum foil and form it in a circle to make a halo. Glue to Baby Jesus' head.
9. Use a brown pipe cleaner or a piece of grapevine to make a shepherd's staff and glue to Joseph
10. Be sure to check the images out on thebigmamablog.com
The First Christmas
(Action Rhyme)
Clop, clop, clop went the donkey's feet,
(stomp feet like donkey walking)
Clop, clop, clop down the stony street.
(stomp feet like donkey walking)
Nod, nod, nod went Mary's head.
(nod head up and down)
She was tired, and she needed a bed.
(stretch arms out and yawn)
Knock, knock, knock went Joseph at the door.
(act like knocking on door)
"Do you have room for anyone more?"
(hold hands up in a questioning motion)
"No, No, No!" the innkeeper said,
(shake index finger)
"I don't even have one more bed."
(hold up one index finger)
"Wait, wait, wait," the innkeeper said,
(hold hand up, palm out, like police officer stopping traffic)
"You can use my stable for a bed."
(put hands together under head, like sleeping)
"Shh, shh, shh…What is that I hear?
(hold index finger up to lips, then hold hand to ear)
The cry of Baby Jesus, oh so dear!"
(hold arms like rocking a baby)
– Original Author Unknown
Baby Jesus
Baby Jesus snuggles in deep,
(put hands together under head, like sleeping)
In warm but scratchy straw.
(scratch all over)
On a nearby hillside, shepherds hear,
(put hand to ear)
The angel's song of awe.
(flap arms like angel wings)
They race to Bethlehem to see,
(run in place)
The king born in a stable.
(make animal sounds)
Then kneel before the Son of God,
(fold hands like in prayer)
A manger for his cradle.
(hold arms like rocking a baby)
– Original Author Unknown
Away in a Manger
Away in a manger,
No crib for a bed
The little Lord Jesus
Laid down His sweet head
The stars in the sky
Looked down where He lay
The little Lord Jesus
Asleep on the hay
The cattle are lowing
The Baby awakes
But little Lord Jesus
No crying He makes
I love Thee, Lord Jesus
Look down from the sky
And stay by my cradle,
'Til morning is nigh.
Be near me, Lord Jesus,
I ask Thee to stay
Close by me forever
And love me I pray
Bless all the dear children
In Thy tender care
And take us to heaven
To live with Thee there
Silent Night
Silent night, holy night
All is calm, all is bright
Round yon Virgin Mother and Child
Holy Infant so tender and mild
Sleep in heavenly peace
Sleep in heavenly peace
Silent night, holy night!
Shepherds quake at the sight
Glories stream from heaven afar
Heavenly hosts sing Alleluia!
Christ, the Saviour is born
Christ, the Saviour is born
Silent night, holy night
Son of God, love's pure light
Radiant beams from Thy holy face
With the dawn of redeeming grace
Jesus, Lord, at Thy birth
Jesus, Lord, at Thy birth
Away in a Manger
illustrated by Mike Jaroszko
Reading Level: Ages 4 and up
This is a beautiful picture book. Illustrations are put to the familiar Christmas carol. They bring the book to life and visual meaning to the beautiful words.
The Christmas Baby
by Marion Dane Bauer
Reading Level: Ages 2 to 7 years old
I love this version of the Christmas story. It goes through the familiar pieces of the story; Mary and Joseph trying to find a place to stay, the animals rejoicing, the angels rejoicing, the shepherd rejoicing and the wisemen coming from afar. But there was a sweet addition to this story that I wasn't expecting. At the end of the Christmas part of the story it says that the Baby smiled with God's own smile but the book doesn't end there. It goes on to tell a short story about what happens every time a baby is born; angels rejoice, moms, dads, grandparents rejoice and the baby smiles with God's own smile. I definitely want to get this book for my grandchildren's first Christmas!
The Christmas Story: From the Gospel According to St. Luke from the King James Bible

Reading Level: Ages 3 and up
I love the fact that this is the Christmas story taken straight from the Bible. The story starts with the decree from Caesar Augustus and goes through to the shepherds returning to their fields praising God. I love the illustrations by James Bernardin. They are sweet and tender. I definitely want to add this book to my collection and include it in our holiday traditions.
The Christmas Story
adapted and illustrated by Kay Chorao
Reading Level: Ages 3 and up
This story is adapted from the Book of Luke 2:1-21 and the Book of Matthew 2:1-12, King James version. The story starts where Mary is visited by an angel and goes through them fleeing to Egypt then finally returning to Nazareth. This is a wonderful way to share the Biblical account of Christ's birth to young children.
Listen to the Silent Night
by Dandi Daley Mackall
Reading Level: Ages 3 and up
This is a beautifully illustrated and book written in rhyme. The theme running through the book is that on this Silent Night things are not so silent. There is the flip, flap flap of sandals, the swish, swish, swish of the desert sand and the baa, baa, baa of the sheep; to name just a few of the sounds that people encountered this special night.
The Nativity
illustrated by Julie Vivas
Reading Level: Ages 4 and up
I found the illustrations to this story a little odd, but for the most part, they are cute and whimsical. They have been created in a muted water-color style. The thing that bothered me a little was the wings on the angels. They looked tattered and torn. This is a personal preference and not a statement on the illustrations as a whole.  There are no complaints on the story, as it comes straight from the Bible. If you are looking for a way to interest your younger children in the Biblical account of Jesus' birth, I would check this book out.
Tiny Baby Jesus
by Dandi Daley Mackall
Reading Level: Ages 4 and up
The thing I love most about this book is the way it compares the baby Jesus with the adult Jesus. It first talks of the Baby's tiny tiny fingers and then goes on to explain how He used those fingers as a carpenter. It talks of His tiny feet and then of how His adult feet walked on the sea. This book is a great reminder to children of all ages that Jesus was not just a baby in a manger but grew up into a loving man and our Savior.
I pray that you have a wonderful Christmas with your families. Give hugs and kisses to everyone around you.
May the Lord bless you and keep you.
May the Lord make his face to shine upon you,
and be gracious to you.
May the Lord lift up his countenance upon you,
and give you peace.
based on Numbers 6:24-26
The Santa Claus Debate
The True Meaning of Christmas
The Christmas Star
Christmas Angels to Laugh and Learn With
Love to Learn the Meaning of Candy Canes for Christmas
Review – Christmas on Monument Circle, Indianapolis
Save