Crouching Tigers Review: Martial Arts for Little Ones
I was given the opportunity to observe one of the free classes that Crouching Tigers is currently offering at local libraries. If you haven't heard of Crouching Tigers, it is a mobile fitness and martial arts program for children 2 to 7 years of age. The program is dedicated to the physical, emotional and social development of children.
I must admit to you that I have never been particularly interested in the martial arts. I never considered getting my children involved with them and have watched very little of it, but I realized that some of you might be interested, so I headed off to Glendale Library to observe the free class.
First Observation
If you are interested in your child participating, register them as soon as possible. These classes are popular and have been filling up.
Second Observation
Olivia Spahn, Founder, President and instructor, of Crouching Tigers, is AMAZING with children. She possesses the love, understanding and enthusiasm that few have when it comes to young ones.
Third Observation
The curriculum is well written for the young child. Each class is 30 to 45 minutes long. It is broken up into 5 sessions:
Fitness and stretches
Life-skills
Martial arts
Awareness and self-defense
Games involving current lesson
There are a few brief instructions with demonstrations given of each session. Then the child is able to use the skill just taught. The sessions move along quickly which helps to keep their attention. It is emphasized to the children that these new skills are not to be used on friends and family.
Pictures from the Event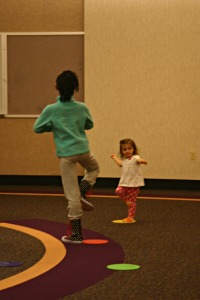 Ages 2 to 7 years old enjoying the class together.
Learning Kicks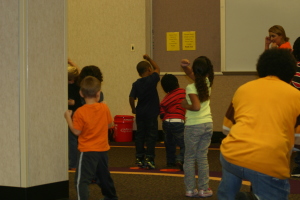 Learning Punches
My Conclusions
Olivia Spahn has done an outstanding job in the writing of the curriculum for Crouching Tigers. She obviously has an understanding of the young child's short attention span and has effectively used that in the creation of her program.
Although, I can't say I have found passion for the martial arts because of what I observed, I can say I am quite interested in the offerings of Crouching Tigers. I would love to get my great-nephew and, eventually, my grandson into one of their learning cycles. I believe they would have a lot of fun and would come away with some great life skills.
Your Opportunity
Currently, Crouching Tigers takes place in childcare centers, elementary schools and community centers in the Indianapolis and Cincinnati areas. If you do not live in one of those locations then you can check into starting your own franchise. Click here for more information on franchising. Classes start at just $45 for a four-week session, the program allows children to study eight styles of martial arts over the course of a four-year rotating curriculum.
If you live in the Indianapolis area, you still have a few more opportunities for your child to participate in one of the free classes they are offering at local libraries.
The Learning Curve@Central Library on Friday, October 17 at 11:00 a.m. (40 E. Saint Clair St.)
College Avenue Library on Wednesday, Oct. 22 at 10:30 a.m. (4180 N. College Ave.)
Fountain Square Library on Monday, Nov. 10 at 11:00 a.m. (1066 Virginia Ave.)
Classes fill up quickly so register now at http://www.eventbrite.com/o/crouching-tigers-7301359235
I enjoyed my experience with Crouching Tigers. I'm sure you will too. Please stop back by and share your child's experience.