I was so excited when I received an invitation from Travis Titus, the General Manager of BounceU of Fishers, to come and do a review of the business. I have a 3 ½ year old great-niece and two 2 year old great-nephews (well, one of them is almost 2). In my preconceived idea of what this place would be like, I thought, "What kid doesn't love bouncy castles, this will be so much fun for my little ones." So with the youngest one in tow (the one that isn't quite 2 years old), my husband and I headed out to see what was happening at BounceU and enjoy some time with our great-nephew.
Now let me ask you to please pay close attention to what I'm about to share with you (closer attention than I paid to the information that was available to me). In the original email that was sent to me it stated that "children must be at least 34" tall and able to walk on their own to play on the inflatables." I thought to myself, "Jeremiah has been walking for a year now so he must be at least 34" tall." The night before I was scheduled to go I decided I should go to the BounceU website and read what it has to say about the place (I really should have done that sooner). On their website under FAQs, the first question is "Is there an age limit?" And guess what…there is an answer right below the question which states, "BounceU is suitable for ages 2 to adult…" Jeremiah won't be 2 until July so I probably should have checked for this information sooner. Oh well, plans had been made so my husband and I picked up Jeremiah and headed off for our adventure.
We were welcomed by a brightly decorated and inviting storefront.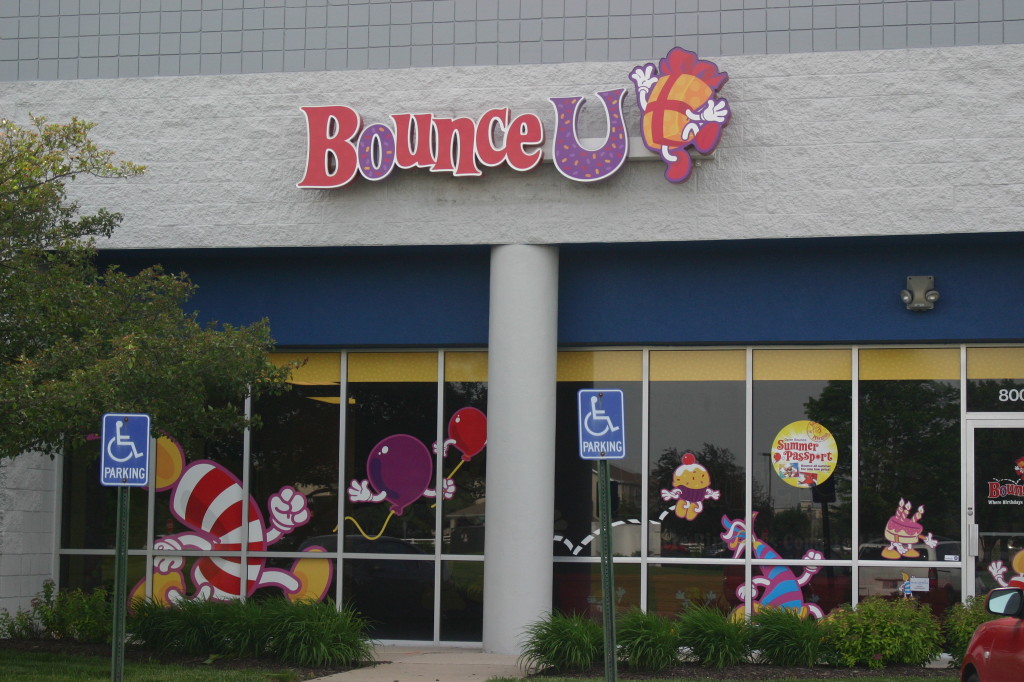 The inside lobby was just as brightly decorated and fun. We were warmly greeted by Travis and he began to show us around. The first thing you must do upon entering is head to the counter to fill out any necessary paperwork and pay your admission fees. Anyone under the age of 18 must submit a waiver signed by a parent or guardian. There is a link on their webpage so you can have the paperwork filled out before you arrive which will save you some time and get to the bouncing quicker.
Our next stop was at some benches where you sit and watch a short safety video which covers, in a little more detail, their important rules.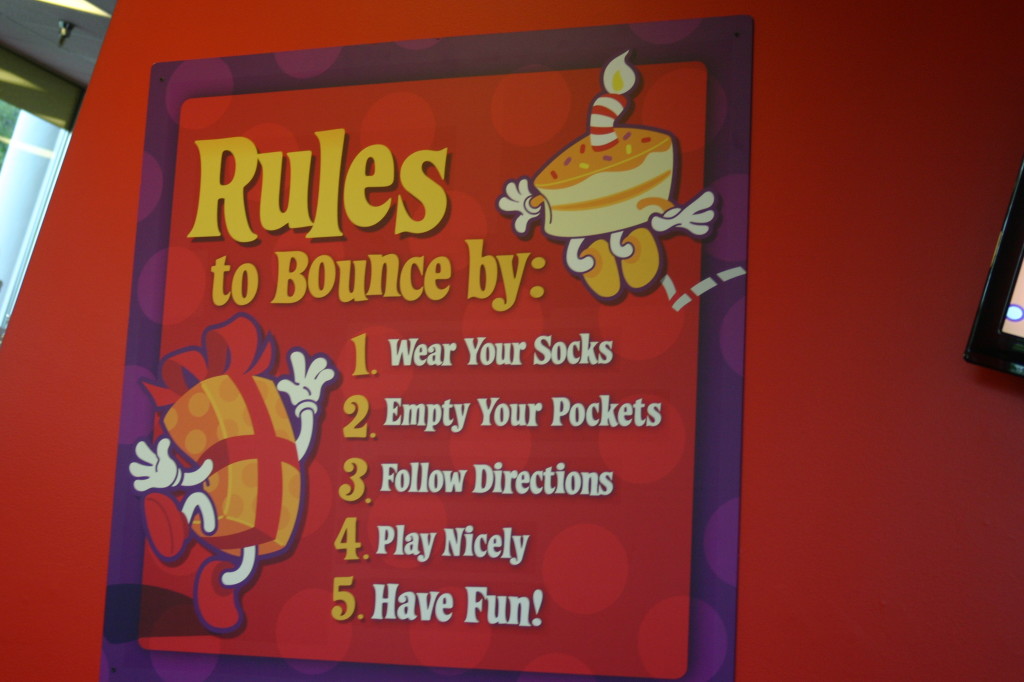 We were then escorted into one of their two bounce rooms. We first had to take our shoes off and put them in a little cubby. Then make sure that everyone has socks on. We were then shown the area they have for little ones under 2 years old. There wasn't a lot there but Jeremiah enjoyed climbing and sliding down the foam structure.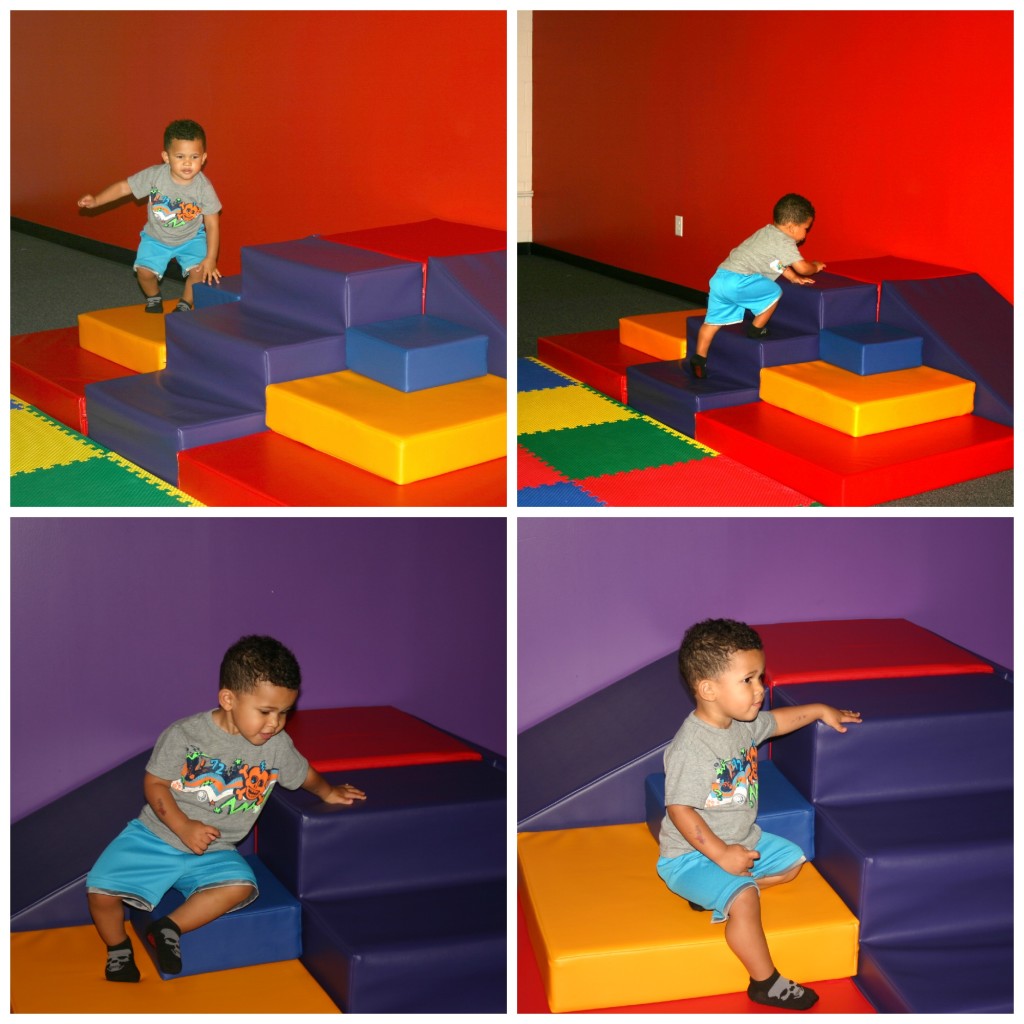 They brought out some bouncy rubber donkeys that he really enjoyed too. He insisted that Uncle Pat get on one along with him.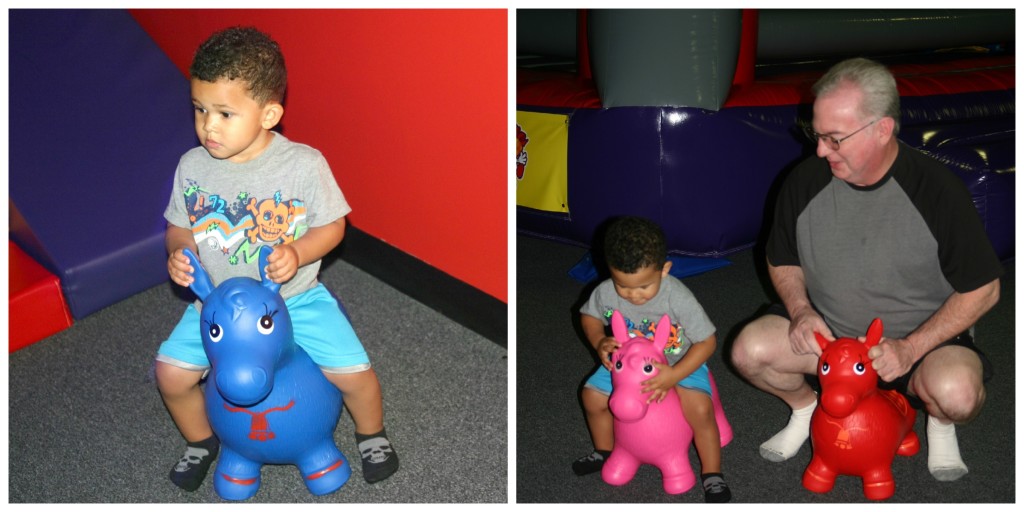 Jeremiah especially enjoyed anything that had balls. There was a "batting cage" that had a ball floating on a stream of air. You are supposed to hit the ball and try to get it to go into one of the bases (holes) in the backdrop. Jeremiah didn't understand that part of it but he enjoyed placing the ball over the stream of air and knocking it off. He spent quite a while doing that one.

There was another activity that involved balls. There are five different balls floating on streams of air. You are supposed to throw rubber balls at the floating balls to knock them off. It was a little harder for Jeremiah because he is so little but he still enjoyed picking the balls up and throwing them. There was a 5 year old girl there that did a great job of knocking the balls off the streams of air. I was really impressed with her arm and her aim.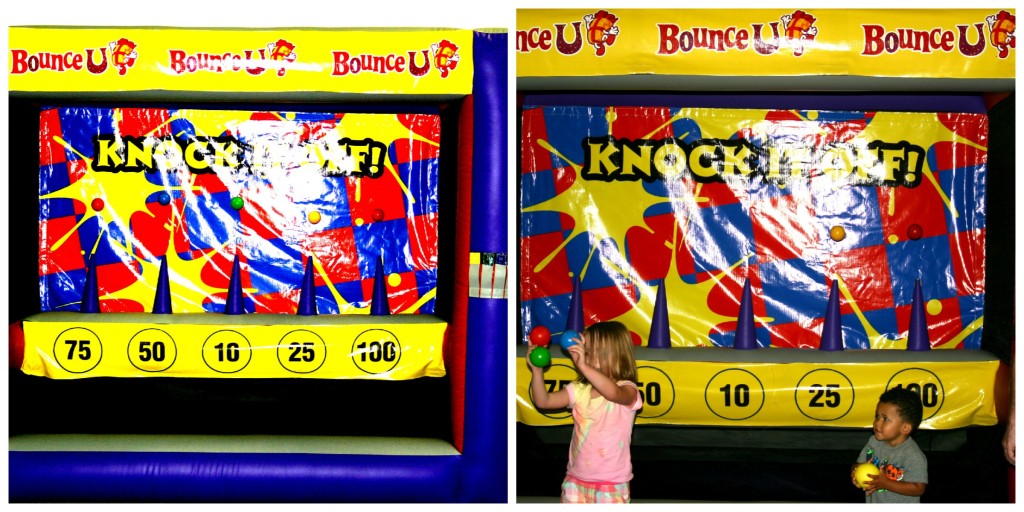 There are a couple of large open area jumping inflatables. One was a boxing ring with over-sized boxing gloves…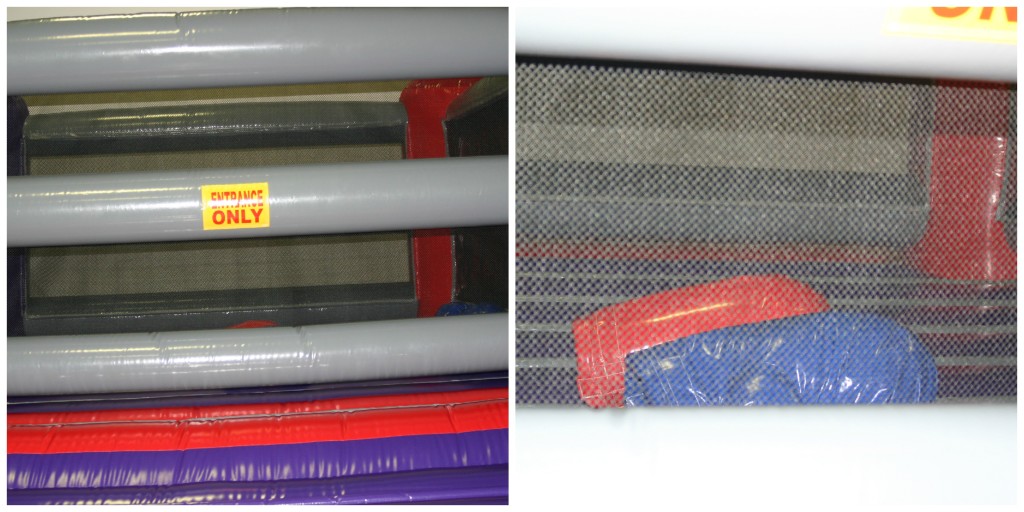 ……the other one had a basketball hoop in it and we were told that they have over-sized inflatable lances so the kids could pretend they are jousting. Both of these areas are great for just jumping around in too, although we couldn't get Jeremiah to go near either of them.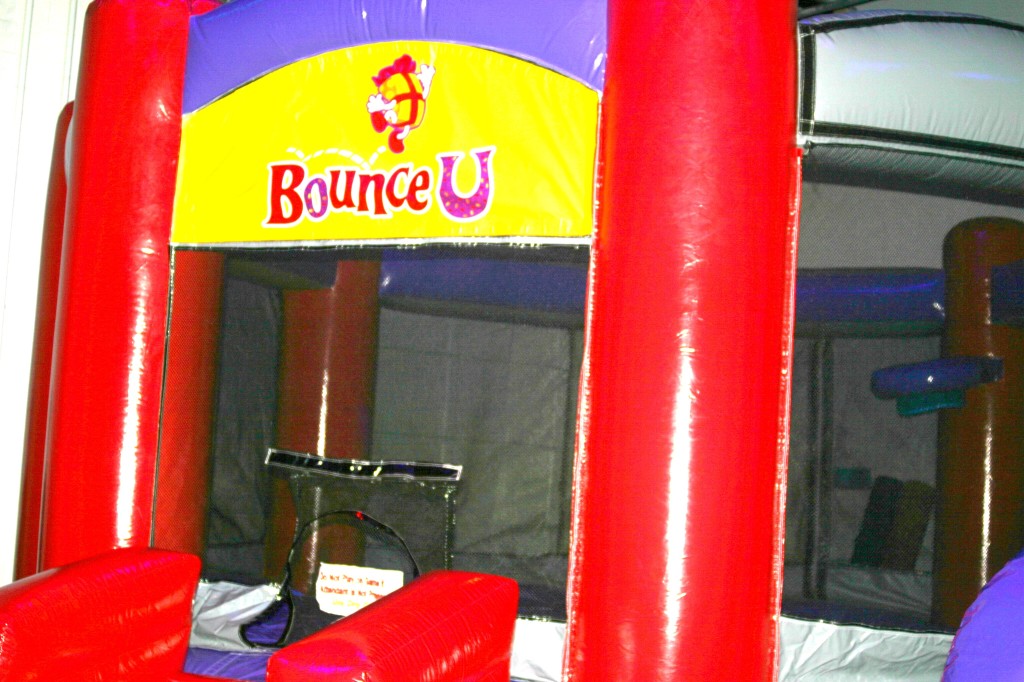 There was only one other family at BounceU at the same time we were; a mother and two little girls. The girls were 5 years old and 2 years old (turning 3 in August). This was also their first time at BounceU and they were having a blast. Here they are in one of the inflatables that had things to climb and a slide.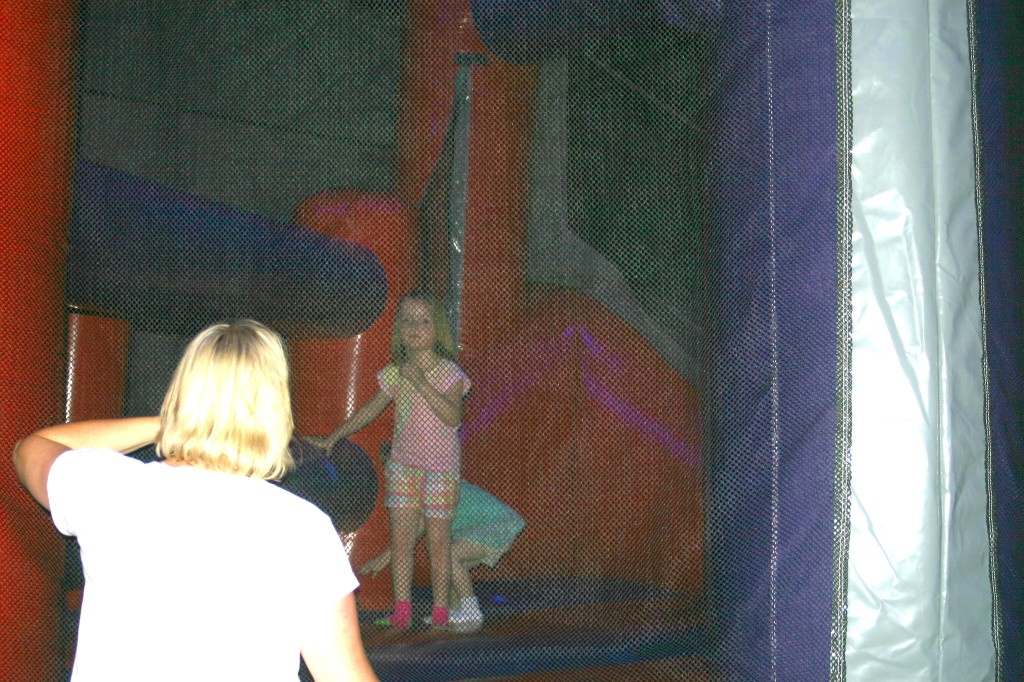 There was a big climbing wall, that you could scale and grab a flag. The 5 year old was quite proud of her accomplishment.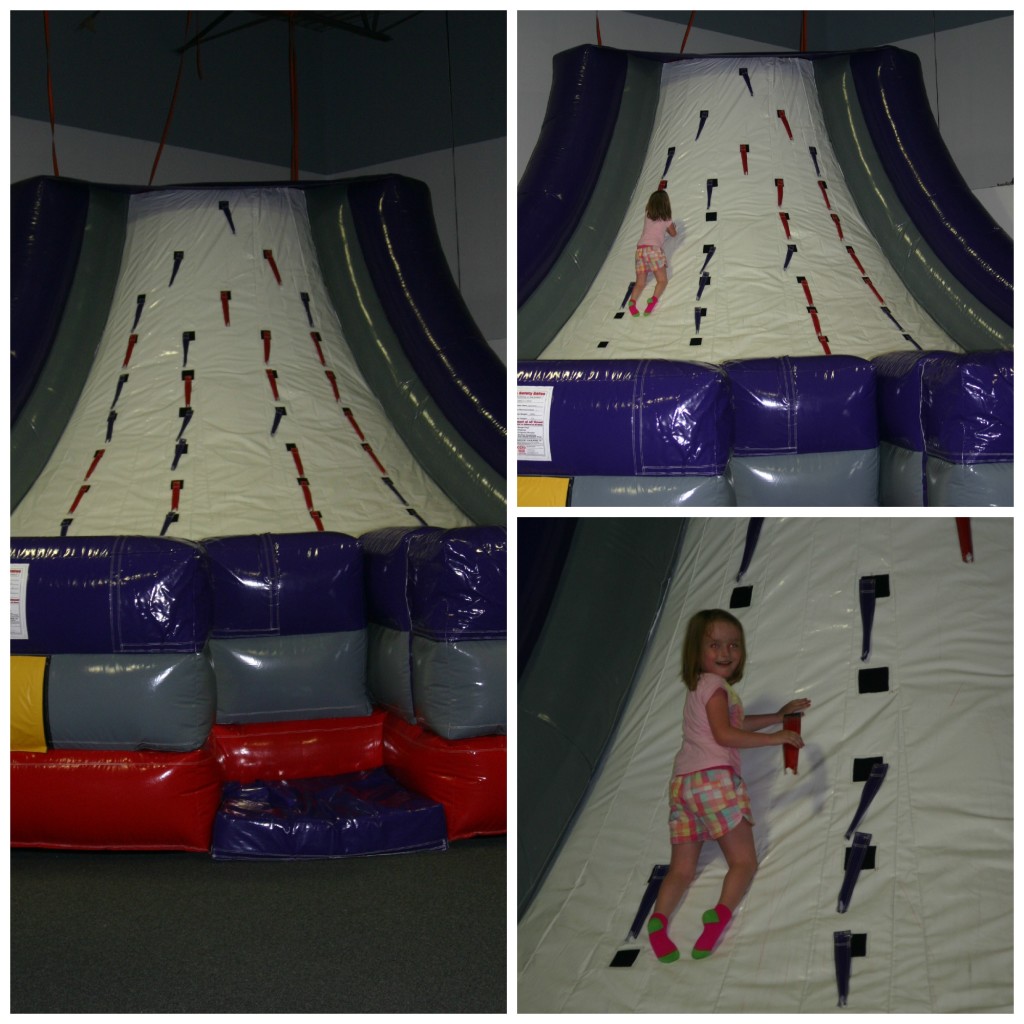 There was also a fun obstacle course that had two identical courses so you could challenge a friend to a race. This one looked like a lot of fun to me but of course, Jeremiah wouldn't have anything to do with it. I'm afraid he could have beat me through the obstacle course, anyway.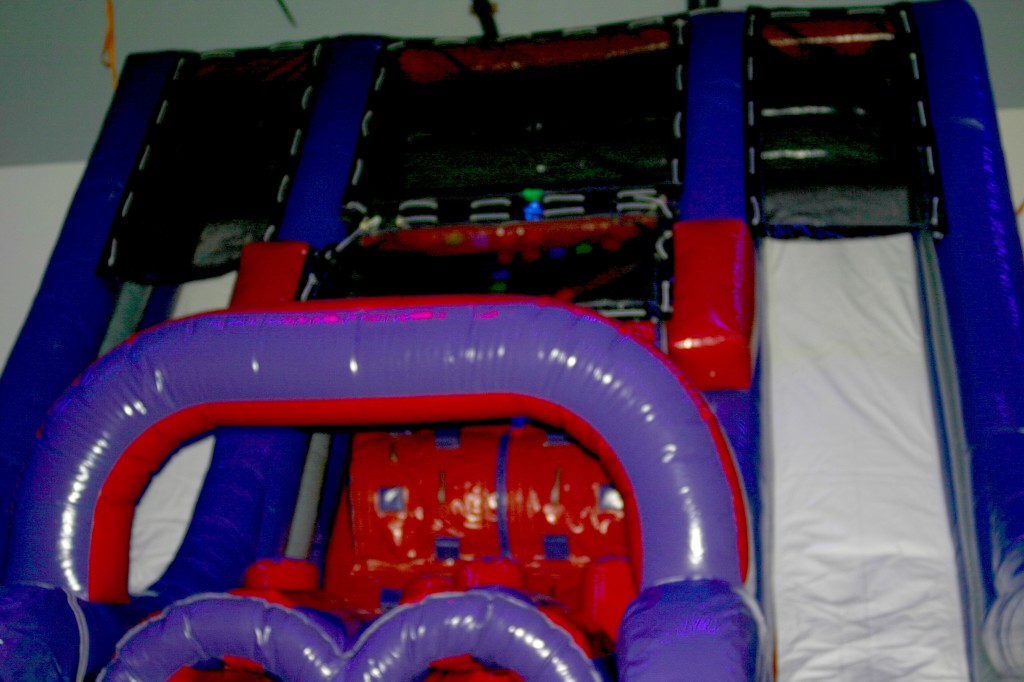 There was one other piece of equipment that Jeremiah was interested in. It was a huge two-story slide. At first all he wanted to do was play on the slope at the entrance.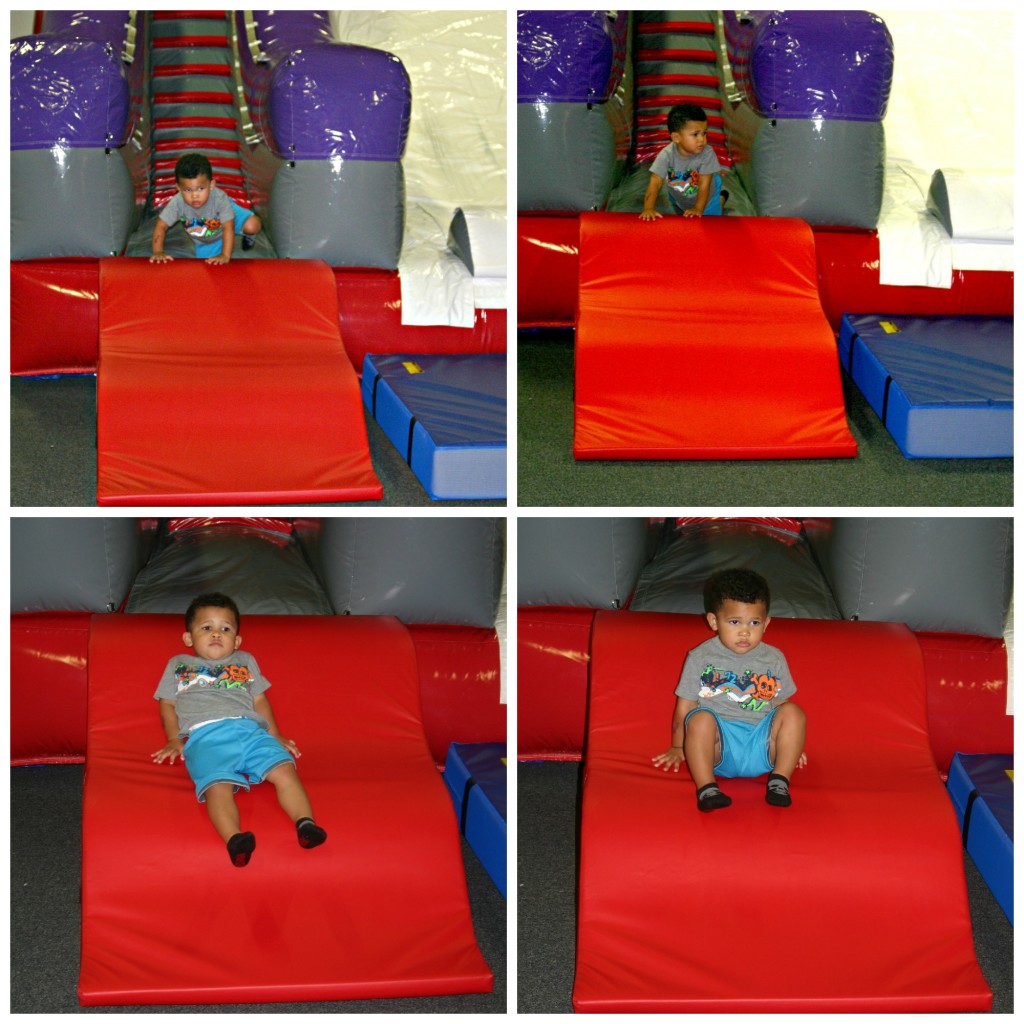 He ventured part way up the "ladder" a couple of times but would turn around and come back down before he got very far. Finally, one of the staff members was able to get him to climb all the way to the top of the slide. By the way, the staff is absolutely wonderful with the kids. They were there to help out, encourage and answer any questions. The staff member asked Jeremiah if he wanted her to slide down with him. She said that he just said, "No, no," and went down by himself. After he made it down the first time, he loved it so much he went several more times.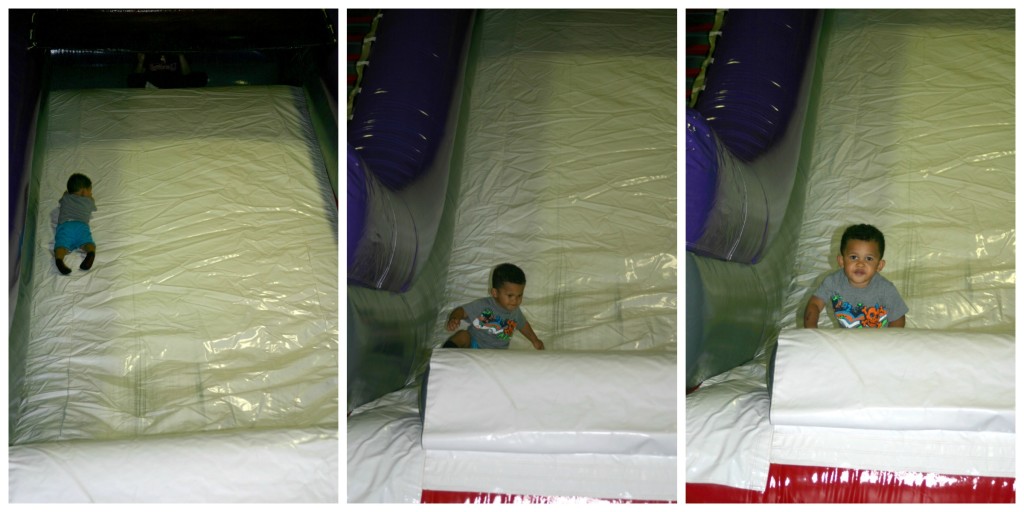 Here is one of my favorite things about BounceU, it is for ages 2 and up!….2 and UP! When I first got my invitation I thought that BounceU would just be for little kids…but it's not…its for 2 and UP. I'm part of the "UP"…way "UP". This is great to know for two reasons. One, as a mother or grandmother, it's nice to know that if your child gets "stuck" or scared you can easily retrieve them. Unlike the "tube/tunnel" play places they had when my children were small. The second reason this is great is because I can play too!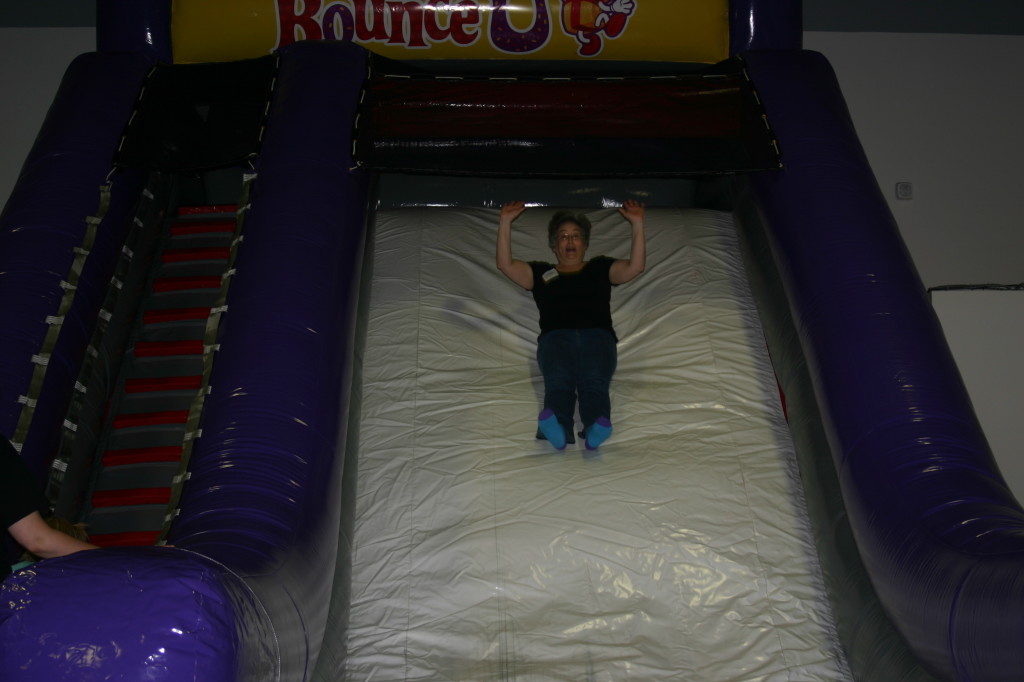 And I wasn't the only grown-up having fun.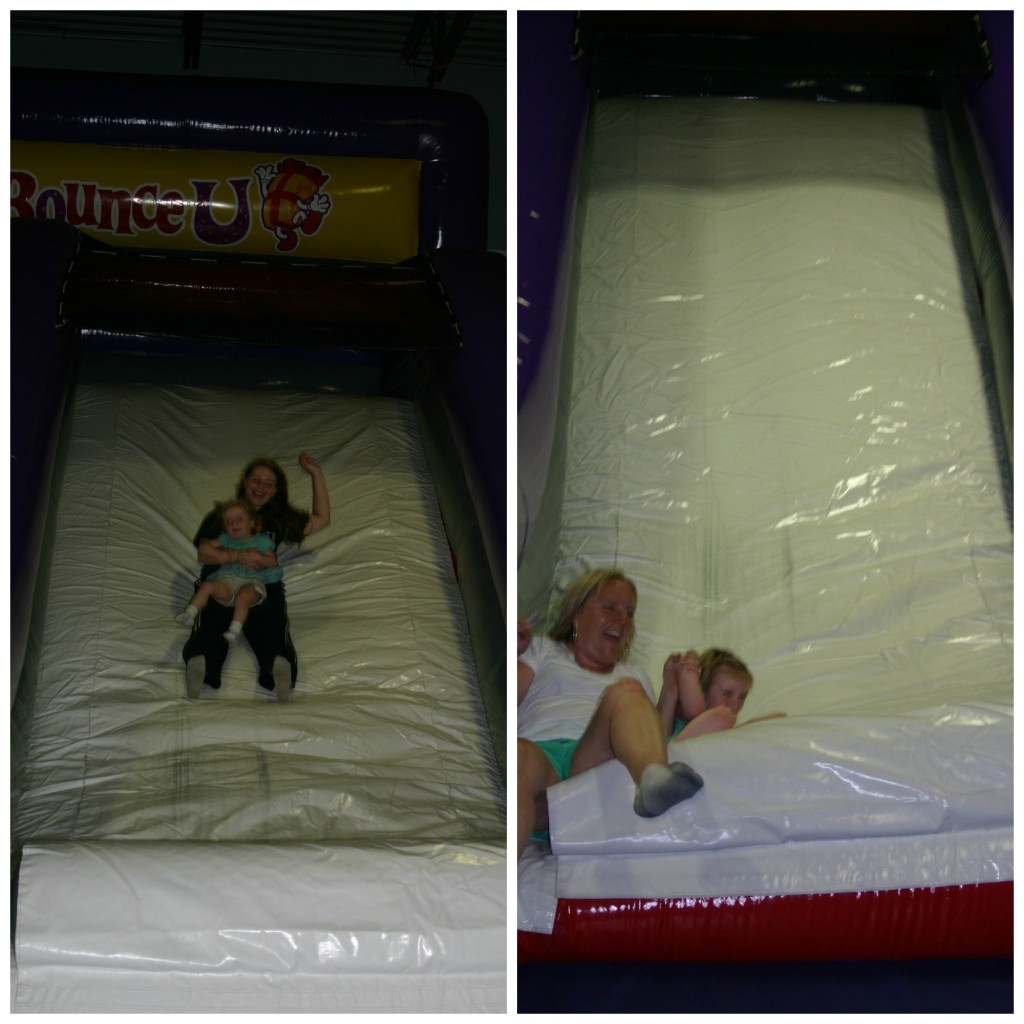 Besides BounceU being a great place to take your children for some exercise and playtime, it's a wonderful place for a birthday party. It's probably one of the BEST places I have ever heard of for a birthday party.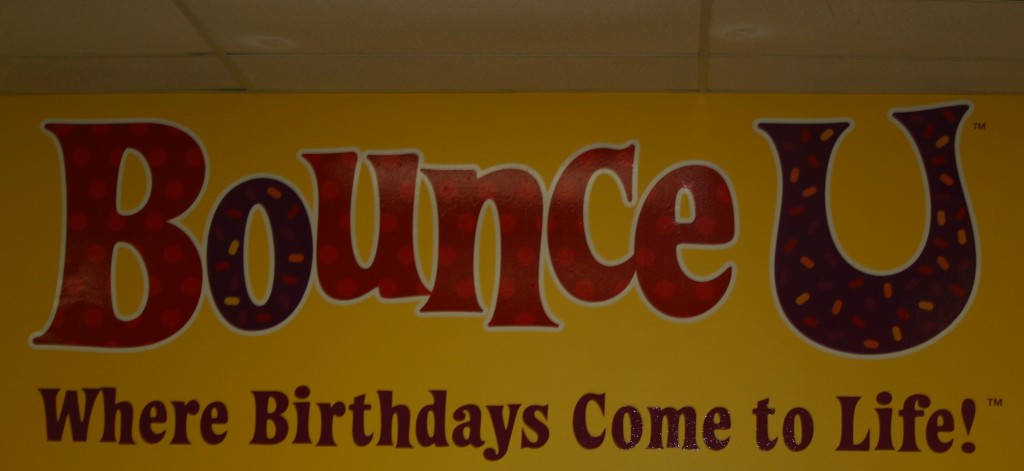 When you schedule a birthday party at BounceU, your party will be the only group in the bounce room. There are two bounce rooms and your party will spend part of the time in one room and then be moved to the next room. After your time is up in the bounce rooms your group will be taken to one of the two party rooms. The staff will have everything ready to go when you arrive at the party room. If you have ordered food, the staff will have it ready to serve up. Although you can't bring in your own food, you can bring in a cake or order it through BounceU. The staff will cut and serve the food. They will even have the presents you brought arranged and ready for the birthday child. You just get to sit back and enjoy.
There is a special throne for the birthday boy/girl to sit in and open presents.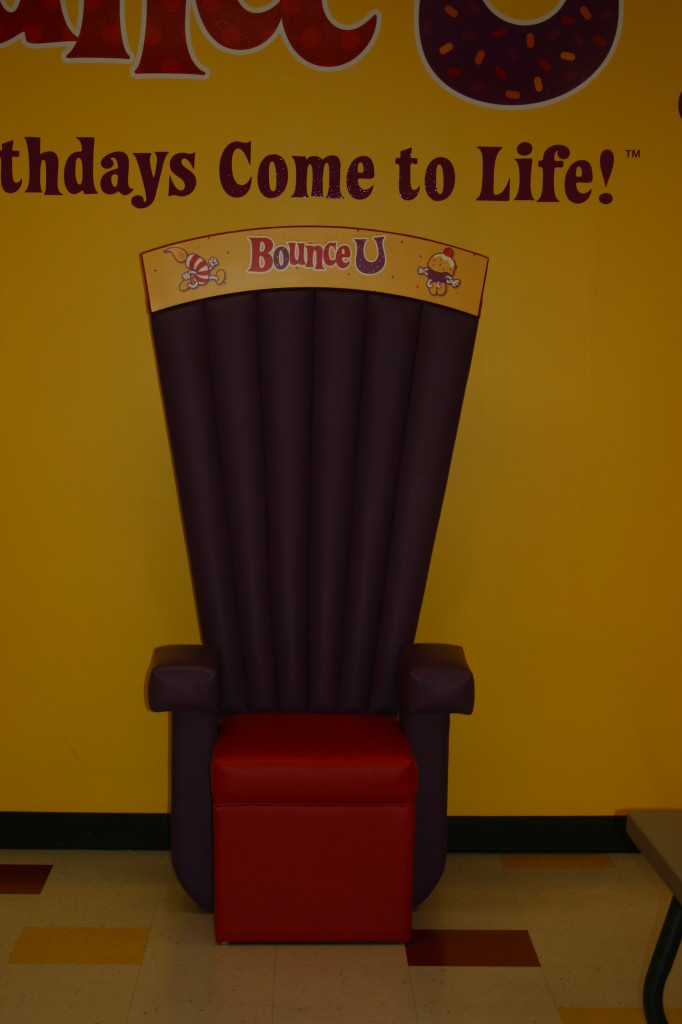 And get this!…the staff will keep a list of the presents and who gave them so you can send thank you notes later if you like. It sounds like they have thought of everything. They even have big bins on wheels so that when the party is over, they will put all the presents in the bins and roll them to your car and help you load them up. You don't even have to worry about clean up, just party and leave. Isn't that the coolest?! Another great bit of information is that adult chaperones are free to birthday parties as long as the total of kids plus adults is less than 50.
So to sum up our adventures at BounceU of Fishers:
1) It really isn't for children under 2 years old, but if you have to bring a little one with you, there are a few things that they will enjoy.
2) Since adults can also enjoy the inflatables it's a great place for a family outing.
3) Adults get in free with a paying child ages 2- 17 years old.
4) It is the best place I know of to throw a birthday party.
5) Be sure to check their schedule for Open Bounce times. Check their schedule often because Open Bounce times get added on weekends when they don't have a lot of birthday parties scheduled.
6) The staff is wonderful with the kids which is very important to any parent.
7) At the time we attended there was just one other family so we had the whole place to ourselves, so go by and spend some time in this place now before the word gets out and it's packed to the rafters.
Be sure to check the BounceU website for open times.
BounceU in Fishers
9715 Kincaid Drive Ste 800
Fishers, IN 46037