Studio Movie Grill Review
Disclaimer: I was given 4 tickets to attend the movie of my choice, at the Studio Movie Grill, as well as 8 tickets to use in a give-away. However, I was not influenced by the promotional materials. All opinions and insights are my own. (Update 11/08/13, Congratulation to Kelly Bradbury and Karey for each winning a set of 4 tickets.)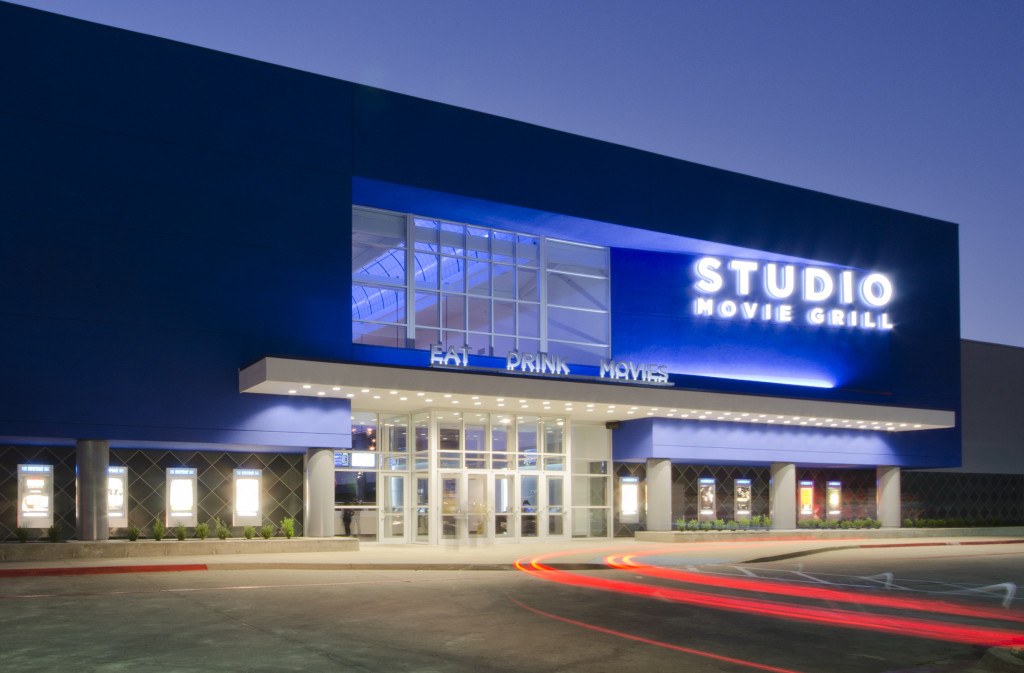 The Studio Movie Grill is definitely a new way to experience the movies. The Studio Movie Grill offers original first-run movies coupled with in-theater dining. It is located just off of Michigan Road on 86th Street, at 3535 West 86th Street.
When I was contacted by the Studio Movie Grill about doing a review I first asked them if they showed many children's movies, since my audience is mostly family oriented. They informed me that they show many first-run children and family movies. In addition, they also have a special "Kids Toons" series every weekend morning and tickets are only $2 each. Also, one Saturday each month SMG hosts the "Special Needs Screening"; a special presentation of a current release with free tickets for children with special needs and their siblings, and only $6 for adults.
I must be honest and say, my first impressions with the Studio Movie Grill were not favorable. I did not have much success in getting information on the movie we wanted to go see. First I went to their website, www.studiomoviegrill.com, and looked over the movies that were available. I watched several trailers and settled on a child friendly movie (since I am a kid at heart), Free Birds (3D). I clicked on the time we wanted to go see and received a message that they had just sold out for that viewing so I chose a different time and got the same message. After several attempts, I finally realized it was a glitch in the way their website behaved and was able to find a time that was available (a time that had previously said wasn't available). As I looked at my options to continue the order I wasn't sure how to show that I all ready had tickets. At this point I decided to read the information on my ticket. (I have a bit of a problem with reading instructions until after I'm having difficulties) It states on the pass that it can't be used for online sales so I tried to call the theater…more frustrations. Although there was an option to speak to someone in the box office I was sent to a voicemail box. I didn't want to leave a message, I wanted to know if there were seats available for the showing I was interested in. I was not impressed that I couldn't get hold of an actual person to answer my questions. I decided that since the passes couldn't be used online there must be seats available even if you don't have a reservation so we headed out.
I was pleasantly surprised when we entered The Studio Movie Grill. It resembles an upscale club. You won't find a concession stand or a heavy smell of popcorn and old butter. There is a very modern look to the lobby. To the left of the entrance is a lounge/bar area for the grown-ups. It sets behind a high partial wall so it is not the center of attention. Because of the way it is positioned it makes a cozy place for grown-ups to hang out but if you are bringing the family in for a movie it will hardly be noticed.
Once you purchase your tickets they ask you to take a look at a small computer-sized screen, that is set in the counter in front of you, and choose which of the available seats you want to sit in. They then print out and hand you the tickets with your row and seat number on them. There were two girls at the ticket check stand. One checked our tickets and the other took us to our seats. The rows are wide so it's easy to get in and out (and easy for the servers to get to you).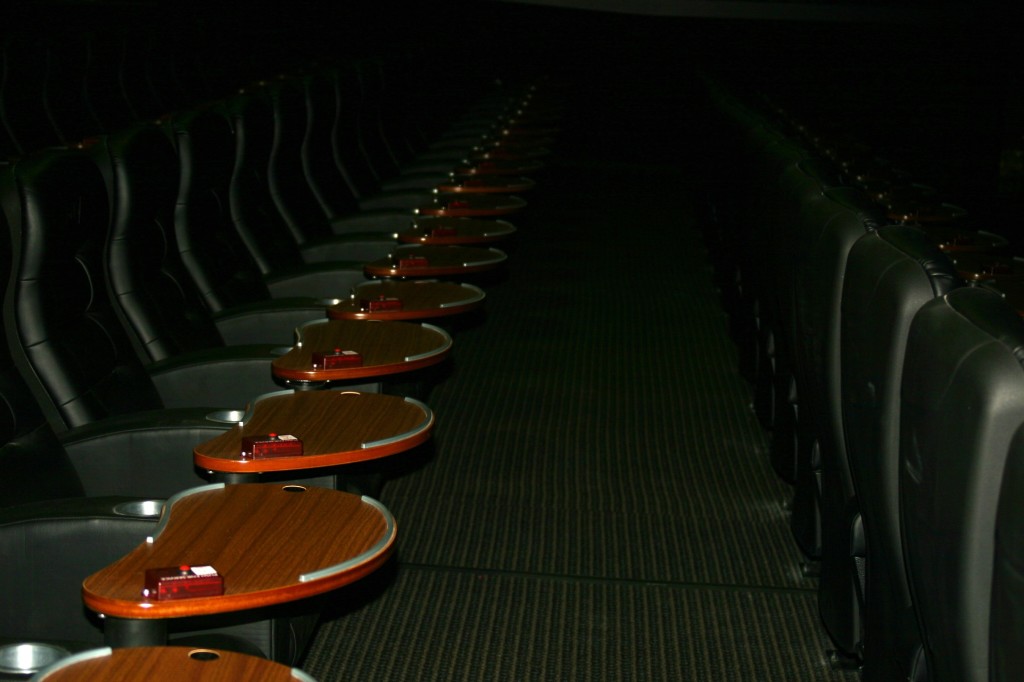 The seats are large and comfortable with trays that swivel so you can get in and out of your seat.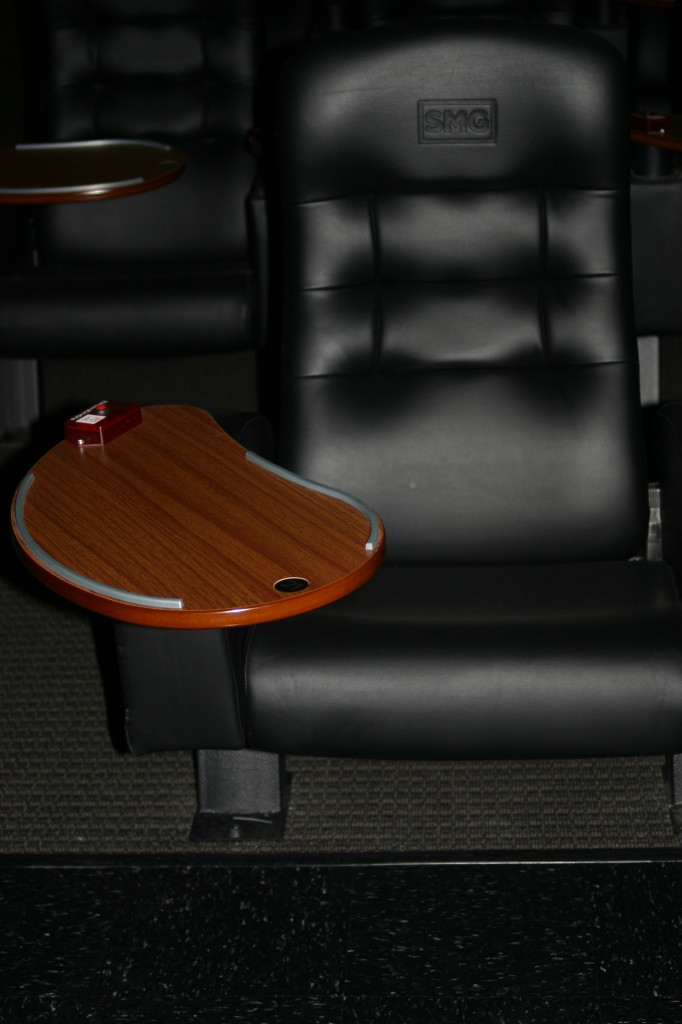 Shortly after we were seated a server came by with menus. On each tray is a button that you push to let your server know you are ready to order.
We got lost trying to find the theater so we were running a little late but I highly recommend that you follow their suggestion and arrive at least 20 minutes early. They suggest you do this so you can order your food well before the movie starts. It didn't take them long to bring our food to us but because it was so close to time for the movie to start, when we ordered, it didn't arrive until after the movie began. The problem with that was that it was so dark we couldn't see what we were doing. The theater has no problem with bringing food to you whenever you want it. Their site states: "Order as much and as often as you like throughout the show."
The food was delicious. My favorite was the appetizer; chicken nachos. We will definitely be ordering that again. My husband and I both ordered burgers. The burgers were thick and tender. We both had sweet potato fries as our sides. They were a little cold but well seasoned. They have a wide variety of choices on their menu. We could have chosen a turkey or black bean burger rather than the beef. They boast an evolving menu of over 100 items ranging from delicious appetizers, healthy choices, entrée salads, gourmet pizzas, a kids menu and desserts. Their prices are reasonable. I would say they are along the same lines as Chili's or Applebee's. You don't have to order food at all or you can go with the traditional popcorn and soda.
From what I researched Studio Movie Grill's ticket prices are the same as other theaters. They are not charging you extra for the nicer theater and the wonderful food service.
Although I had a rough start, in trying to get information from their website and box office, it turned out to be a wonderful evening. I would highly recommend the Studio Movie Grill for a unique family activity or possibly a special date night for a parent and child. It would also make a great date night for mom and dad. They deserve and need a special night every once in a while. I know we will be returning. Maybe we will see you there.
You might also enjoy:
Review: Walt Disney's Frozen 3D