"Learn with Play" is Here!

Learn with play is my mantra for teaching children and now "Learn with Play" is the title of a wonderful book and I'm excited to say, I'm one of the many authors.*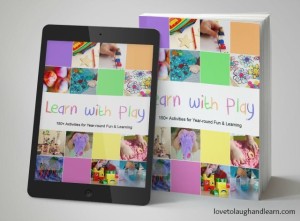 There are 150+ activities in this collection. You will find ways to help your child attain everyday life skills as well as arts & crafts, learning activities and general fun. There is also a section on holiday activities. The majority of the activities are for birth through kindergarten age, although you will find some activities that a child even older will enjoy.
Take a look at this video to get a better idea of what this book is all about.
There are 94 talented, creative bloggers that have contributed to this book. In the Kindle and eBook versions you will find links to printables. In all three versions you will find the urls to each of the bloggers. That will give you an infinite resource of fun activities to do with your children, as we all post regularly.
Here is a picture that shows a few of the differences between the paperback book and the Kindle/ebook versions.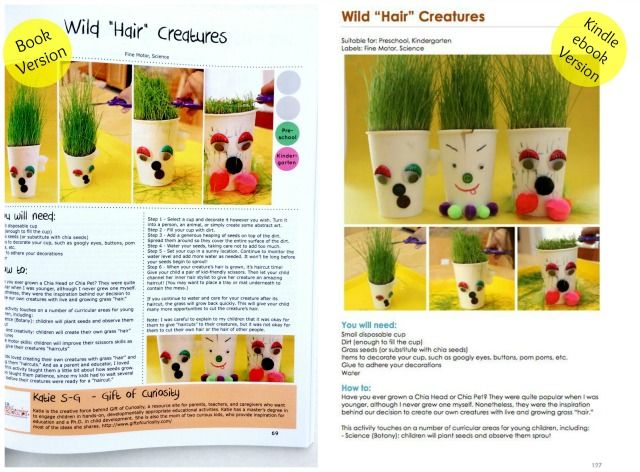 The paperback version is $29.95 $26.96 (recently lowered) and the Kindle/eBook versions are $14.95. Although I love a bound book, I can see the attraction of being able to access the activities on your Kindle, iPad or other device.
There is so much fun packed on these pages, you won't want to miss a single second of it. Click on a link below to get your copy now.
"Learn with Play: 150+ Activities for Year-round Fun and Learning"
Paperback Copy $29.95 $26.96
Kindle Version $14.95
eBook Version $ 14.95
Related Posts
Generally Having Fun with Music
How to Eat a Pumpkin: A Lesson From a 3 Year Old
How to Eat a Pumpkin, Part 2
*Affiliate links can be found throughout this post.
Save