Shake Rattle and Roll at Bongo Boy Music School

Shake Rattle and Roll is not simply the title of a song from the early '50's; it's also a fun musical experience at Bongo Boy Music School. This particular class is geared for the little ones; birth to 36 months. There is another class for 3 to 8 year olds, called Jam as a Fam.
Today, I'm going to share with you about the fun we had at the Shake Rattle and Roll class. This will be our third trip to Bongo Boy Music School. Our first trip was in March of 2014, when we took our 32 month old, great-nephew. We were able to make a second trip when our grandson came to visit from Texas. He was 8 months old at the time. Both of them really enjoyed their time at Bongo Boy.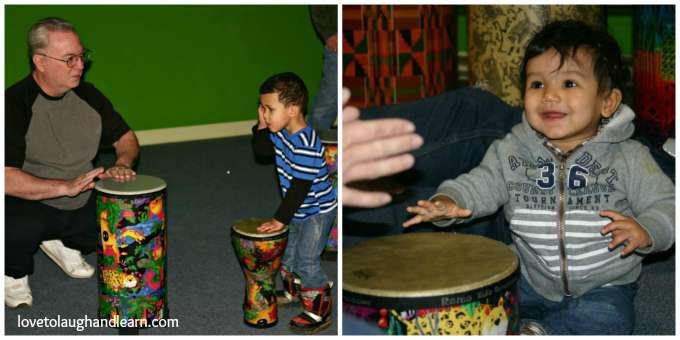 Just recently, we were able to take our grandson back for a visit. He is almost 2 years old now. He had every bit as much fun as he did on his first trip.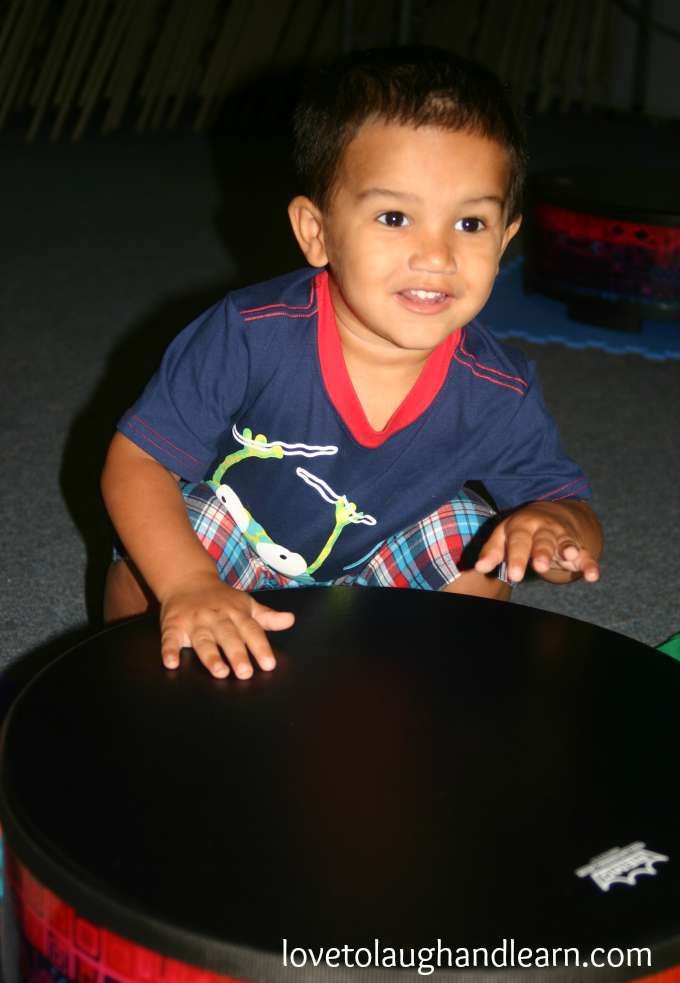 The class is set up to allow the children to experience music and rhythm through several different mediums. During the time we were there, we used the drums, some shakers, scarves, "quackers" (a percussion instrument that sounds like a duck's quack) and our bodies. I say "we" because everyone is encouraged to join in. It's very important for the adults to set the example. The little ones are always watching you.
Several energetic songs were used to encourage participation. One of my favorites is "The Freeze" by Greg and Steve. I used that song in my preschool classes when I was teaching.
Besides the fun with rhythm and music, there are some important secondary lessons that happen during Shake, Rattle and Roll. One of them is sharing. There is plenty of equipment for everyone but sometimes a little one likes to wander and play on another drum that someone is already at. The other lesson is cleaning up. At the end of the session all of the instruments need to be put up. Miss Colleen (our instructor) tells us what needs to be brought to her and the children take the items up and put them in the bin. On all of the occasions we have been there, the children have been very excited to help with the clean up. Miss Colleen makes everything fun!
The very last thing we did on this trip, to Bongo Boy Music School, was get up and move our bodies. As you can see in the following video, our grandson really enjoys moving his body.
As you can see, we really enjoyed Shake Rattle and Roll at Bongo Boy Music School. We will definitely be heading there again before my grandson and daughter head back to Texas.
Bongo Boy Music School offers several family friendly events:
Do you have a music school or drum circle that your family enjoys? We would love to hear about your experiences with music!