Diamonds: Learning Activities for Shapes
with free printables

Time for fun with diamonds. What is the first thing you think of when someone talks about a diamond? My first thing is a kite. The second thing I think of is the song, Twinkle, Twinkle, Little Star. Below are listed some fun things to do with diamonds. Have fun and please come back and share the different activities you have tried and how you liked them.

Content:
Toys
Crafts:
Kite Picture
Flower Made from Diamond Shapes
Snacks
Story Time
Related Posts
Toys
You may have a shape sorter with a diamond shape in it. I would recommend the Discovery Toys: Playful Patterns (just use the diamond shapes today). Also try a Hape Geo Form S – Diamond Shaped Puzzles
or kite. Please stop by and share what type of diamond shape toys you have.
Crafts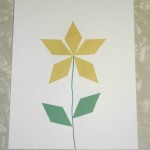 Kite Picture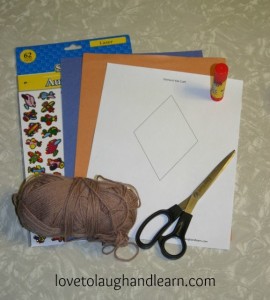 Materials Needed:

Diamond Kite Template
Construction paper or paint, markers, crayons
String or yarn
Stickers
Scissors
Glue
Instructions:
1. Print Diamond Kite Template
2. You can either color or paint the kite on the template or use the template as a pattern to cut the kite out of construction paper. For this craft, I decided to cut the kite out of construction paper and glue it to another piece of construction paper.
3. Glue a piece of string or yarn to the bottom of the kite and have it run all the way to the bottom of the page so it looks like the kite is flying high in the sky.
4. Add stickers to the kite for extra decoration. Stickers are great for young children to exercise their fine motor skills as they peel and stick them to the paper.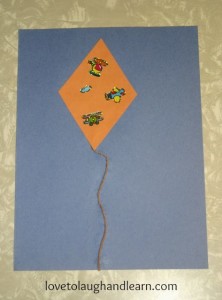 Diamond Flower

Materials Needed: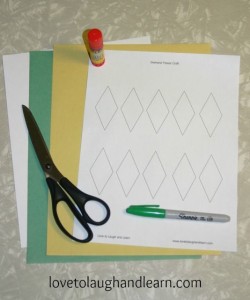 Diamond Flower Template
Construction or tissue paper
Scissors
Glue
Green marker
Instructions:
1. Print Diamond Flower Template
2. Cut 2 diamonds out of green paper.
3. Cut the rest of the diamonds out of whatever color you want your flower to be.
You can cut out as many diamonds as you want.
4. Glue the diamond petals in a flower shape with their points touching in the center of the flower.
5. Draw a green stem on the flower.
6. Glue the 2 green diamond shaped leaves to the stem.
Now you have a beautiful diamond flower to remind you of spring or to give to mom or grandma for Mother's Day.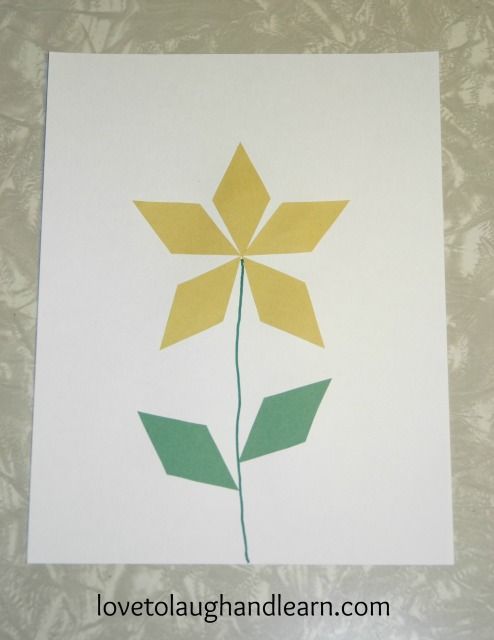 Foods for snack or meal time
I searched the web and couldn't find any diamond shaped foods but you can always use a diamond shaped cookie cutter to cut vegetables, fruits, cheese, etc. You could also use triangle shaped foods and show your child how to put them together to create a diamond.
Story Time
Much to my disappointment, I have not been able to find any books that are only about diamonds. I have found some books that discuss several different shapes and diamonds are included so I am listing those books. If you know of any books that are just about diamonds, please let me know.
Color Zoo
by Lois Ehlert
Reading Level: Ages 4 and up
There isn't much of a story. Actually it's just a poem on the first page of the book but seeing how the different animals are made with the shapes is very interesting. The pictures are very bright and inviting to a child. The shapes that are covered are circle, square, triangle, rectangle, star, heart, oval, diamond, octagon and hexagon.
Museum Shapes
by The Metropolitan Museum of Art
Reading Level: Kindergarten – 3rd Grade
This is a very interesting way to introduce your child to shapes and to the art world. Your child is introduced to different shapes and asked to locate the shapes in famous pieces of art work. A fun way to teach your child to look for shapes in items they run across every day such as wheels, on clothing or in a painting. Not only is this a good book for teaching shapes but it would be good to read before heading out for an afternoon at the art museum. There are reference pages at the end of the book that provide information on each of the pieces of art that are represented in the book. The shapes that are covered are circle, square, triangle, rectangle, star, heart, oval, diamond, crescent and arch.
Shape by Shape
by Suse MacDonald
Reading Level: Ages 2 to 5
This book does not actually teach shapes but it is a good review and a fun mystery. The book starts out with two black circles in the middle of the page and it asks, "Do you know what I am?" As you progress page by page you find different shapes cut out of the pages with different hints. By the time you reach the end of the book you find, created over a three page spread, the answer to the original question. You will need to get this book to share with your child. It is quite fun to see what the shapes create at the end of the book. The shapes that are covered are circle, triangle, oval, diamond, crescent and semi-circle.
When a Line Bends . . . A Shape Begins
by Rhonda Gowler Greene
Reading Level: Preschool to 2nd Grade
The book starts out by describing different types of lines and then it discusses the different shapes that can be made when a line bends. The book is written in rhyme and gives many, many examples for each shape. There are fun multi-colored pictures to go with each example. Your child will have fun looking for the different shapes that are described in the text. The shapes that are covered are circle, square, triangle, rectangle, star, heart, oval, diamond, crescent and octagon.
Shapes – Overview
The Lessons – Overview
Circles: Learning Activities for Shapes
Ovals: Learning Activities for Shapes
Squares: Learning Activities for Shapes
Rectangles: Learning Activities for Shapes
Triangles: Learning Activities for Shapes
Stars: Learning Activities for Shapes
Hearts: Learning Activities for Shapes
Learning Should Be Fun
Colors – Overview
When Do Children Start Learning