Indy Island Aquatic Center Review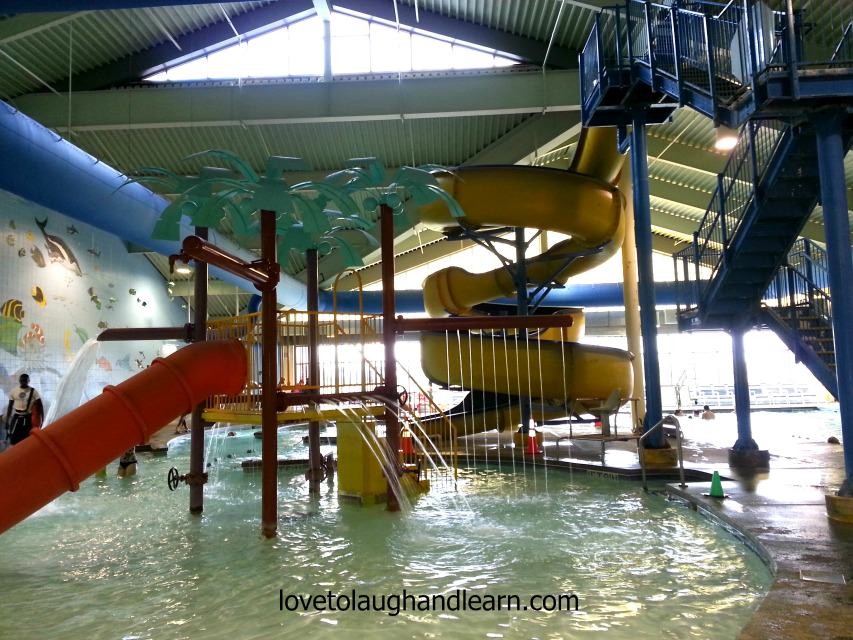 November 1st, 2014, Indianapolis Indiana, we were heading to the Indy Island Aquatic Center at Raymond Park. The high this day was 43 degrees. That sounds like perfect weather to think about going swimming doesn't it. And isn't this the way you envision being dressed to head to the pool?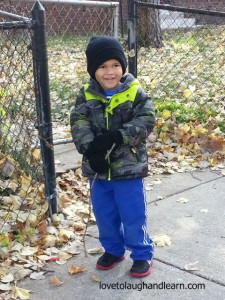 My secret is out. I love the water. I grew up in the water, my kids grew up in the water and now it's time for the next generation. It has been many years since I was last at Indy Island. We used to take the kids there when they were young. A couple of them have winter birthdays and Indy Island was a nice alternative for a party place.
The indoor facility is open year round with heated pools. We thought the water and air temperature, in the facility, was a little cool, the day we visited, but it was tolerable.
The kid-sized pool goes from a zero entry level depth to 3 feet. There is a water playhouse with a slide and lots of water spraying in different directions. Jeremiah spent a lot of time in this area. I spent a lot of time at the foot of the slide watching him come down.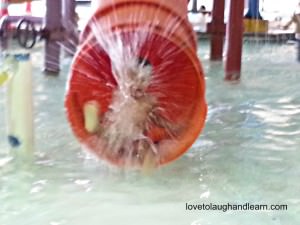 There is a large water slide for people at least 48" tall. There is a separate 3 lane lap pool that goes from 3 ½ feet to 6 feet. There is a spa for adults only and tons of deck chairs.
It's not like one of those huge water parks with tons of attractions but considering the admission price, it's an awesome deal.
The indoor pool is open Wednesday and Friday from 4:00 p.m. – 8:00 p.m.. Saturday and Sunday, it's open from noon until 5:00 p.m.. The cost is extremely reasonable. For 3 to 17 years, it's $4 during the week and $5 for weekends and holidays. Adults are $5 during the week and $6 for weekends and holidays. Senior Citizens (ages 55+) are the same as the youth. Children 2 and under are free.
Birthday Parties
If you are looking for a fun place for a birthday party, you should check out Indy Island. For $80, your child can celebrate their birthday with 7 of their friends. This price includes 2 adults. You will get the party room for 55 minutes. Indy Island will cover four tables with tablecloths and set 10 place settings for your party. You can bring your own decorations, if you want, but you won't be allowed in the room early. This means you will be using part of your child's party time to decorate. My suggestion would be to let Indy Island do their thing. If you really want to bring something, make it a few balloons and/or simple centerpieces you can quickly place on the tables that they have prepared. You can not bring outside food or drink, other than the cake and ice cream. They provide 2 pitchers of punch. After the party, head to the pool for some fun. The pool is included in the price. For $100, they will also serve hotdogs and chips. If you have more children or adults that you want to invite, additional children are $5.00 and adults are $6.00.
Whether you are looking for a way to beat the winter chill or an alternative site for a birthday party, be sure to check out the fun at Indy Island Aquatic Center at Raymond Park.
Located at:
8575 E Raymond Street
Indianapolis, IN 46239
Phone:(317)862-6876
*Disclaimer: I was not asked or compensated, in any way, to do this review. I chose to do it simply to help families find affordable fun activities to do together.