Learning Activities for the Color Blue
with free printable





Let's laugh and learn about the color blue today. There are so many wonderful blue things around us; the sky, blueberries, your comfy pair of blue sweatpants or blue jeans. Here are some fun learning activities for the color blue.
Content:
Dress you child in something blue; a blue shirt (I have a Thomas the Tank Engine Shirt…remember, I taught preschool), a pair of blue jeans etc. Be sure to join your child and wear something blue too.
Go through your child's toys and pick out the blue ones to play with; Thomas the Train, Cookie Monster from Sesame Street, blue legos or duplos, blue wooden blocks etc. Use these toys for playtime today.
I used sensory bags in my classroom, which the children enjoyed a lot. Take gallon sized ziplock bags and fill each one with something different. Put blue jello or jelly in one bag. There used to be a version of oatmeal that turned blue when you mixed it up; I would use that in one of the bags. If the blue oatmeal isn't available you could add blue food coloring to regular oatmeal.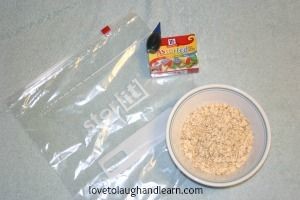 I would run a bead of glue along the "zipper" and let it dry before I let the children play with the bags to help discourage them from opening the bags and making a mess. They can then squish the bags in their hands or lay them on the table and use a finger to "write" and draw; kind of like finger painting without the mess.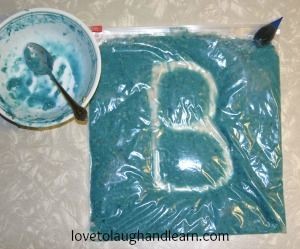 Another addition to the sensory experience would be to let them play with the oatmeal bags while the oatmeal was still warm. Discuss the differences between the feel of the bag with the oatmeal and the bag with the Jello.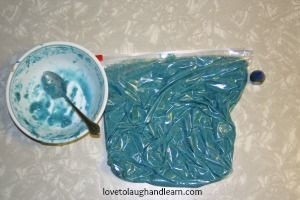 Put the bags in the refrigerator when you are done so you can bring them out and play with them again another day. They should last a week or more before you need to toss them. Please share any other ideas, that you might have, of things to put in your sensory bags.
Blueberry Pie Craft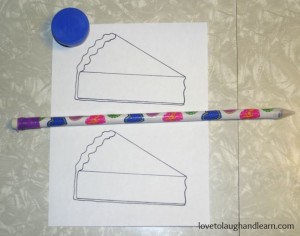 Materials Needed:
Piece of Pie Coloring Page
Blue paint
Pencil with eraser or Q-tip
Small paper plate
1) Print Piece of Pie Coloring Page
2) Put a small amount of blue paint on the paper plate.
3) Use the Q-tip like a stamp. Dip it in the paint and make "blueberry" dots on your piece of pie.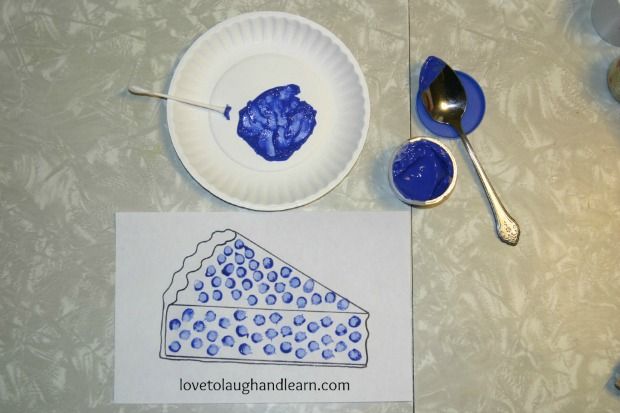 I used one of those really large pencils with a big eraser for the next piece of pie. I found the pencil at a Dollar Tree Store. You could also use a regular sized pencil.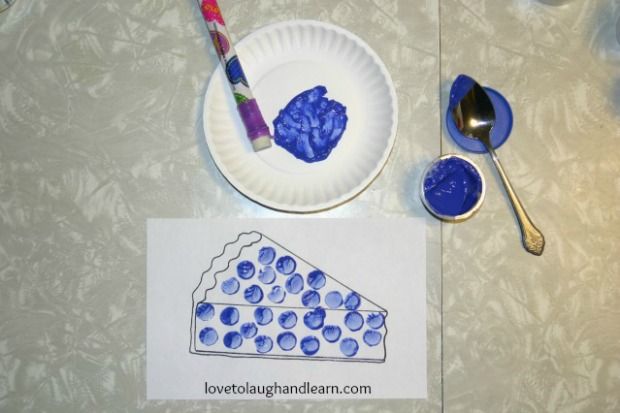 (top)

Blue Foods for snack or meal time
Blueberries, blue Jello, blue tortilla chips
(top)

Story Time
Blueberries for Sal
 by Robert McCloskey
Reading Level: Ages 5 and up
This is a cute story that I always read to my preschool classes when we were learning the color blue. The story is about a little girl and a little bear cub that follow their mothers to the blueberry patch. Read this adorable book with your child to find out about the funny mix-up that happens at the patch.
Blue's Clues
books by several different authors
I love Blue's Clues because it gives your child opportunities to think and reason. There are several wonderful titles to choose from.
One Fish, Two Fish, Red Fish, Blue Fish
 by Dr. Seuss
Reading Level: Ages 4 and up
I love Dr. Seuss rhyming books. This book works for the colors blue and red as well as numbers.
Blue Hat, Green Hat
by Sandra Boynton
Reading Level: Birth to 4 yrs old
This is a simple little book but so much fun. It covers several colors and has a very silly turkey that will make your child giggle. You can also encourage observation skills as you discuss with your child the problems that the turkey is having.
Little Blue Truck
by Alice Schertle
Reading Level: 3 yrs old and up
Ok, I am a sucker for a rhyming book but this one is doubly cute because not only does it rhyme but you get to make a lot of fun sounds while reading it to your child. You will also find out how it pays to be nice to your friends. You may need their help some day.

Related Posts:
The Lessons – Overview
Colors – Overview
A is for Apple: You Can Learn More Than Your ABC's from Apples
Pumpkins are Orange; and Other Learning Concepts
Learning Activities for the Color Red
Learning Activities for the Color Yellow
Learning Activities for the Color Green
Learning Activities for the Color Purple
Learning Activities for the Color Orange