Learning Activities for the Color Red




Here are some learning activities for the color red. Remember to have fun learning and laughing together.
Clothing
Dress you child in something red; a red shirt, red pants, etc. Join in the fun and wear red too.
Toys
Go through your child's toys and pick out the red ones to play with; red legos or duplos, red wooden blocks, a fire engine, Strawberry Shortcake, Elmo etc. Use these toys for playtime today.
Make or buy red play dough. Play dough is great for sensory play. If you have plastic colored cookie cutters to use with your play dough, just get out the red ones today. Click the words, play dough, to find a couple of recipes to make your own play dough at home.
Craft
Torn Paper Apple Craft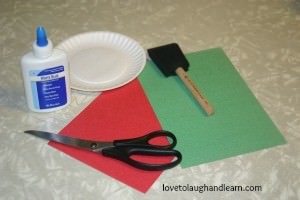 Materials Needed:
1. Red & green construction paper
2. Small white paper plate
3. Glue
4. Foam applicator or paint brush
5. Scissors
Instructions:
1. Give your child a small white paper plate and a red piece of construction paper.
2. Have him/her tear the red construction paper into pieces. (I just used 1/2 piece of construction paper.)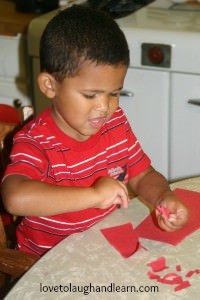 3. Squirt some glue onto the small paper plate.
4. Give your child a paint brush or foam applicator to apply the glue to the plate with. (My favorite is the foam applicator. It covers large surfaces quite a bit easier than a paint brush.) Have your child spread the glue all over the plate. Make sure to get the edges.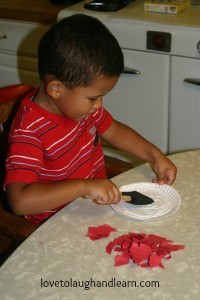 5. Then apply the torn pieces of red construction paper one piece at a time. Cover up all the white.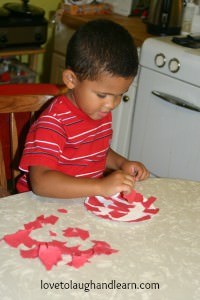 6. Have a stem and a leaf cut out and ready so your child can glue them to the top of the apple. If your child is a little older let them cut out their own stem and leaf.
7. Some of the red construction paper was sticking over the edge of the plate so I trimmed that off to give the apple it's circular shape back.
Red Foods for snack or meal time
Strawberries, cherries, watermelon, raspberries, red pepper, apples
Finger Play
Ten Red Apples
Ten red apples growing on a tree
(hold both hands up and out to make a tree)
Five for you and five for me
(shake one hand, then the other)
Help me shake that tree just so
(act like holding tree trunk and shaking it)
And ten red apples fall down below
(lower hands while fluttering fingers)
One, two, three, four, five
(count fingers on one hand)
Six, seven, eight, nine, ten.
(count fingers on other hand)
– Author Unknown
Story Time
"Apples Here!
" by Will Hubbell
Reading Level: Ages 3-8
I would encourage you to read this to your child before you do the Torn Paper Apple craft. It gives a very simplified story of how apple trees and apples grow. The simple theme is that "there are apples here"; whether looking at buds or blossoms or tiny little knots on the branches, there are apples growing there.
"Clifford The Big Red Dog
" by Norman Bridwell
Reading Level: Ages 4-8
Several generations of children have fallen in love with Clifford the Big Red Dog. Norman Bridwell has written many different adventures for Clifford and Emily. I'm sure that you will find plenty of adventures that you and your child will love.
"The Little Mouse, the Red Ripe Strawberry, and the Big Hungry Bear (Child's Play Library)
" by Audrey Wood and Don Wood
Reading Level: Ages 5-8
The Little Mouse wants to save his strawberry from the Big Hungry Bear. Do you like strawberries? Maybe you can help the Little Mouse. Read this cute story for some smiles and expect to have a craving for strawberries.
Music and Singing
Bumping Up And Down In My Little Red Wagon
Related Posts
Colors – Overview
A is for Apple: You Can Learn More Than Your ABC's from Apple
Pumpkins are Orange; and Other Learning Concepts
Learning Activities for the Color Blue
Learning Activities for the Color Yellow
Learning Activities for the Color Green
Learning Activities for the Color Purple
Learning Activities for the Color Orange