Learning Activities for the Color Purple
So are you ready for some fun learning activities for the color purple? I have a couple of fun crafts. One is making a butterfly and the other one is making a picture of grapes using a toilet paper roll. My favorite grapes, when I was growing up, were the purple concord grapes that grew in our backyard. They were a little sour and really sweet at the same time. My mom made some of the greatest jelly out of them. You should try some concord grapes sometime. They are really delicious.
Now head to your closet and dresser and find some purple clothes to put on and start having some fun with the color purple.
Content:
Clothing
Toys
Crafts:
Butterfly
Purple Grapes
Snacks
Finger Play
Poem
Story Time
Related Posts

Clothing
What kind of purple clothing do you have to wear today? Do you have a favorite purple t-shirt? How about a purple pair of shorts? It's getting warm here. I wonder if I have a pair of purple flip flops somewhere. Whatever you have, put it on and enjoy learning about and having fun with the color purple.

Toys
Bring out any special purple toys that you can find to play with today. Do you have a purple toy car or truck? How about a purple tutu? My children and I loved Barney the Dinosaur (we are kind of silly people). How about some play food: purple grapes, plums, eggplant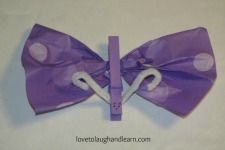 Craft
Butterfly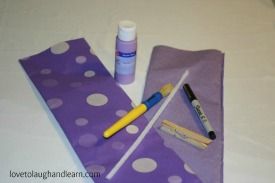 Materials:
Purple tissue paper
Clothespin
Purple paint
Paint brush or foam applicator
Pipe cleaner
Black permanent marker
Flat magnet strip (optional)
1) Paint the clothes pin purple then set it aside to dry
2) Cut a piece of tissue paper: 5 inches by 7 inches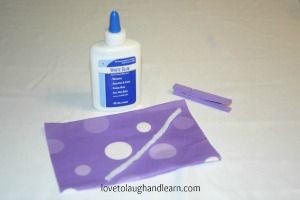 3) Gather the tissue paper in the center.
4) Put a little dot of glue up near the spring through the "handles" of the clothes pin.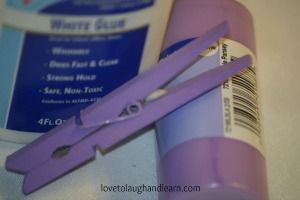 5) Push the tissue paper up through the "handles".
6) Place a dot of glue in the open part of the "clippie" end of the clothes pin. If you want to
use this as a memo clip only put the glue on the top part of the "hole".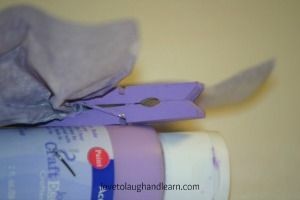 7) Cut the pipe cleaner to approximately 6 inches. Place pipe cleaner through the "hole" and
bend the ends so they look like antennas.
8) Draw some eyes on the "head" and there you have it…a beautiful butterfly.  If you want to use this as a memo clip add a magnet to the back of the clothes pin.
Grapes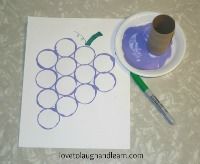 This is a wonderfully simple craft. Even a very young child will enjoy this one.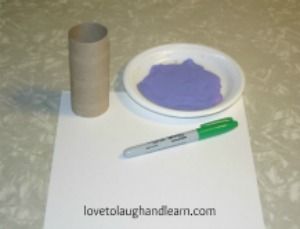 Materials:
Toilet paper roll
Purple Paint
Plate
White construction or cardstock paper
Green marker, paint or construction paper (to create stem)
1) Pour some purple paint onto a plate. Spread it out in a thin layer because you will be using it like a stamp pad.
2) Dip end of toilet paper roll into paint and "stamp" onto piece of paper. Repeat until you have a nice bunch of grapes.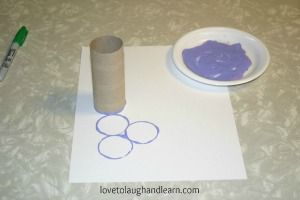 3) Draw, paint or glue a green stem to the top of your grapes.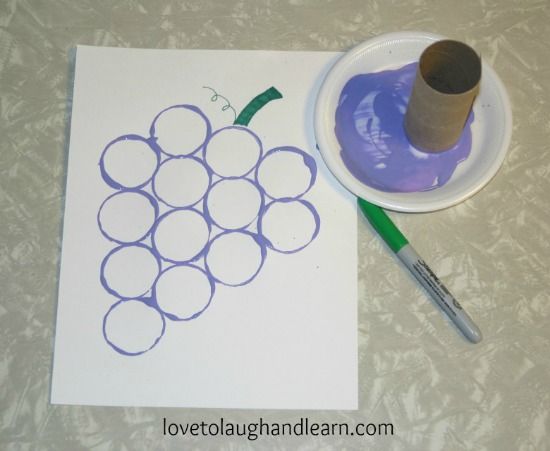 Foods for snack or meal time
Purple grapes, grape juice, purple cabbage, purple plums, purple potatoes (yes there is such a thing)

Finger Play
Purple Violets
Found on Toddler Storytime
One purple violet in our garden grew.
(raise up one finger)
Up popped another, and that made two.
(hold up second finger)
Two purple violets were all that I could see;
But _____(insert child's name)_____found another and that made three.
(hold up third finger)
Three purple violets if _____(insert child's name)_____could find one more,
We'd give them to mother – we'd have four.
(hold up fourth finger)
Four purple violets – sure as you're alive!
Why, here is another! And now there are five!
(hold up all five fingers)

Poem
This is a poem that I grew up with and absolutely loved. As I was searching the web (to make sure I quoted it correctly and find who the author is) I found this website: PoetryArchive I really like it because it included information about the date the poem was published and the publication that it was printed in.
The Purple Cow
I never saw a purple cow,
I never hope to see one;
But I can tell you anyhow,
I'd rather see than be one.
– Gelett Burgess

Story Time
Harold and the Purple Crayon
by Crockett Johnson
Reading Level: ages 3 to 7
This is a classic that many of us have grown up with. It is still worth picking up and sharing with your little ones. Harold has quite the imagination as he travels along in his make-believe adventures with his purple crayon. He finds that his purple crayon helps him to get out of trouble more than once. Share this story with your little ones and discuss what kind of adventures the two of you could have with a purple crayon.
I See Purple
by Trudy Micco
Reading Level: Ages 2 and up
This is a great book for introducing the color purple to young children. It would also be a good early reader. There are lots of purple things to look at and talk about with your child.
Ollie the Purple Elephant
by Jarrett J. Krosoczka
Reading Level: Ages 4 and up
Be careful what you promise your children. The McLaughlin's promised their children that if they ever found a purple elephant that they could have him (thinking they would never find one). Guess what, they found a lonely lost elephant in the park. They asked him if he would like to come live with them. He was thrilled. He was a good house guest but the McLaughlin's cat and the downstairs neighbor were not thrilled with him. Find out what happens when the downstairs neighbor and the cat plot together to get rid of Ollie, the Purple Elephant.
Purple Little Bird
by Greg Foley
Reading Level: Ages 3 and up
Purple Little Bird loves the color purple so much that everything in his house is purple. He works really hard to make his house just right and yet there is something wrong that he just can't put his finger on. He heads out to see if he can find the perfect place. He visits many friends, such as brown bear, yellow camel and blue frog. Purchase this book or borrow it from a library to find out who helps Purple Little Bird find the perfect place and where the perfect place is.
Sally and the Purple Socks
by Lisze Bechtold
Reading Level: Ages 3 to 7
Sally gets some new purple socks in the mail. When she takes them out of the box, they are way too small. But there is a note in the box that says, "Once removed from the box, these socks will grow to the size ordered." But Sally doesn't remember if she told them what size she needed. Pick up this book to find out all of the amazing things you can do with a pair of socks that just won't quit getting larger.
Music
I absolutely love using music when teaching children. Some children catch on to difficult subjects when put to music. Because of copyright laws I am not going to paste song files here but I will give you names of songs that I like to use. You can either find a CD with the song or listen to it on YouTube. Just turn up the music, get moving and have some fun.
Purple People Eater – written and performed by Sheb Wooley
Peanut, Peanut Butter and Jelly – We always loved Barney the Dinosaur's version

Related Posts
The Lessons – Overview
Colors – Overview
A is for Apple: You Can Learn More Than Your ABC's from Apples
Pumpkins are Orange; and Other Learning Concepts
Learning Activities for the Color Red
Learning Activities for the Color Blue
Learning Activities for the Color Yellow
Learning Activities for the Color Green
Learning Activities for the Color Orange