Fun with Music – Overview
Does your family have fun with music? Ours certainly does! My husband plays in several bands and ensembles. Both of my daughters play trumpet and participated in marching band. We have always done a lot of singing; around the house, in the car and at church activities. We love musicals and although I have heard people say, "Musicals are dumb. Life isn't a musical. Music doesn't just start playing and people break out in song." Well, to those nay-sayers I must reply, "My life is a musical!" I've all ready listed some of the ways music intertwines with my life but there are many other ways we have fun with music. Music seems to be an ever-present part of our lives. We hear it in stores and on television. I have wonderful memories of trips to Disney World and other amusement parks. There is always music around and I will sing-a-long if I recognize and like the song. We sometimes make up silly songs as we work and play around the house.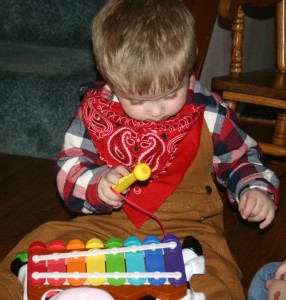 Children love music. They like to sway and dance to it. They love playing with instruments. They love to sing and love to hear others sing to them. Music and songs can make learning fun and easy for children. Dr Alexandra Lamont states, "Research is beginning to show how music has the power to change the way we feel, think, and behave. We know that music can lift our mood, and certain kinds of music can temporarily boost specific kinds of intelligence." (article: What is the significance of music for young children?)
I used music a lot in my preschool classrooms. Music helped to encourage exercise and movement. I also used music to aid children in memorization. I could teach my students really long Bible verses because I taught them songs from Steve Green, Hide Em in Your Heart Vol 1 & 2
CD's. The parents would be amazed at what I taught the three and four year olds; with the use of music, it was easy.
My following posts will deal with different aspects of music to share with your child. There will be books and crafts so you and your child can have fun with music too. Be sure to expose your children to all types of music; big band, classical, jazz, rock, country and don't forget all those great kid songs. Take your children to live concerts. It is getting warmer here in Indiana which means the free outdoor concerts will be starting soon. Outdoor concerts are a great way to introduce your child to all types of music. I love outdoor concerts for young children because they can sit on blankets or in lawn chairs and enjoy the music. Bring a snack or picnic to enjoy together. You don't have to keep them sitting still and quiet like in a concert hall. It isn't a bother if they get up and move to the music.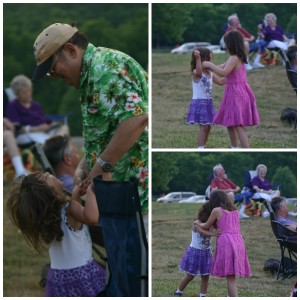 Since my husband plays in several groups you might see me at a few concerts this summer. I love kids and I love meeting people so if you see me please come by and say hi. I will usually be wearing something that says LovetoLaughandLearn.com or has Mama Carmody on it. I will post many of the concerts on my Family Friendly Events pages so take the time to get your children out to enjoy some music and sunshine. If you aren't from the Indianapolis area, be sure to check your area for similar events.
Related Posts
Music at an Early Age by Mamamusing
Generally Having Fun with Music
Fun with Music: Percussion Instruments
Fun with Music: Brass Instruments
Fun with Music: Woodwind Instruments
Fun with Music: Voices
Fun with Music: String Instruments
Fun with Music: Keyboards
Meet the Musicians
Review: Rhythm! Discovery Center
Review: Peanut Butter and Jam Concerts
Learning Should Be Fun
When Do Children Start Learning
The Lessons – Overview
Colors – Overview
Shapes – Overview

Save
Save