Back in February, a friend and her 2 year old accompanied me to Conner Prairie Interactive History Park. I was interested in finding out what types of activities there might be for very young children. We were very pleased with the amount of interesting things there were to keep a young child happy and entertained. In February, most of the outside exhibits are closed but we still found plenty to do. Please check out my review Review: Conner Prairie on President's Day (with a 2 yr old).
This past weekend, Saturday, September 29, 2012, my niece and I decided to take two 1 year olds and one 3 year old to Conner Prairie. We were taking advantage of the free admission offered by Smithsonian Magazine  We had a wonderful time and we again found plenty for little ones to do but there were a few things we had not considered. I am going to share with you some of the successes and challenges of our day.
Our first challenge…we were out-numbered. Two adults with three very young children kept us on our toes. Our second challenge; we should have used a wagon instead of strollers. It took so much time buckling and unbuckling kids from strollers that we ended up bypassing a lot of things we were interested in. We did see a really neat fold-up wagon that someone was using. I came home and found one on Amazon.com (EasyGoWagon
). I currently have it on my wish list for a future purchase.
Another problem with the day was that we didn't really consider how many things that we were excited to see and do that very young children would have no interest in. It had been so long since my niece and I had been to Conner Prairie that we were just anxious to get there and experience it all again. We didn't consider that the children really wouldn't care about looking around in an old house or seeing a blacksmith at work. We decided early in the day that we were going to make another trip, for adults only, sometime in the near future.
So as not to leave you thinking we didn't enjoy our time at Conner Prairie, let me share with you all the fun things we found to do with the little ones.  Of course, they loved Animal Encounters. There were so many young animals for the children to see and touch.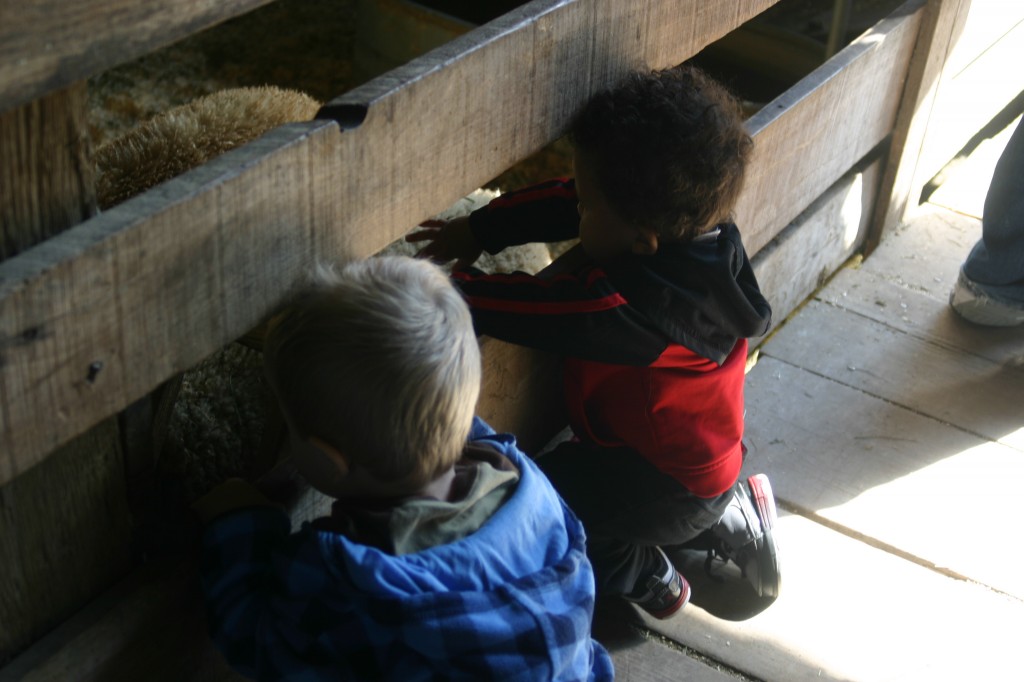 There were even two week old baby goats. This was one of the places that got a little scary since the adults were out-numbered. Our little ones wanted to go in every direction at once and we were kept hopping trying to keep them within sight and arms reach at all times.
Our next stop was the Lenape Indian Camp. This is one of the spots that if the children had been in a wagon we would have let them out to run around a bit but we had just gotten them strapped back in the strollers from the Animal Encounters. When I was here in February, the 2 yr old we had with us loved running in and out of the huts.
We walked the entire grounds, even though we didn't go in very many of the buildings. We did stop in the blacksmith's shop. Although the children didn't get a lot out of it, they sat very quietly and watched while my niece and I listened for a little bit. We took time to walk through one of the houses. The most exciting part for the kids was the water pump outside the house.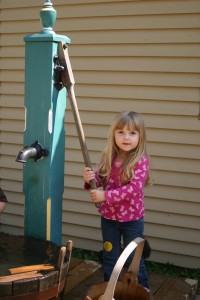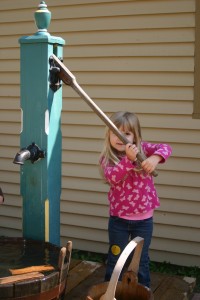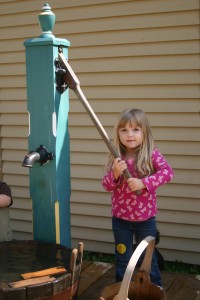 We spent several minutes there while my 3 yr old great-niece pumped water…
…and the two 1 yr old boys played in it.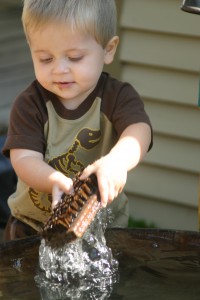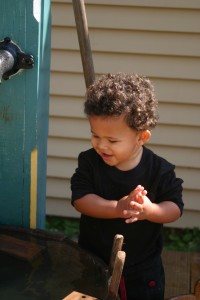 The other big hit of the day was the River Crossing Play Area. You definitely need to bring an extra change of clothes if you are going to spend time outside at the water area. There is a replica of a steamboat for the children to climb on but the big hit was the water play table. Let me explain; this water play table isn't one of those small tables you might find in a preschool or kindergarten classroom. This thing was the center of the whole exhibit. It was huge. Water ran from the top of it down several levels. You could put up barricades to build a dam to stop or redirect the water. My 3 yr old great-niece and I put up a few walls for the dam. My two great-nephews just enjoyed splashing and playing in the water as much as they could.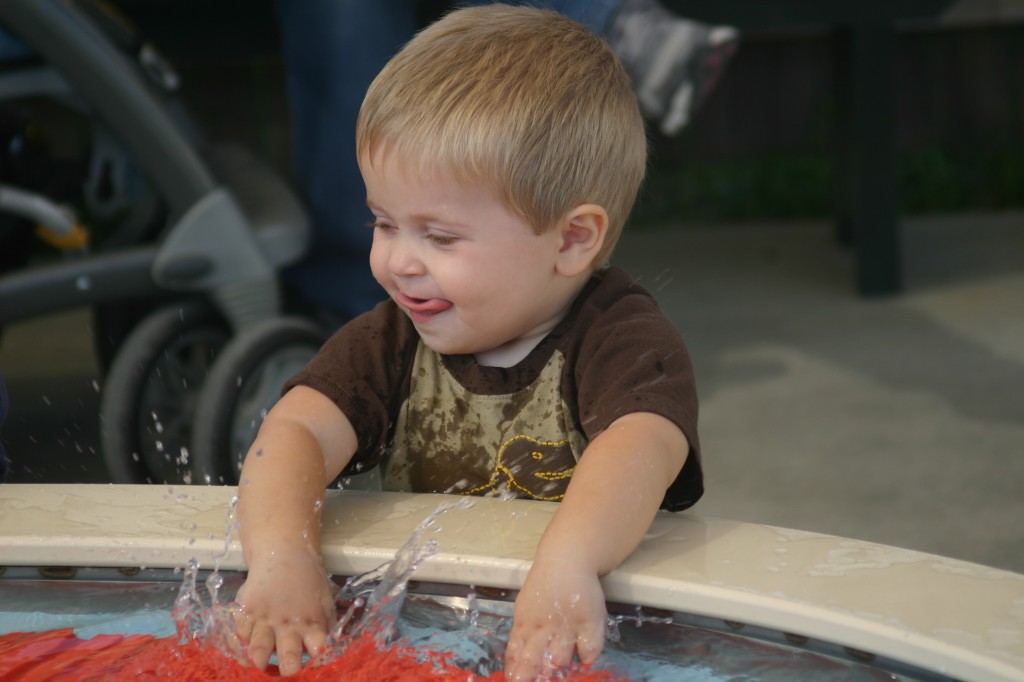 They were soaked by the time they were finished. Thank goodness it was a warm day and we had a change of clothes for each of them.
There was also an indoor area for play at the River Crossing. It is a civil war themed area with trains…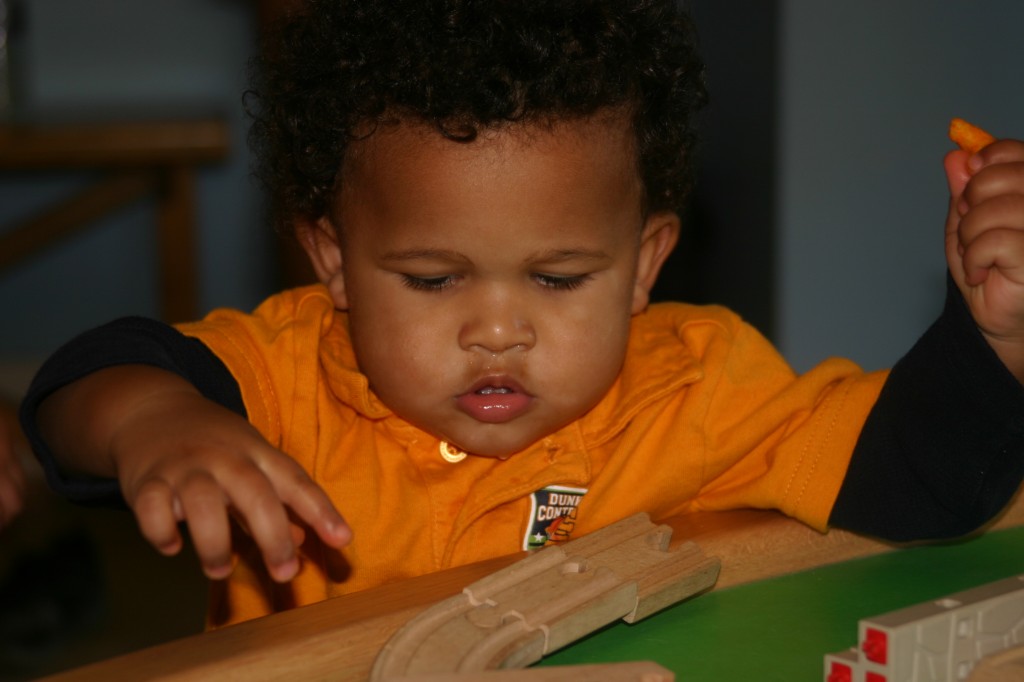 …pieces to build a Playmobil fort with soldiers and a great climbing area. The boys were too small for the climbing area but my great-niece loved it.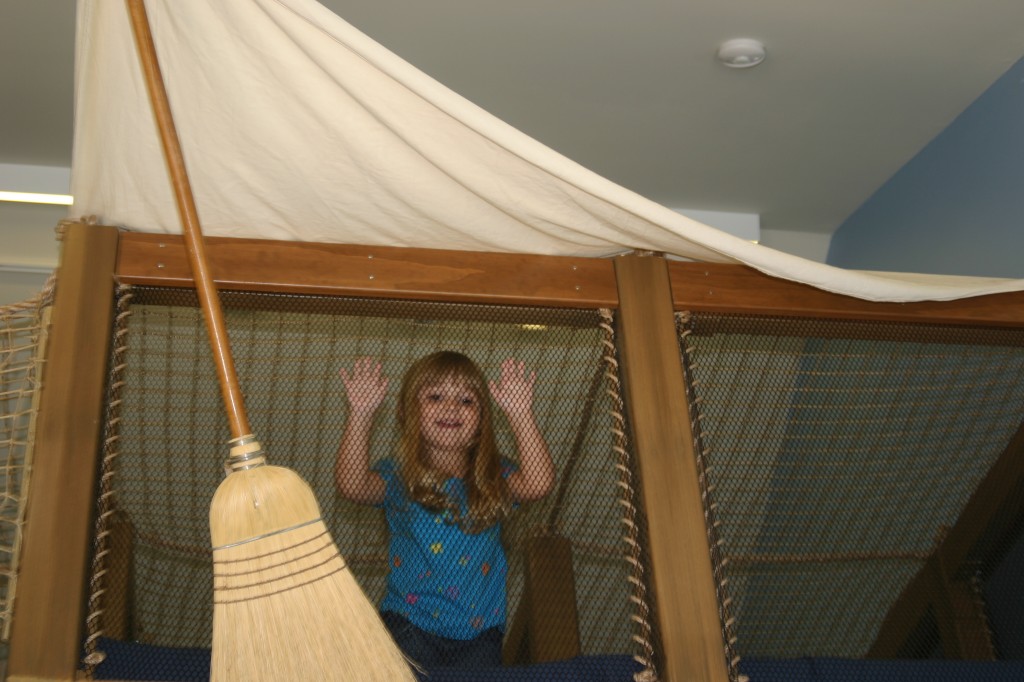 Even with the several challenges, that we didn't think of in advance, we had a very good day. The children were very well behaved and enjoyed the activities that we presented them. We got there just after they opened at 10:00 a.m. and didn't leave until after 2:00, so we found plenty of things to do with small children.
Here is some advice if you are planning a day at Conner Prairie with very young children:
1) Take a wagon instead of strollers for an easier way to get children in and out quickly to enjoy the different experiences.
2) If your children are under 3 yrs old, make sure the adults aren't out-numbered by the children.
3) Don't expect to get to enjoy the full experience of Conner Prairie because little ones cannot handle much of the history part of the experience so….
4) ….plan another trip to Conner Prairie very soon; just for adults!
Related Posts:
Review: Conner Prairie on President's Day (with a 2 yr old)
Learning Should Be Fun
The Lessons – Overview
Colors – Overview