Disclaimer: I was given 2 tickets to attend the Spooky Fun at Conner Prairie, as well as a backpack with some goodies. However, I was not influenced by the promotional materials or any of the Conner Prairie staff. All opinions and insights are my own.

Even before we reached Conner Prairie, we could see the hot air balloon, from the 1859 Balloon Voyage, floating high in the sky. My husband was quite interested in the balloon ride but with the cost of a ride being $15 a piece ($12 for members) it was way out of our price range. If they would lower that price to somewhere between $5 and $7 they would quite possibly have waiting lines for that ride all the time. At the lower prices, we would probably take a ride every time we went to Conner Prairie but at the current prices I don't know that we will ever participate in the 1859 Balloon Voyage.
The first activity we participated in was the Headless Horseman hayride. If you missed my post from yesterday here is the link to that: Review: The Headless Horseman at Conner Prairie.
If your children are young and you aren't interested in the hayride don't write off the idea of making a trip to Conner Prairie. There was still a lot of spooky fun happening even without the hayride.
I love the idea behind their theme this year. Conner Prairie has been renamed Conner Scairie for this holiday season. The former mayor, Lord Moldywart, had a problem with a spell he was trying to cast and turned himself into a bunny rabbit.
He is cute but he can no longer fulfill the role of mayor so a new mayor must be elected. There are six citizens that are vying for the new position. It is our job to go around and meet each of them and then vote for the one that we want to become Mayor of Conner Scairie.
The first candidate we ran into was Harry Howler. He was standing outside a tent encouraging passersby to join him at the microphone for some scary-o-ke. There were some kids doing a great job with The Monster Mash when we stopped in. Harry also had a couple of craft tables as well as some fun activities outside his tent.
The next candidate we ran into was Beautisha, the cosmetics-loving witch. She also had a craft area and she was more than happy to hand out beauty tips.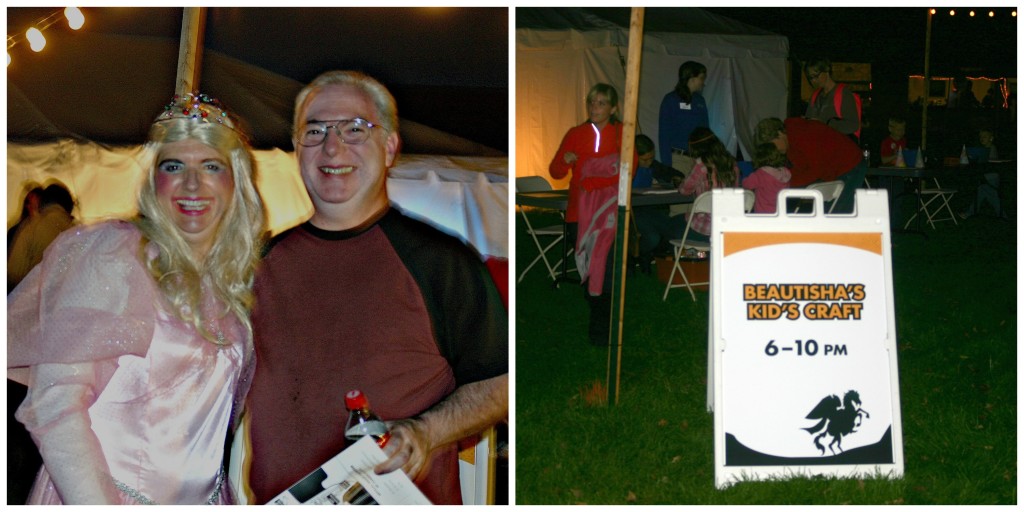 We didn't get to catch her show but we got to peek in at the stage and costumes. Looks like it would be a blast to strut up and down the runway.
Our next candidate to meet was little Miss Holly Ween. She was adorable. She reads spooky stories to the kids. She told us that this was her favorite story.
There was a large play area, associated with her section, for children 8 years old and younger. You can wind through bales of hay and then zoom down a slide on a burlap sack. There was a lot of action going on in the area. Several children were enjoying the play equipment.
Next we ran into Ed, the mad scientist, and his assistant, Esmeralda. They were having fun with electricity. It played havoc with my camera but it still looked pretty neat. They cooked a hotdog with an electrical arc. It was fascinating to watch but I think I will stick with my microwave.
We missed Dr. Acula but we did get to look around his monster museum. My favorite pieces were Little Red Riding Hood's cape and a hairball from Big Foot. He had a craft area for the kids, too.
I forgot to mention that the Headless Horseman is also a candidate. I'm not sure what I think of electing a mayor with no head but I suspect he is using fear to intimidate the voters.
There were plenty of other activities going on that I don't believe were associated with the candidates. We enjoyed watching the Flying Monkeys. They used a large slingshot type contraption to send the monkeys flying through the air.
If you have been following my posts for very long, you know I love introducing children to music so of course one of my favorite spots was Rhythm Fun with Bill Bailey. Look at the kids having fun with all of those instruments.
Another fun spot was the face painting. This family was kind enough to let me take pictures of the process.
They sure are a cute bunch of kids.
As I look over the program from the evening, I realize that we missed a few things such as the Marionette Show and the Crane Bros. Superstition Emporium. We passed by the Mystic and the Magic Show with C.R. Ryan Demier but didn't get a chance to stop in for the activities.
As you can tell, there is a lot of spooky fun happening at Conner Prairie to keep you busy for quite a while. Even if your children are younger, and you don't want to do the hayride, there are still plenty of activities to enjoy. You may even want to come back more than once to experience all the spooky fun.
Related Posts
October Family Friendly Events
Review: The Headless Horseman at Conner Prairie
Review: Conner Prairie on President's Day (with a 2 yr old)
Review: Conner Prairie with Young Children