It has been years since I have made a trip to Conner Prairie. I have always loved that place but since our finances have been tight over the last few years I just haven't been able to go.
Today was President's Day and Conner Prairie was offering free admission. I had two objectives in going today; first of all, I wondered how crowded and crazy it would be on a free admission day and secondly to see what kind of activities they had for the very young child.
So on the first objective:
How Crazy Was It On A Free Admission Day
There were definitely a lot of people taking advantage of the free admission but we didn't really have any trouble getting around. The Science Lab was way too crowded for us to get into and, from what I have seen on Conner Prairie's website, I thought it might be a little advanced for a two year old so we didn't attempt getting in there. We were able to get into the Discovery Station. It was a little crowded in there so we didn't let the two year old out of the stroller. There were so many interesting things for him to do though. We decided we would have to go back on a regular day when it might not be as crowded so he could get down and run around. One of the things in the Discovery Station was a General Store that children could play inside.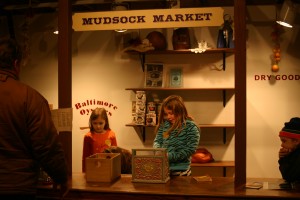 There were several tables set up with toys on them such as a barn and legos. All the tables were full so we moved on to another room…but we will be back.
Several activities were going on out in the hallway. There were craft tables with children making Abraham Lincoln masks and hats. There was a work table with several kinds of tools on it but we didn't make it around to there. It was pretty well surrounded by children. There was a great dress up area with clothes for all ages. I saw kids and moms dressing up and everyone was having fun.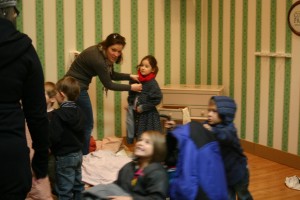 We were told that there were more activities going on upstairs so we climbed the stairs (unaware that there was an elevator) and found it wasn't as crowded upstairs. There was a room with all kinds of old time toys and games set up. Since it wasn't as crowded up there we let the two year old out of the stroller to run around. I will give more details on the things going on upstairs in a little bit when I cover what kind of activities were available for really young children.
After playing upstairs for a while we decided to go outside to see what was happening out there. First we headed to the Featherston Barn to join the birthday party for George Washington. We received a hot chocolate and enjoyed some fiddle playing and dancing.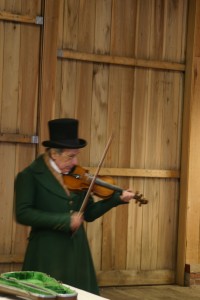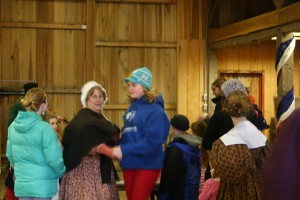 All ages were having fun dancing.
After George Washington's Birthday party we headed over to the Lenape Indian Camp. I believe this was one of the 2 year old's favorite areas….more details coming up.
So in conclusion to this segment, some areas were a little crowded but not so crowded that I wouldn't go back on another one of their free admission days. Everywhere we went was well staffed and everyone was very cheerful and helpful.
Now the second objective:
Activities for the Very Young
As stated above, the Discovery Station had several things that a young child would enjoy but the room was really full today. We definitely want to go back on a day that will be less crowded so the two year old can run around and play with all of the interesting things in that area.
All ages were enjoying the craft table that was in the hallway. Although the very young ones weren't making the Abraham Lincoln craft they were enjoying coloring and drawing. There was an adorable little girl having fun at the dress-up area.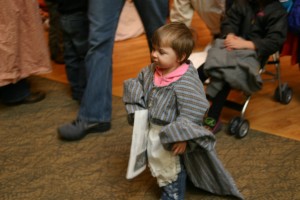 As I stated earlier, it was less crowded upstairs so we let the 2 year old out of the stroller to play. He enjoyed playing bean bag toss…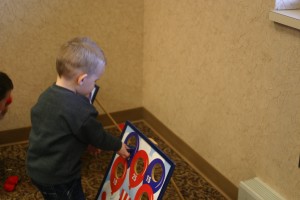 …or should I say, 2 year old stuff the bean bag.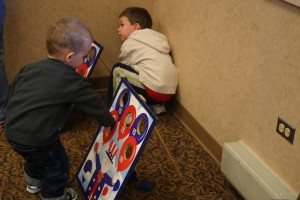 That kept him occupied for several minutes. We then went over to a table that had slate boards (chalkboards) and soapstones. Soapstones were what they used to write on the slate boards. We decided we liked the soapstones so much better than the modern chalk that children use today. The soapstones don't leave that big chalky mess. The 2 year old really enjoyed drawing and we liked the fact that he didn't have white chalk dust all over himself once he finished.
I believe the 2 year old had the most fun outside. He was able to walk through the basket on the bottom of the large balloon. It wasn't going up during the time we were there but he didn't seem to mind. He ran around the basket several times. There was a cute little imitation balloon that he, his brother and mother had their picture taken it. It was a little dark but really cute.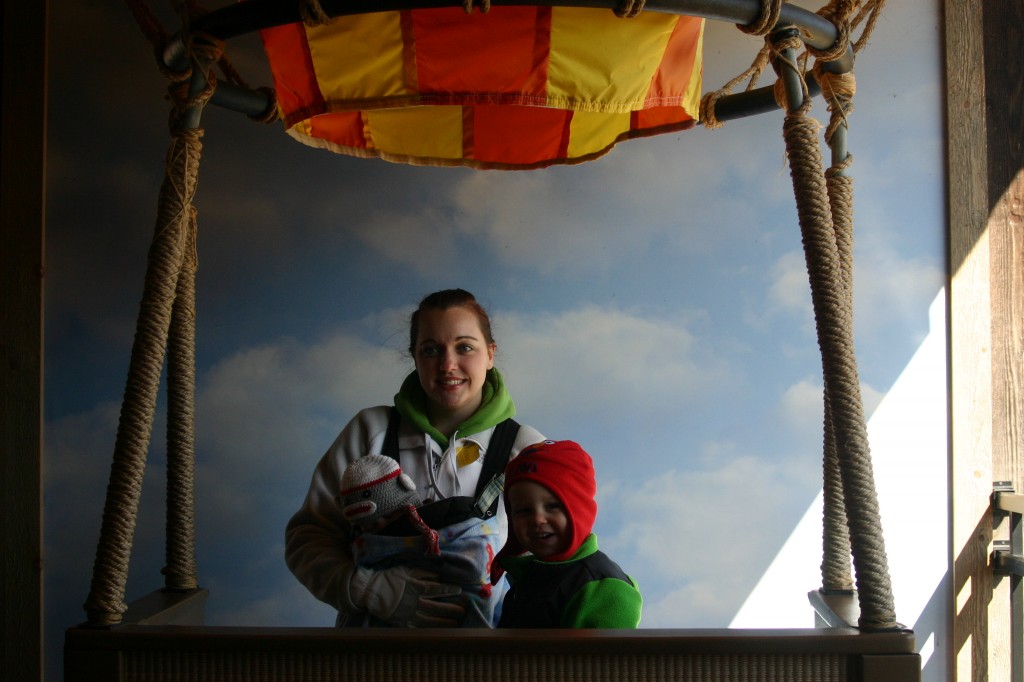 After the balloon we headed out to the Featherston Barn for the birthday party. The 2 year old loved the music and the dancing. The pictures are a little blurry because he kept dancing around in circles.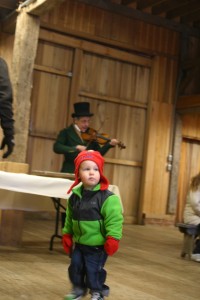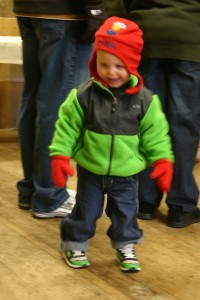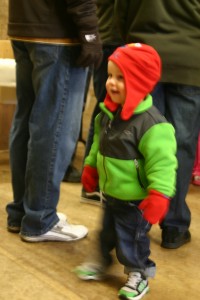 After he was done dancing we headed out to the Lenape Camp. On the way we got to stop and look at a goat. The two year old wanted to kiss the goat but thank goodness the slats in the fence were too small.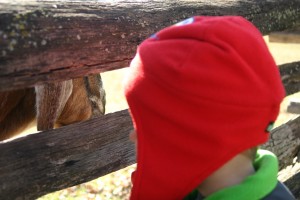 There were several cabins at the Lenape Camp. A couple of them were open but they were totally full of people. We were able to step into the doorway of one but we didn't stay long. One of the cabins was closed up so we had a little fun with the two year old. His mom encouraged him to walk up the steps so she could get a cute picture of him.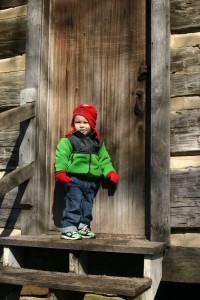 She then encouraged him to knock on the door and say, "Is anybody home?"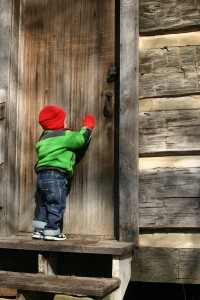 No one was home….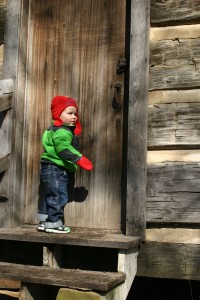 …or so we thought…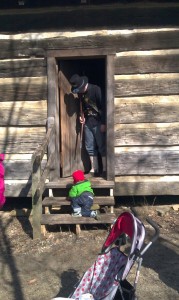 …I guess we were wrong…somebody came out…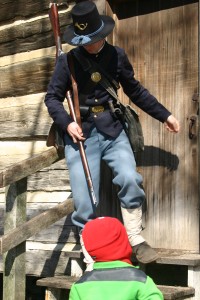 …but then he left. We were able to go watch him shoot his rifle after that.
I believe the two year old had the most fun in the Lenape Indian Hut. He spent a lot of time running in and out of there and climbing on the benches.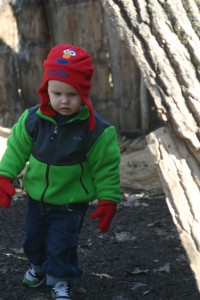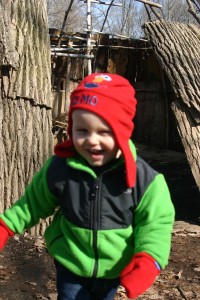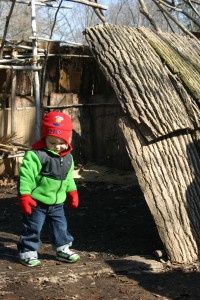 We had a hard time getting him out of there. Every time we would ask him if he was ready to go he would turn around and run back inside.
I would have to conclude that there are plenty of fun things for very young children to enjoy. A two year old may be a little young to explain the history of what Conner Prairie is about but the idea of it being a simpler time; a time with no television, no video games, a time when children had to use their imagination and make games out of every day items, is right up a two year old's alley.
When all was said and done, we had a wonderful day! Lots of laughs and fun getting to run around in the sunshine on a not-so-horribly cold February day in Indiana.
Related Posts:
Review: Conner Prairie with Young Children
Attractions
Review: Radio Disney Event, Indianapolis 2012