The Headless Horseman at Conner Prairie Review




Disclaimer: I was given 2 tickets to attend The Headless Horseman at Conner Prairie, as well as a backpack with some goodies. However, I was not influenced by the promotional materials or any of the Conner Prairie staff. All opinions and insights are my own.
It has been approximately ten years since we last attended The Headless Horseman at Conner Prairie. Our daughter was somewhere between 10 and 13 years old. At that time we chose to take the hayride after dark. We thought it would be a little scarier and I guess we were right. When talking to my (now adult) daughter about that night, I said, "Remember how much fun we had?" Her response was, "No! I'm still scarred!" I guess we were right; that going after dark was scary.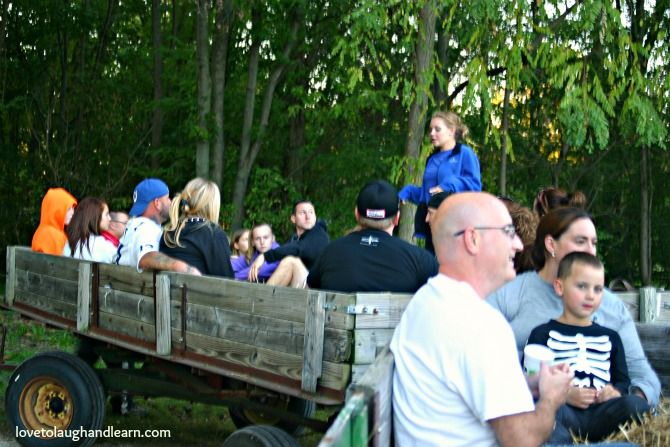 Since, currently, my blog posts mainly center around activities for younger children we opted to go on the Hayride before it got dark. First of all, let me tell you that the lines are extremely long. Once our turn came up a guide
walked us back to where we climbed into the hay wagons and waited to start our adventure. We were asked not to take pictures during the hayride because it could spook the horses and we definitely wouldn't want to do that. But I was told that I could take a picture before we pulled out.
I'm not going to give out all the details because I don't want to spoil the fun for future adventurers but I will share my general thoughts. It is a nice hayride with spooky sights and sounds around every turn. There was a 3 year old little girl in the wagon with us and her older brother who seemed like he was between 5 and 7 years old. The 3 year old cried on and off through the ride. She was visibly shaken and nervous even when she wasn't crying. Her older brother just seemed to enjoy the whole thing. As for me, I loved it, but I must be honest, when the Headless Horseman rode right up to our wagon and hit the outside of it with his sword it made me laugh nervously, lean forward a little and watch him out of the corner of my eye.
My advice would be to take the hayride during the daylight for younger children. It was still plenty spooky without scaring you out of your wits. I personally wouldn't take a child 3 years old or younger on this hayride at all but if you have a tough little one that loves monsters and being scared then they may be just fine. For the real adventure, wait until after dark to go. It is pretty scary when the Headless Horseman comes riding out of the dark after you.
Even if you aren't interested in the hayride there are plenty of other activities to do with the kids so don't write the adventure off yet. Tomorrow, I will post about all the other fun things that were going on during this special evening.
Related Posts:
October Family Friendly Events
Review: Spooky Fun at Conner Prairie
Review: Conner Prairie on President's Day (with a 2 yr old)
Review: Conner Prairie with Young Children