LEGO® KidsFest Review
Disclaimer: I was given 4 tickets to attend LEGO® KidsFest, however, I was not influenced by the promotional materials. All opinions and insights are my own.
I have been so excited for the opportunity to review LEGO® KidsFest Indianapolis. I am always amazed at the things people create with LEGO® building blocks. Tonight was no exception!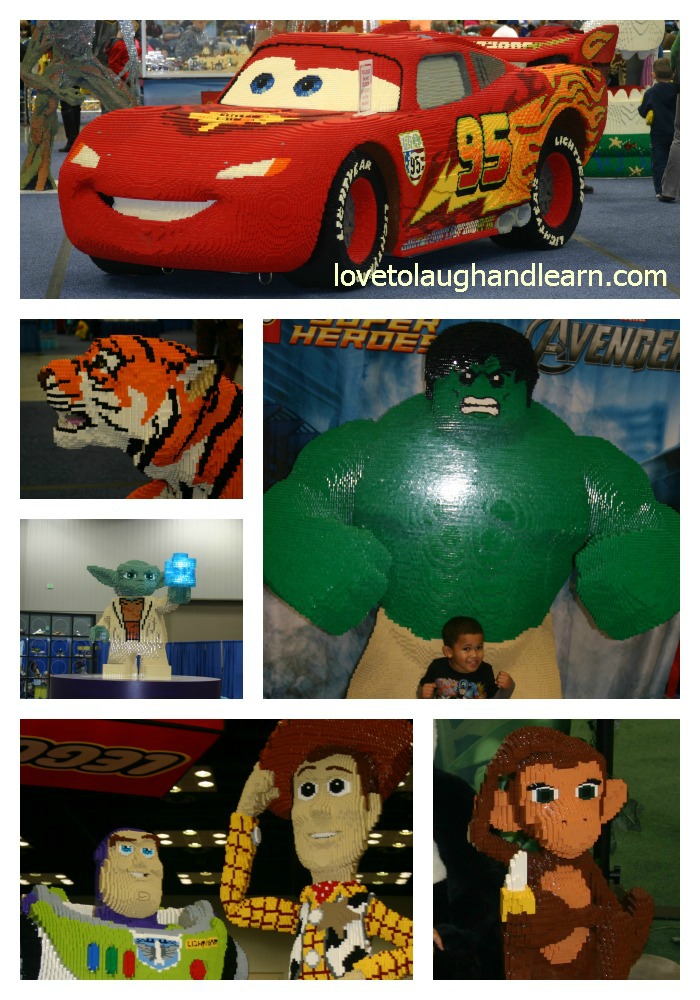 I'm sure my adult niece and I were more excited about this event than Jeremiah was. Of course, Jeremiah was a virgin to Lego building blocks. He turned 3 in July and doesn't have any at home, and he also said he doesn't have any in his preschool classroom.
This is the view we encountered as we entered the exhibition hall.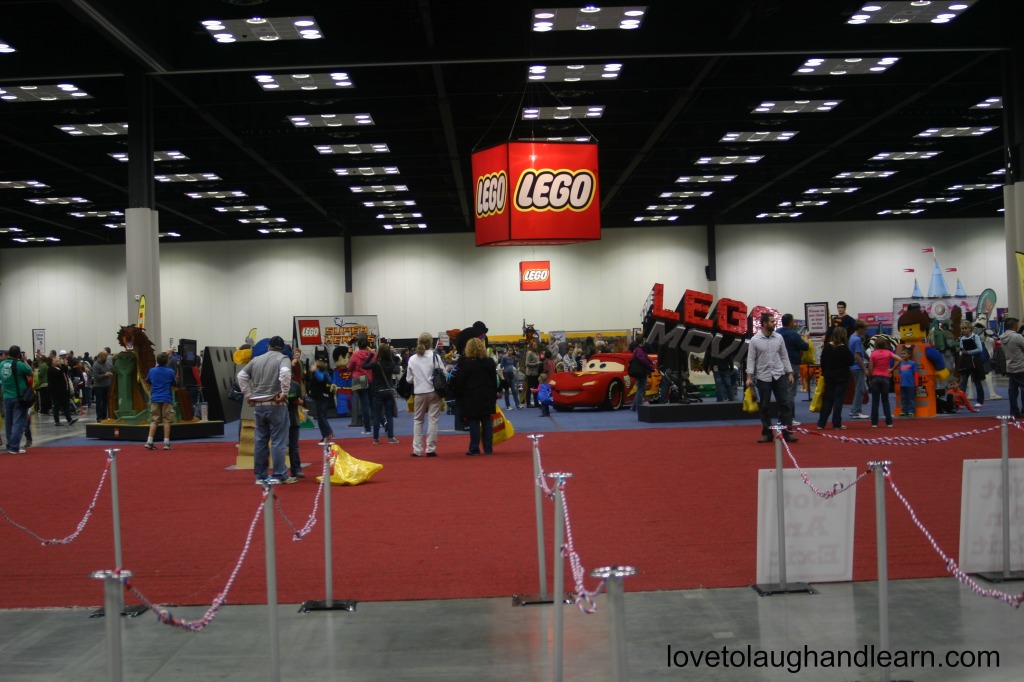 My niece and I were in awe and couldn't decide which way to go first. Directly in front of us were several statue size creations so we headed toward them. I find it absolutely incredible the things that people create with Lego building blocks. My favorite piece was Lightning McQueen. It was as big as a real car.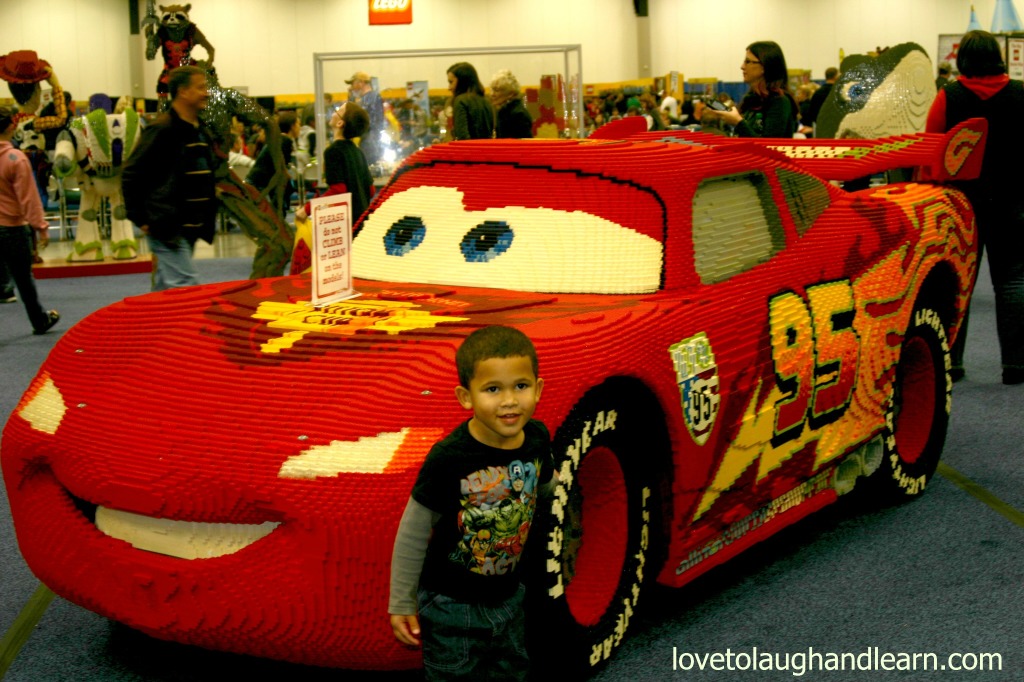 Jeremiah's favorite piece was the Hulk.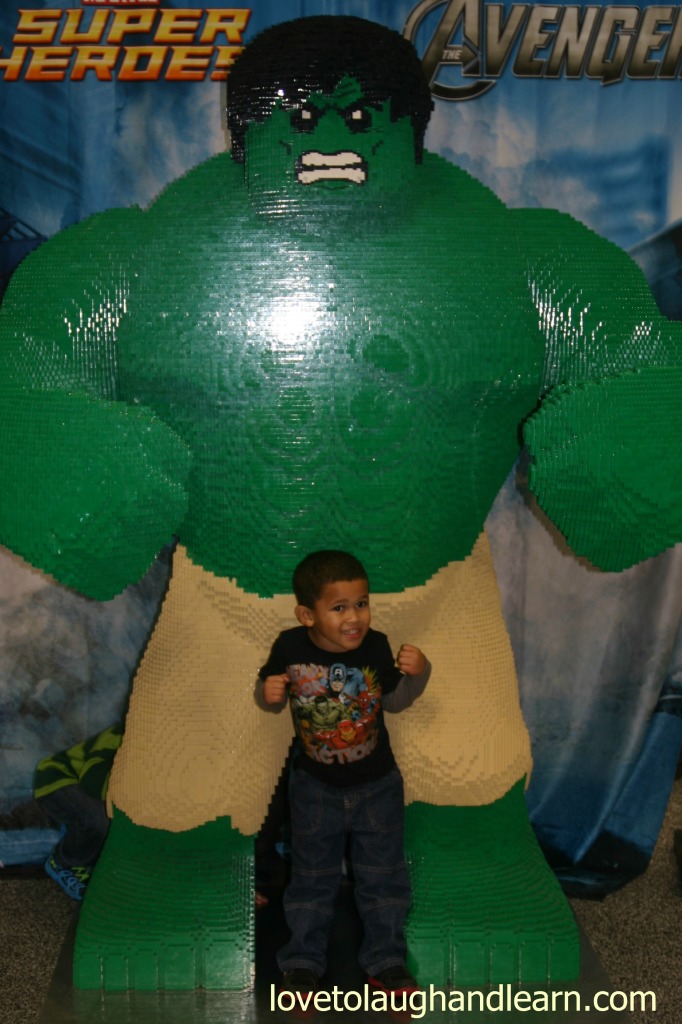 There were several pieces that were created especially for great photo opportunities, like the man-eating-shark and King Tut.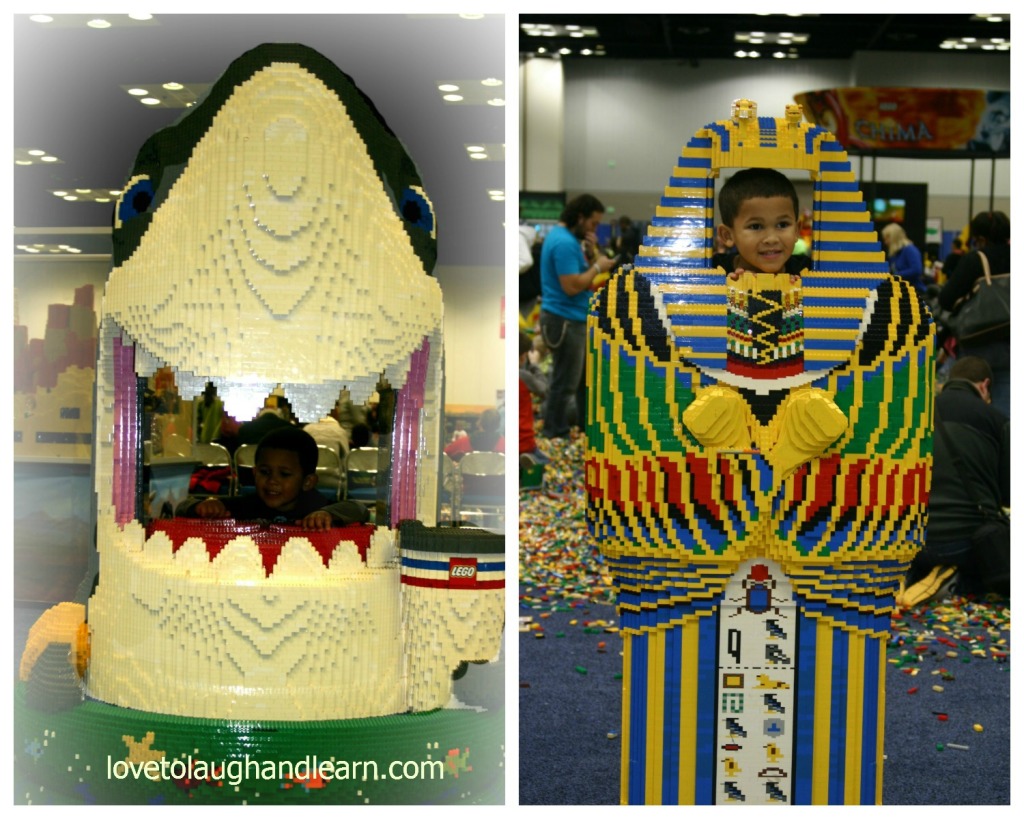 We then headed to Creation Nation. Here you can use LEGO® building blocks to make a creation to be added to the basketball-court sized map of the United States. Remember I said earlier that Jeremiah had never played with LEGO® building blocks before. I was interested to see what he would do. We gave him a base and he started creating. It didn't take him long but the fact that he figured out how to make anything, as quickly as he did, surprised me. Can you figure out what he made?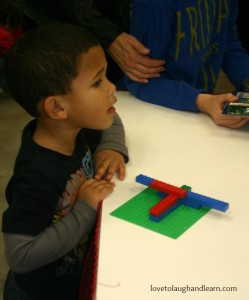 It's an airplane. He was very proud of it and actually, we were pretty proud of his first LEGO® creation. For participating, he was given a LEGO® sample set to take home.
There were many, many opportunities for playing and building with these popular little building blocks. A couple of fun, unique, play experiences were the brick piles. There was one huge pile that children were walking on, building with, and even getting buried under. There were also a couple of smaller piles in the DUPLO® area. Jeremiah was a little unsure about getting into the pile of building blocks but like his mom pointed out, that was probably because, at this age, he is cautioned quite often NOT to be stepping on his toys. He did finally get in there and started digging and playing.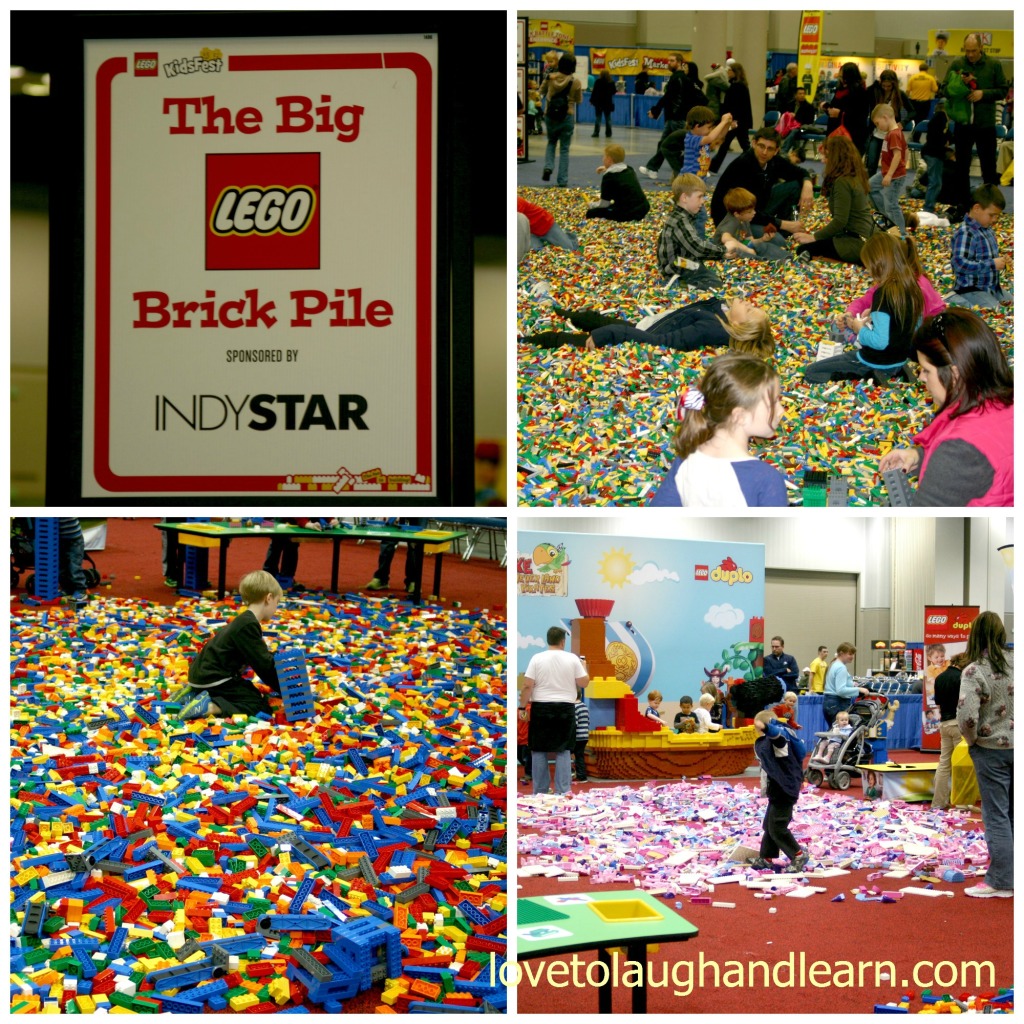 We enjoyed playing, building and creating in several different areas. Jeremiah enjoyed playing with the little pieces and using his imagination in the LEGO® Friends area, as well as, the Disney Princess (yes, boys can love "Frozen") and the Hero Factory areas. In the Hero Factory is where Nicole and I realized we have a LOT to learn about these building blocks, if we are going to attempt to stay ahead (or at least keep up with) this little guy and his budding interest.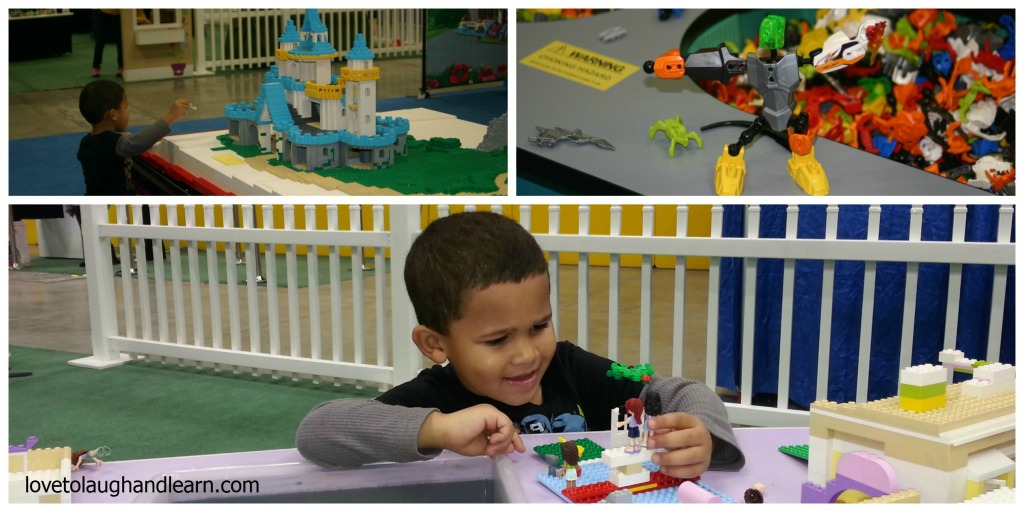 The three of us joined, as a team, in the LEGO® Challenge. They would take up to 6 people at a table. They then gave us a challenge of something to build with the building blocks at our table. Our challenge was to build a magnifying glass. Jeremiah wanted wheels on it. We were all recognized as winners and everyone received a prize of a Lego sample set.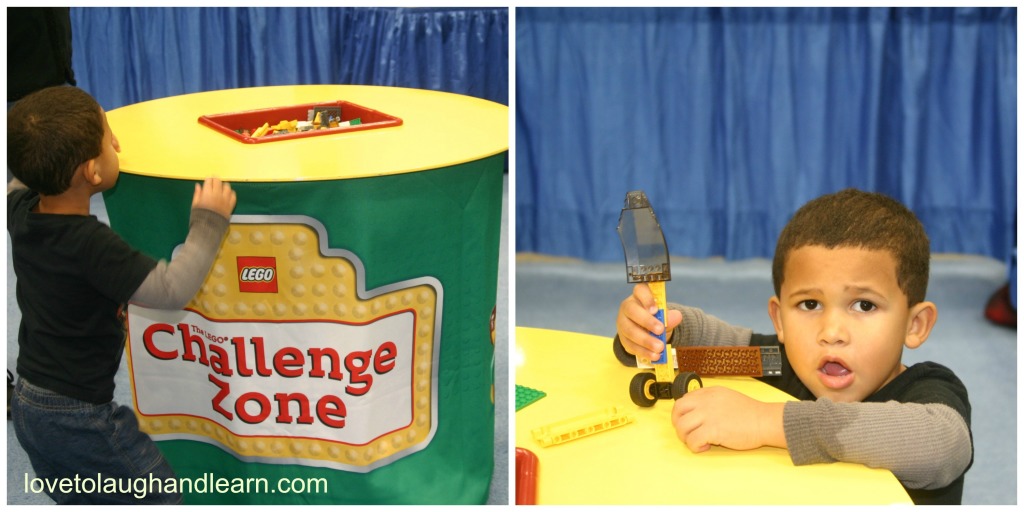 It was getting late so we hurried through the Star Wars and Super Heros exhibits. We skipped the Master Builders and Mindstorms® exhibits since Jeremiah is so young. I have a feeling we will be hitting those in the future.
For our family, $22 a person is a little steep but this event ends up being a better value than I anticipated. With all of interactive exhibits and the free sample sets, that they give away at every turn, it makes for a much great value. For a video-free, family interactive, fun time, head to the nearest LEGO® KidsFest!