Sledding: A Family Friendly Event
Sledding is a great family friendly event. People of all ages can enjoy it. In Indiana, you never know the amount of snow you will get during a winter season. Last winter, we received enough snow to last for three winters (at least in my opinion). This winter we have had a lot of bitter cold temperatures but not much snow. This weekend, Indianapolis received approximately 6 inches of snow and, with the predicted temperatures, it should stay around most of the week.
The house I grew up in sat on three quarters of an acre. The front yard had a perfect slope for sledding so we never had to look for a sledding hill. I realize not everyone is that lucky, so today my husband and I headed to a couple of Indy's local sledding hills to gather some information, just for you.
Butler Hill
I've spent the majority of my life in Indianapolis so I had heard about Butler Hill but had never been there. I grew up hearing how great the sledding hills were at Butler but it was not what I expected. There are two hills and they are actually behind the end zones of Butler's football field. The hills aren't real tall but they have enough slope and length for adults as well as kids, to get a good ride. Do watch out for the goal posts.
Fort Benjamin Harrison State Park Sledding Hill
Our second stop was at Fort Benjamin Harrison State Park. We spend a lot of time at the foot of the sledding hill each summer. I am usually sitting in a lawn chair, listening to one of the bands my husband participates in. This was the first time we experienced the hill with snow on it. It is a fairly large hill. There was plenty of action happening here. There was all types of equipment; sleds, snowboards, inner tubes, etc.. As I was facing the hill, I noticed the right side was getting a lot more use than the left. I believe there was a bit of a dip in the middle of the hill which made the ride a little more exciting.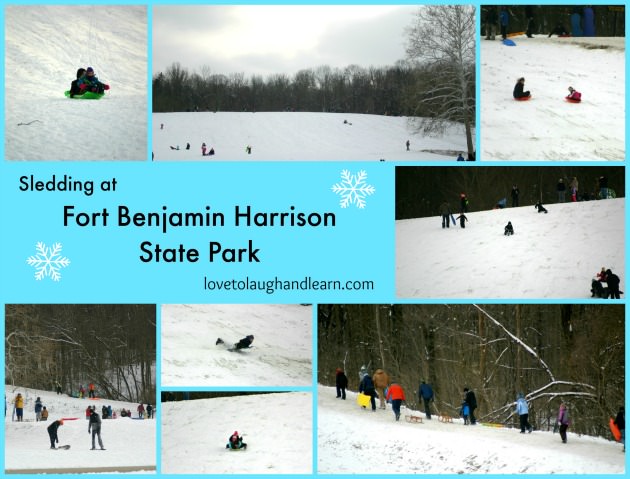 My Recommendations
Both places offer great sledding. At my current stage of life, I believe I prefer Butler Hill. The two little guys in my life are 1 and 3 years old. I think I would rather drag sleds and corral little ones on the smaller hills at Butler. But I know, in the not too distant future, those two little guys will have grown enough that they will want the adventure of the bigger hill at Fort Ben. At that point, I might just have to drag along my lawn chair so I can sit at the bottom of the hill and watch them zoom up and down the hill.
Where is your favorite place to go sledding?
Here are some other Indy Sledding Hills you might want to check out:
Brookside Park
3500 Brookside Pkwy S. Dr.
Butler Hill
On the football field (Butler Bowl) next to Hinkle Fieldhouse
510 W 49th St, Indianapolis, IN 46208
Christian Park
4200 English Ave.
Ellenberger Park
5301 St. Clair
Fort Benjamin Harrison State Park
6000 N. Post Road
Indianapolis, IN 46216
Garfield Park
2450 S. Shelby St.
Glenns Valley
8015 Bluff Road
Paul Ruster Park
11300 E. Prospect St.
Rhodius Park
1001 S. Belmont St.
Southeastway Park
5624 South Carroll Road