Zoolapalooza Review
Zoolapalooza is a concert series at the Indianapolis Zoo. It takes place on four consecutive Fridays. On these evenings the zoo stays open a little later.
Last Friday night we decided to take our daughter and grandson and check it out. The concerts are free with admission and since we have a zoo pass, we didn't have to pay a thing to get in. The concerts take place under a big tent so they happen rain or shine. Which was a good thing on this night because it looked like the sky would open and dump on us at any time. It never did but we were safe it it had.
We arrived early enough to check out a couple of the animals before we headed to the concert. We always have to stop and say hi to the seals. They were barking their greetings this particular evening.
We also stopped by to see the orangutans. Several of them were awake and moving around. One in particular seems to be smitten with my husband. It makes eyes at him every time we go….must be a female.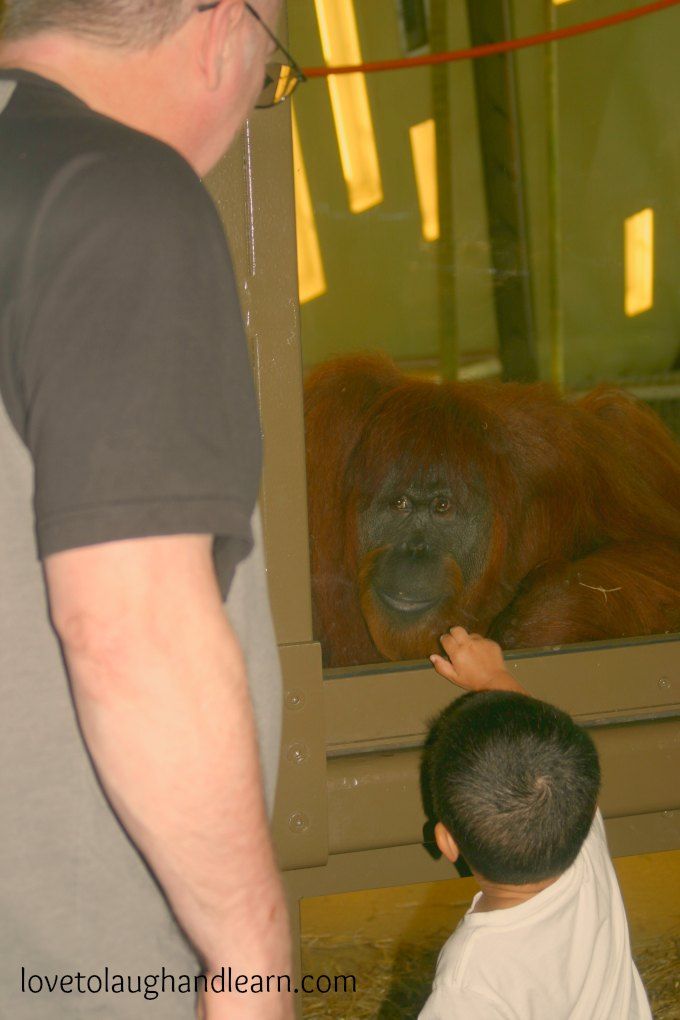 The animals get to stay up a little later during Zoolapalooza. They don't have to go to bed until 7:00. The rides also stay open until 7:00. As an extra bonus, members receive free access to a different ride each night. The night we were there the free ride was the carousel, which made me very happy. That's my favorite ride. Someone else is beginning to enjoy the carousel as well.
We decided to enjoy dinner while we listened to the music. They offer a different specialty menu during each concert, as well as the regular zoo options. This night the theme was Americana. There was a full salad bar as well as Zoo-liders. My husband asked what Zoo-liders were. I told him they were sliders made from zebra…don't panic! I made that up just to tease him. They were sliders but they were made of chicken, beef or BBQ pulled pork. You could choose two Zoo-liders. You also received freshly made potato chips and either potato salad and coleslaw for $8.99. You could include a soft drink for $9.99.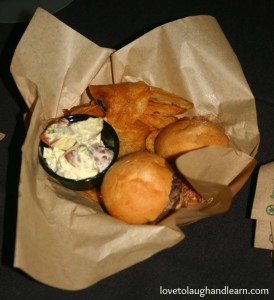 My husband and I chose the Zoo-liders and my daughter chose the pizza, which is one of the regular food options at the zoo. My grandson chose to eat one of my Zoo-liders and some of his mom's pizza. He really enjoyed dinner accompanied by music as you can see here:
Music was provided by Jayne Bond and the Pink Martinis. We had a lot of fun. There was quite a bit of dancing as well as singing along with the band. Besides the music, there were a couple of stations set up to help entertain the little ones. I was VERY thankful for that because my almost 2 year old grandson was constantly on the move. The two stations helped keep him in the vicinity of the music.
One of the stations was sponsored by Indiana Credit Union. They had a basket full of dress-up clothes. There were items suitable for boys and girls. There were some great props like guitars and microphones too, as well as a backdrop where you could take your own pictures.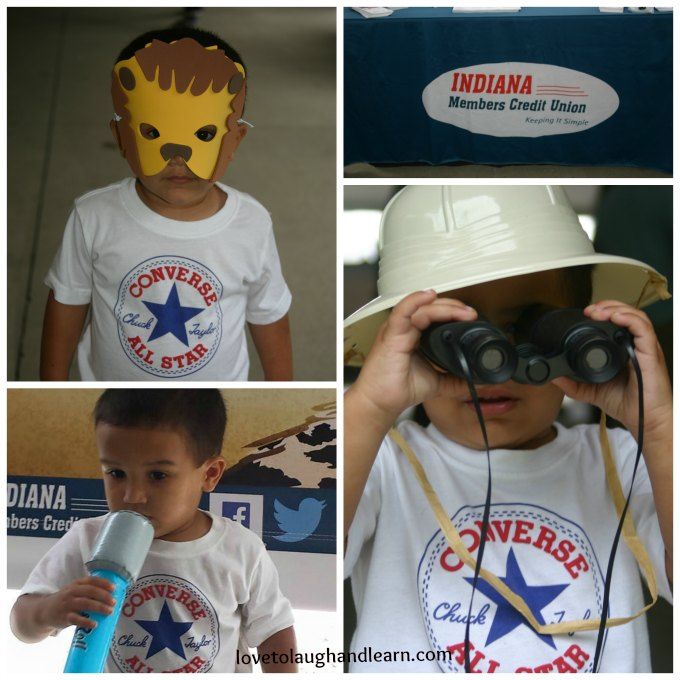 The other station was sponsored by the Indianapolis Symphony Orchestra. I loved their sign.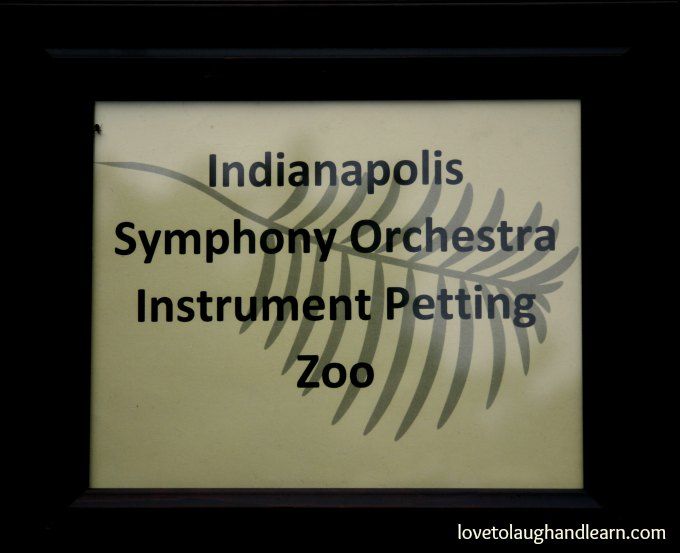 My grandson really enjoyed "petting" the instruments.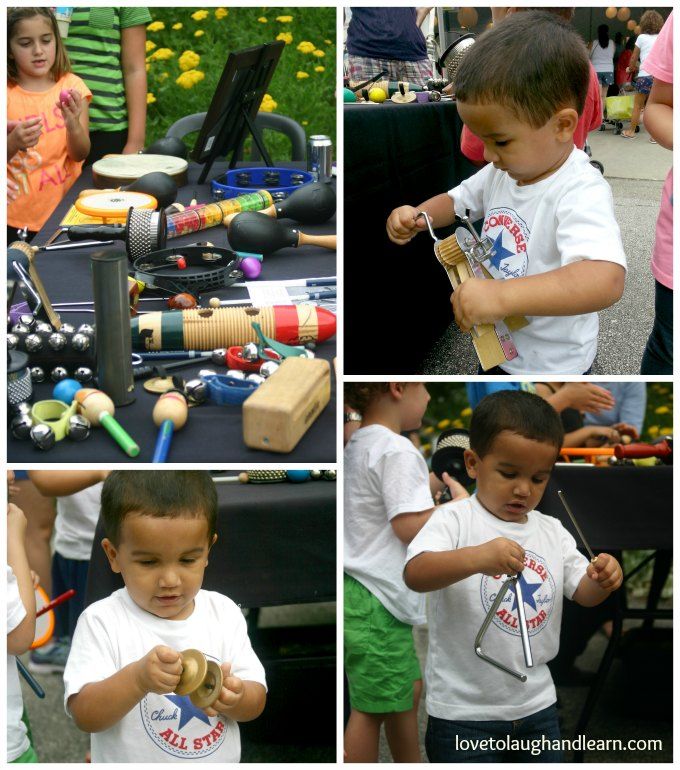 I was very thankful for the two stations because my grandson kept me running between the stations, the dance floor and the table we were at. We really enjoyed our evening and will definitely be returning.
I'm sorry to say that the Zoolapalooza concerts have concluded for this year but do not fret, more musical fun awaits. The Animals and All That Jazz concerts have started. They happen on Thursday evenings through August 6th. They run on the same concept as the Zoolapalooza concerts. There will be a different group performing each Thursday night, with specialty food offerings and a free ride for members.
Just like the Zoolapalooza concerts, Animals and All That Jazz concerts are free to Zoo members and included with regular admission. Visitors can save $2 at the gate by bringing an empty Dean's milk carton to the Zoo to be recycled. Advance tickets are also available at IndianapolisZoo.com or concert goers can find a coupon on the Zoo's Facebook page that's good for $4 off admission at the gate after 4pm on the night of the event.
Here is a list of the remaining concerts for this year. Pick a date (or two), pack up the family and plan for an evening of fun, food and music. I just might see you there.
July 16: West Central Quartet
From classic to contemporary, this high-energy foursome showcases an eclectic mix of music that reaches across multiple jazz genres. Their unique approach to entertaining is sure to get crowds up on their feet.
• Menu: "Taste of Summer" with beer can chicken, salad bar and apple dumpling a la mode.
• Featured ride: Carousel
July 23: Mina and the Wondrous Flying Machine
Featuring an adventurous mélange of styles, this group offers a fresh approach to jazz music. A multi-talented singer-songwriter leads their piano-driven sound, which is highlighted on their new album — with the Zoo-appropriate name — Tigers.
• Menu: "Pan Asian" with pan fried noodle bar, salad bar and root beer float.
• Free member ride: Kōmbo Roller Coaster presented by Outback Steakhouse
July 30: Appalatin
Bridging the music traditions of Latin and American folk, this band's foot-stomping, hip-swinging sounds have been in the spotlight on festival stages around the Midwest.
• Menu: "Night of Havana" with Cubano sandwich, salad bar and build-your-own ice cream sundae.
• Free member ride: White River Junction Train
Aug. 6: Buselli-Wallarab Jazz Orchestra
What better way to close out the series than with a rare performance by this incredible 17-piece orchestra. This veteran ensemble bring decades of experience to the stage along with a song list of familiar tunes from many big-name jazz musicians.
• Menu: "Mediterranean Night" with kabobs, salad bar and ice cream sandwich.
• Free member ride: Carousel
Have you been to Zoolapalooza or Animals and All That Jazz? Please share your experience with us? If you haven't been in the Indianapolis area for one of these events, do you have something like this where you live?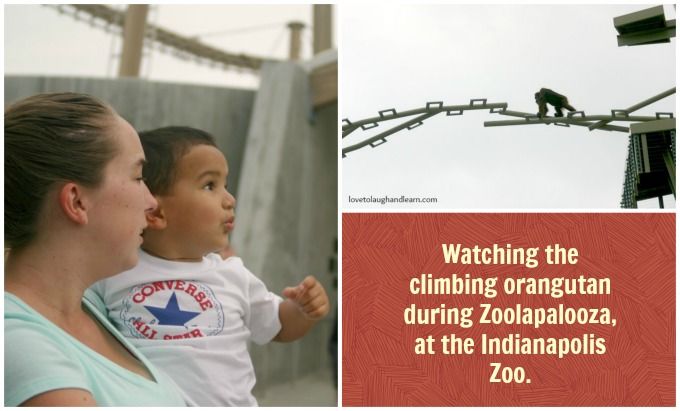 Related Posts
Indianapolis Symphony Orchestra's Community Day
Fun with Music
Review: Rhythm Discovery Center
Bongo Boy Music School Review