Learning Activities for the Color Green
with free printable
Spring is almost here and Saint Patrick's Day is just around the corner so it's time to pull out the green clothing. What a great time for learning activities with the color green.

Content:
Clothing
Toys
Crafts:
Shimmery Shamrock
Caterpillar
Snacks
Story Time
Related Posts

Clothing
What green clothing do you and your child have? Do you have any shirts with shamrocks or clover on them? Does your child have some bright green socks? Pull them out and put them on today.

Toys
What kind of green toys can your child find? Do they have any green stuffed toys, like a frog or a dinosaur? Have your child dig into the bottom of their toy box for any little green toys or cars that might be hiding down there. Get out some green play dough and make some snakes and bushes. I'm not very artistic so that's about all I can create with play dough. (Oh yes, I can make pancakes and pizza too!)
You can make your own color sorter with mini M&M containers. I made these and used them with my children and in my preschool classes. Collect several different color containers.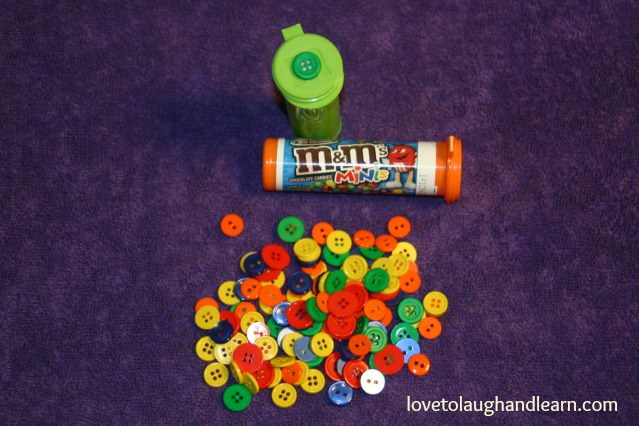 Gather any loose buttons you have around the house. I was able to purchase a big tub of buttons at Wal-Mart several years ago, when they had a better craft section. You may still be able to find something like that at a craft and hobby store. Remove the label and glue a button that is the same color as the container to the lid. Let your child sort through the buttons and put them in the appropriate container. Just be sure to use this sorter with children that are old enough that they won't be putting the buttons in their mouths.

Craft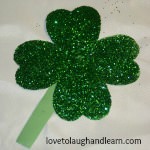 Shimmery Shamrocks
These shimmery shamrocks are a great craft for Saint Patrick's Day as well as a learning activity for the color green. It is also a good activity for discussing shapes because the shamrock is made up of a rectangle and four hearts. This craft works well for children as young as 2 years old as well as for older children. For younger children, you can cut out the shapes and simply let them spread glue and sprinkle glitter. Older children will be able to cut the shapes out themselves. You could also vary this craft by letting your child color or paint the craft sheet rather than using it as a template to cut the shapes from construction paper.
Materials Needed:
Shamrock craft sheet
Green construction paper
Glue
Foam applicator
Plate for glue
Green glitter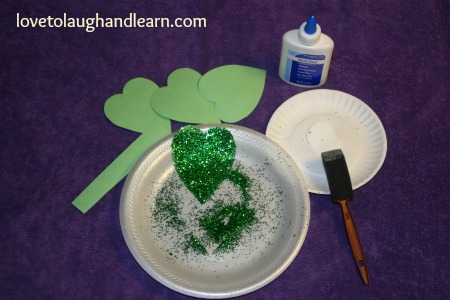 1) Print off the Shamrock craft sheet
2) Cut hearts and rectangle stem out of green construction paper.
3) Pour glue out onto a plate.
4) Use a sponge applicator to spread the glue on the heart shapes.
5) Sprinkle green glitter all over the heart shapes.
6) Glue the tips of the hearts together and let dry.
7) Glue stem to back of hearts.
8) Now you have a beautiful shimmery shamrock to decorate with.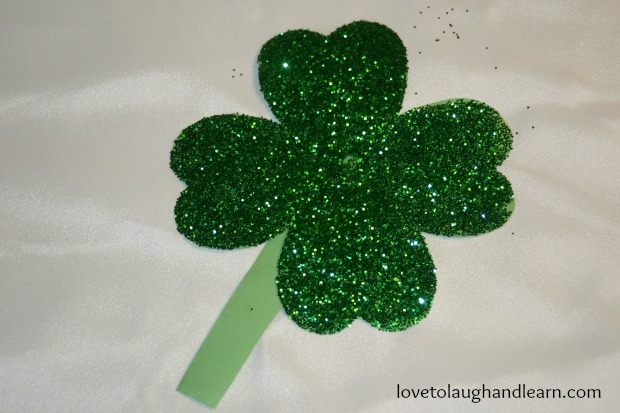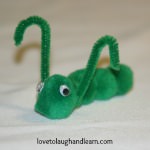 Caterpillar
Here is a green craft, just in case you are working on the color green and it's not Saint Patrick's Day. This would be a great springtime craft or when learning about caterpillars and butterflies. A big plus to this craft is that it is very easy. Even a very young child will be able to create this cute caterpillar.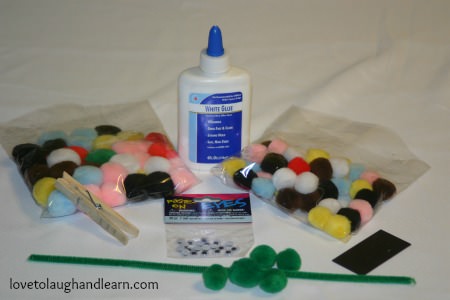 Materials Needed:
Green pompoms – two sizes (I used a 1 inch pom for the head and four .75 inch
poms for the body)
Wiggly eyes
Green pipe cleaner
Glue
Optional: magnet or spring-type wooden clothespin
1) Glue the small pompoms together.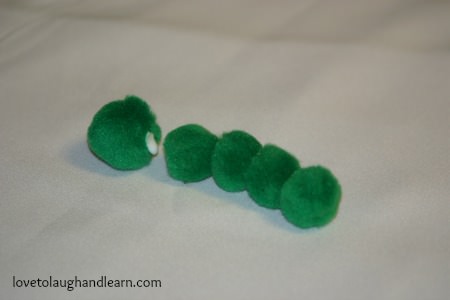 2) Cut the pipe cleaner in half then bend it into a U shape. Put glue on both sides of the bottom of the U.
3) Add glue to the larger pompom and press the head onto the caterpillar's body securing the antennas between the head and the body. Let the caterpillar set for at least an hour to let the glue dry.
4) Then add wiggly eyes and there you have it, an adorable caterpillar.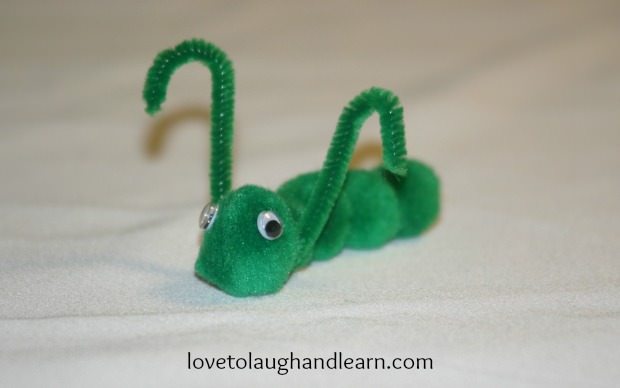 Here I added the caterpillar to the Daffodil craft from Learning Activities for the Color Yellow: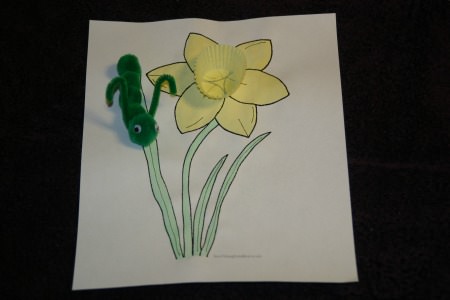 Here I added a spring-loaded clothes pin and a magnet to make a memo holder for the refrigerator: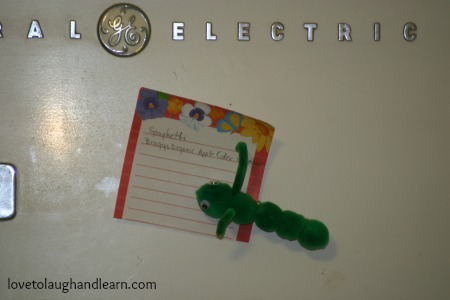 Green Foods for snack or meal time
Green apples, kiwi, broccoli, green grapes, lettuce, guacamole, green beans, celery, peas, green peppers

Story Time
"Good Luck!: A St. Patrick's Day Story (Ant Hill)
" by Joan Holub
Reading Level: Ages 2 to 7
This is an adorable little book for a young child or an early reader. There are a lot of rhyming words which are fun to listen to and easier for beginning readers: bike – Mike, hat – Matt, ant – Grant It's a story of a town of ants that are trying to catch the green ant for good luck. A fun adventure and a special prize at the end of the rainbow.
"The Big Green Pocketbook
" by Candice Ransom
Reading Level: Ages 4 to 8
A wonderful story about a little girl, her big green pocketbook and a good deed. A little girl takes her empty pocketbook with her on a trip to town with her mother. She collects all kinds of interesting things along the way. She puts her treasures in her big green pocketbook but what happens when she forgets and leaves it on the bus. Read this adorable book and find out.
"The Yippy, Yappy Yorkie in the Green Doggy Sweater (Blossom Street Kids)
" by Debbie Macomber &
Mary Lou Carney
Reading Level: Ages 4 and up
The story of a young girl, named Ellen, and her Yorkie puppy. Her family has to move to a new town. Ellen doesn't think she is going to like this move but her mother assures her that it will be fine. Follow Ellen as she and her mother walk through their new town in search of her yippy yappy yorkie that escaped through a hole in the fence. She finds that the new town isn't as different from her home town as she thought. She also makes a new friend in the process.

Related Posts
The Lessons – Overview
Colors – Overview
A is for Apple: You Can Learn More Than Your ABC's from Apples
Pumpkins are Orange; and Other Learning Concepts
Learning Activities for the Color Red
Learning Activities for the Color Blue
Learning Activities for the Color Yellow
Learning Activities for the Color Purple
Learning Activities for the Color Orange